Feb 9, 2022
Join the Greater Miami Jewish Federation for the Israel 75 Miami Mega Mission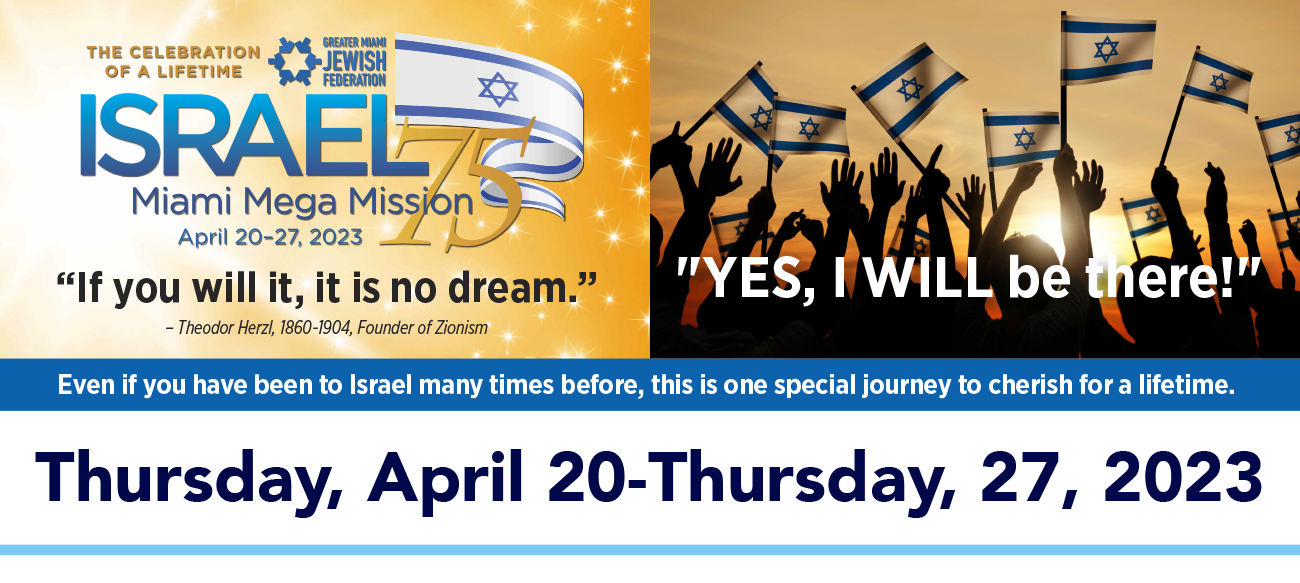 WE ARE READY AND YOU'RE INVITED!
Join the Greater Miami Jewish Federation for the Israel 75 Miami Mega Mission, April 20-27, 2023. Spend five nights in Jerusalem, two nights in Tel Aviv and mark Israel's milestone 75th anniversary with hundreds of your friends. Fly to Israel and we'll take it from there for only $3,975 per person. Hold your spot with a $500 deposit per person, fully refundable until September 30, 2022. Plus, a limited number of young leaders (age 22-35) can travel at the highly subsidized price of $2,650 per person. Mission participants can also join the Pre-Mission to Poland, April 17-19, which will include meaningful visits to historic Jewish sites in Krakow and Warsaw along with the Auschwitz, Birkenau and Treblinka concentration camps. You will also have the once-in-a-lifetime opportunity to join the International March of the Living on Yom HaShoah. You'll arrive in Tel Aviv and join our Miami community to celebrate 75 years of Israel's independence. 

We are so fortunate to have a group of dedicated volunteers working together, along with our passionate professional staff, to ensure the Israel 75 Miami Mega Mission is a success. Hear from our remarkable team of volunteer leaders below, in their own words, about what makes a Federation mission so special.
Amanda Adler, Mission Co-Chair
"It's been a long two years since COVID began and nothing makes me more excited than to co-chair this Mission and spend time in Israel with so many members of our community. It's time to celebrate Israel's birthday, celebrate togetherness, celebrate health and happiness and there's no better way to do it than this!"
Barbara Black Goldfarb, Mission Co-Chair & Steering Committee Chair
"Like so many, I have been to Israel many times before, but there is always something really impactful about seeing our land and realizing that I am not an isolated Jewish person. I am part of a larger worldwide community. It is invigorating and a reaffirmation of why we do what we do. It is an honor and a privilege to have been asked to be part of the leadership of this mission and have the opportunity to galvanize a whole community around Israel with other extraordinary leaders like Amanda, Michael and Steve."
Steven Brodie, Mission Co-Chair
"I chaired the first South Dade Family Mission and have been to Israel many times, and I still come back from every trip saying it was the best one ever and even more committed to our community. I know our journey will be a rebirth following the past two years and a chance to celebrate the precious gifts of the Jewish people, our culture, our local community and the State of Israel — all it has accomplished and all it will continue to do in the future."
Michael Wagner, Mission Co-Chair
Every mission I've been on, I've developed meaningful relationships, whether they are old friendships that have deepened or new friends who are now a big part of my life. It's always about the people. My involvement with Federation began with a mission and so much of my Federation experience has been shaped by them. I've seen the power of a mission to draw people into what we do."

Ricardo & Stephanie Halfen, Poland Pre-Mission Co-Chairs
"We have never been to Poland or participated in the March of the Living, but it has been a priority for some time. No amount of books or movies will succinctly cover what truly happened during the Holocaust. We think it is important for everyone to go — Jewish and non-Jewish, alike — and there is no better way to experience it than with your community. Then to travel to Israel to see the next chapter of the Jewish people succeeding and doing extraordinary things — it will be very powerful."
Sidney Pertnoy, Poland Pre-Mission Co-Chairs
"This will be my 11th time joining the March of the Living as part of the Pre-Mission to Poland. I continue to return to Poland and encourage others to as well because I have seen the transformative effect this powerful and life-changing journey has on participants. Since the number of Survivors are declining, it is more important than ever to bear witness to the horrors that occurred in Eastern Europe."
Maxine E. Schwartz, Israel 75 Steering Committee Senior Advisor
"It is almost impossible for me to describe the joy I feel seeing Israel through the eyes of Mission participants. I watch as their love for and understanding of our Jewish homeland grows and deepens. It's what brings me back year after year. Each of our mega missions has been better than the last and I am fully confident that the next one will be the best yet."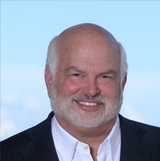 Isaac K. "Ike" Fisher, Federation Chair of the Board
"I've been going to Israel since 1973, long before it was the technological powerhouse of today. Now, as the start-up nation and a world leader in fighting the pandemic, I wouldn't think of missing this opportunity to celebrate this milestone on the streets of Tel Aviv."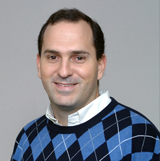 Ariel Bentata, Federation General Campaign Chair
"This is the first mission since the signing of the Abraham Accords and we will have an opportunity to highlight the multi-dimensional bilateral
relations with these new partners for peace."
For more information and to register for the Israel 75 Miami Mega Mission, please click here. Watch our Israel 75 video here.