Dec 22, 2019
JCRC Shares a Message Against Anti-Semitism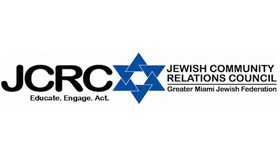 As the public policy and advocacy arm of Federation, the Jewish Community Relations Council (JCRC) serves to convene the community, build consensus and model civil discourse. The JCRC forges alliances with interfaith and intergroup networks to focus on issues of common cause.
In light of the alarming level of violence against Jews and reflecting the close ties that bind our Miami-Dade County interfaith community, JCRC is sharing an excerpt of this powerful message from Saif Y. Ishoof, Vice President for Engagement at Florida International University and co-chair of the Muslim Jewish Advisory Council of Miami. Ishoof's message of unity explains why he joined with Jewish communities across America on January 6th to stand up and declare #JewishAndProud.
As a Muslim American immigrant, I know firsthand what it feels like to be part of a community that is under assault — but that is not why I choose to raise my voice against the forces of anti-Semitism. I raise my voice, because I believe it is our duty as humans to speak and act out against injustice any and everywhere... All acts born of hatred tear the fabric of our common humanity.
My wife and I believe that the work of the Muslim Jewish Advisory Council in Miami and the Sisterhood of Salaam Shalom alongside other groups committed to peace work like the Coalition of South Florida Muslim Organizations (COSMOS), MCCJ, the Greater Miami Jewish Federation, and American Jewish Committee matters more than ever. We need a robust blend of stronger hate crimes laws and programs that build meaningful connections between and amongst communities… We should all take a moment to embrace the spirit of solidarity found in the words of Dr. Martin Luther King Jr.:
"We are caught in an inescapable network of mutuality, tied in a single garment of destiny. Whatever affects one directly, affects all indirectly."