Jan 29, 2020
The Main Event Was a Moving and Meaningful Evening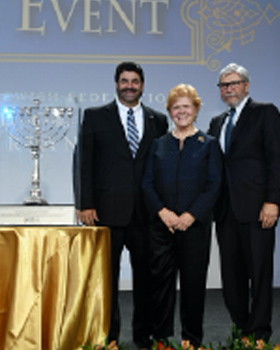 Monday's Main Event was a moving and meaningful evening. More than 1,150 people, including members of Miami's interfaith community, came together on International Holocaust Remembrance Day and the 75th anniversary of the Liberation of Auschwitz-Birkenau to proudly to stand against the growing epidemic of anti-Semitism.
In an emotional opening to the event, Holocaust Survivors were escorted to the stage by March of the Living alumni, and together they sang the Star Spangled Banner and Hatikvah. Special guests included Brigadier General Avi Maor, a 40-year veteran of the Israel Air Force and son of Holocaust Survivors, who flew over Auschwitz-Birkenau in 2003 as a tribute to those murdered by the Nazis. Attendees also showed support for victims of anti-Semitism by recognizing guest Judah Samet, an 83-year-old Bergen-Belsen Concentration Camp Survivor, who is a congregant at Pittsburgh's Tree of Life Synagogue. Samet was four minutes late to Shabbat services the day of the massacre, arriving as police were in the middle of the shootout with the gunman. Professor Deborah Lipstadt received the Greater Miami Jewish Federation 2020 Friend of Israel Humanitarian Award and discussed the roots of anti-Semitism and its prevalence today, while reaffirming the strength and resilience of the Jewish people.
Attendees at The Main Event increased their donations by 20% over last year to support services and agencies that bring help and hope to Jews in Miami, in Israel and around the world. The contributions also fund enhanced security measures to protect Jewish institutions and synagogues — helping to ensure they are safe and welcoming. The evening sent a powerful message about the strength of a united Jewish community.