It's Happening In Miami
Posts by Chany S
Unique Presentation Open to the Community: Inside Israel's Most Ambitious Archaeological Excavation
Chabad in Coral Gables invites the community to a captivating presentation that delves into the rich archaeological heritage of Jerusalem. In celebration of 'Jerusalem Day,' join us for an exclusive event that will transport attendees back in time to explore the remarkable Pilgrimage Road in Jerusalem, revealing captivating insights into Israel's most ambitious archaeological excavation to date.
Titled "The Pilgrimage Road: Inside Israel's Most Ambitious Archaeological Excavation," this exceptional presentation promises an evening of enlightenment, discovery, and a deeper understanding of the historical significance of Jerusalem. The event will take place on Wednesday, May 31, at 7:30 pm at Chabad, located at 1827 Ponce de Leon Blvd, Coral Gables.
Prepare to be captivated as you're taken on a journey through this momentous archaeological excavation. Step into the shoes of ancient pilgrims and imagine the awe-inspiring experience of walking towards the Temple Mount in Jerusalem over 2000 years ago. Unbeknownst to many, the very road upon which these pilgrims once trod lies twenty to thirty feet beneath the modern city's surface.
We will delve into the depths of the drainage channel concealed beneath The Pilgrimage Road and be amazed by the remarkable discoveries that are reshaping our understanding of Jerusalem's ancient history. Witness firsthand the artifacts and findings that shed light on the city's illustrious past and provide crucial insights into the lives of those who once inhabited this extraordinary place.
To join this enlightening event, RSVP at ChabadGables.com/jerusalem. We kindly request that RSVPs be made by May 30 to secure complimentary admission. After this date, a fee of $10 will be applicable.
As an added bonus, a falafel dinner and refreshments will be served, allowing attendees to immerse themselves in the flavors and cuisine of the region.
This presentation offers an exceptional opportunity to gain a deeper appreciation for the historical significance of Jerusalem and the ongoing efforts to uncover its hidden treasures. We encourage all history enthusiasts, archaeology aficionados, and community members to join us for this extraordinary event.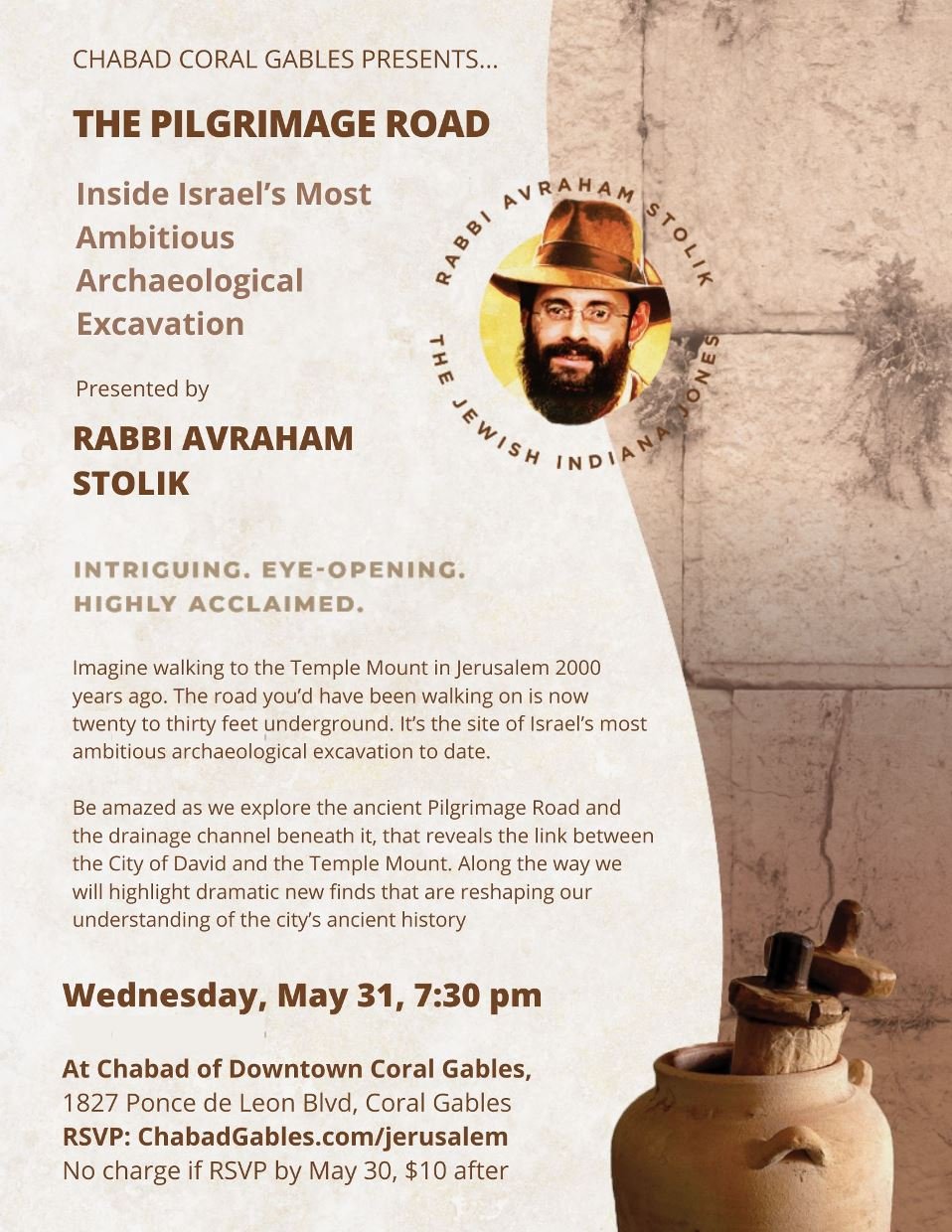 AN EVENING OF MUSICAL ENTERTAINMENT AND INSPIRATION IN CORAL GABLES FEB. 16TH
On February 16th, Chabad of Coral Gables will offer Soulstrings, an immersive musical experience showcasing Klezmer and Chasidic melodies. The event will feature a live string ensemble led by Grammy award-winning klezmer and jazz violinist Steffen Zeichner. Dr. Zeichner is the concertmaster of the Alhambra Orchestra and founder of the music band "5 String Swing".
Soulstrings will take place on Thursday, February 16, 6:30 pm, at The Americas Collection Art Gallery, 4213 Ponce de Leon Blvd, Coral Gables. Couvert is $25 per person. RSVP at ChabadGables.com/song.
The program will feature a cheese and wine reception, live string quintet, stirring music, inspiring visual accompaniment, fascinating narratives and motivational messages and a commemorative playbill.
Participants will discover the enthralling world of Chasidic melody and the deep spiritual meaning behind its tunes. Inspiring visuals, captivating stories, and rousing song will work in harmony with Chasidic wisdom to create a spectacular production that will touch the heartstrings and elevate the spirit.
To purchase tickets for this unique event, visit ChabadGables.com/song.
From Berdichev to Broadway: An Evening of Music and Inspiration with Cantor Aryeh Hurwitz
Live Musical Accompaniment
Sunday, January 12th, 7:00 PM, at Chabad of Downtown Coral Gables, 1827 Ponce de Leon Blvd, Coral Gables.
Cantor Aryeh Leib Hurwitz is a soloist and performer from Brooklyn, NY, whose brilliant voice has been featured throughout the United States, England, France, South Africa and South America.
His repertoire spans many genres and languages, including traditional Hebrew liturgy, Yiddish Folk songs, Opera, Broadway, Modern Jewish Music and more and is ranked by the FORWARD as top 6 "Jewish Voices That Move Us".
$18 per ticket, $360 Sponsor. Limited Seating.
Purchase Tickets: ChabadGables.com/concert
For more info please call 305-490-7572 or email info@ChabadGables.com.
"I flew to the Entebbe Raid as an Israeli and I returned to Israel as a Jew."
Major Rami Sherman from the IDF elite commando unit Sayeret Matkal, will tell his riveting personal account of the hijacking and rescue of the Air France flight 139 from Entebbe Uganda in 1976, and its relevant message in 2019. He landed in the first Hercules and was in the car directly behind the famous Mercedes. Rami was the Commander who led the hostages to the Hercules.
When: November 20, 2019, 7:30 PM. Where: The Palace of Coral Gables, 1 Andalusia Ave, Coral Gables, FL 33134. Contact: info@chabadgables.com or 305-490-7572. Cost: $18
Due to the popularity of this event and limited seating, there won't be any tickets sold at the door. Advance reservation only.
Click on the link to purchase tickets: Chabadgables.com/entebbe.