To ensure the health and safety of volunteers and community members,
we must adhere to the COVID-19 CDC guidelines.
Masks are required. Please remain in your car and open the trunk when it's your turn in line. Volunteers will place food in your trunk. (If you are able, please print and place this on your dashboard.)
Thursday, January 14
9-11 a.m.
First come, first served while supplies last.
Please do not arrive before 9 a.m.
Greater Miami Jewish Federation
Stanley C. Myers Building
4200 Biscayne Boulevard

This Kosher Food Distribution Event has been generously underwritten by:
Yleana & Yoram Izhak
and
Janice & Alan Lipton
Farm Share, Inc. is an equal opportunity provider.
A Two-Author Event Charles Belfoure
The Faberge Secret Alina Adams - The Nesting Dolls In conversation with Boris Fishman
Click here for more info and tickets
January 14, 2021 1:00 PM to 2:15 PM
Tickets: $10, Florida series
The 2020 #WeRemember initiative invites participants from around the world to take pictures of themselves holding a sign with the words "We Remember," and then post their pictures to social media using the hashtag #WeRemember, to spread the message that "never again" must mean never again.
"Join the #WeRemember campaign to preserve the past and ensure that 'never again' truly means never again."
For more information and to watch the 2020 #WeRemember campaign launch video, which highlights the testimonials of five Holocaust survivors, visit weremember.wjc.org.
Our speakers will share their expertise on best practices for investing and why it's never too early to start planning your future.
Even though we cannot meet in person, we can still join fellow Lions of Judah from around the country and the world for an inspiring, engaging and educational event. The program will feature guest speakers, plenaries and impact spotlights that highlight how Lions make a difference in the lives of so many, especially during these difficult times.

Sunday, January 24 from 1-3:30 p.m. EST

Monday, January 25 from 1-3:30 p.m. EST

No fee to attend, but registration is required

Yaniv will be preparing one of his original recipes, as well as a dish from the cookbook Yerucham, Bamidbar, D'varim, highlighting the recipes of the Culinary Queens of Yerucham. The first 40 people to register will receive a gift bag of spices to be used in the recipes.
$10 per person
Please register by Friday, January 8.
Zoom link and ingredient/shopping list provided upon registration.
For more information, please contact Bonnie Dawson at bdawson@gmjf.org or 786.866.8498.
Zoom link provided upon RSVP No cost to attend | No solicitation of funds
In More, you'll gain the knowledge you need to move toward a more fulfilling and happy life. This practical and accessible book is packed with useful hints and suggestions to help you identify what is lacking in your life so you can improve it in ways that are meaningful to you. There are resources out there that promise to make you happier, but many are overly complicated. In More, you'll learn that improving can be simple. It is not about being perfect. It's about understanding what matters most to you and taking action steps that enable you to do more.
Tuesday, December 22
9-11 a.m.
First come, first served while supplies last. Please do not arrive before 9 a.m.
Dave and Mary Alper JCC 11155 SW 112th Avenue, Miami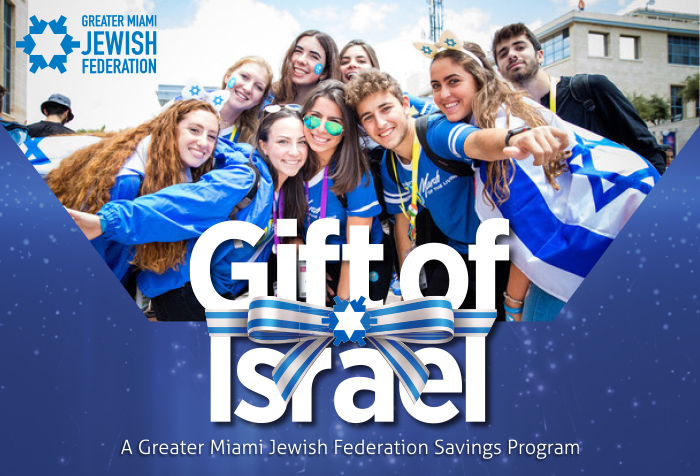 Save as much as $3,000, plus interest, toward your child's Israel experience!
Invest in your child's Jewish future by participating in Gift of Israel, a plan to help you save for an educational experience in Israel. This is an opportunity to cover a significant portion of Israel program costs by accumulating annual matching $100 contributions from your family, the Greater Miami Jewish Federation and participating synagogues.