It's Happening In Miami
Posts by Liat S
Did you know one of every 40 Jewish men and women of Ashkenazi ancestry carries the BRCA genetic mutation, which leads to an increased lifetime risk of developing breast, ovarian, pancreatic, prostate and other cancers?
Yodeah, a local grassroots nonprofit promoting breast cancer awareness and prevention is on a mission to educate the Jewish community about the risk of carrying the BRCA gene and other hereditary cancer mutations. Learn about the BRCA positive gene mutation and its impact on family planning during a Zoom webinar presented by Yodeah on Monday, March 27 at 7:30 p.m. Panelists will include two couples who learned they were BRCA-positive and took steps with respect to family planning, as well as Yodeah founder Dr. Elizabeth Etkin-Kramer and in vitro fertilization specialist Dr. Vanessa Weitzman. The volunteer organization, which is supported in part by a Federation Women's Impact Initiative Grant, also facilitates on-site, low-cost saliva testing to identify likely carriers. To learn more and register for the webinar, click here.
During Matzah Mitzvah, over 700 community members join together to package and deliver Passover food and personal hygiene baskets to Holocaust survivors and homebound seniors, bringing smiles to their faces and fullness to their hearts. The event is in partnership with the Greater Miami Jewish Federation and the three Miami-Dade County Jewish Community Centers.
North Dade - Register Here

South Dade - Register Here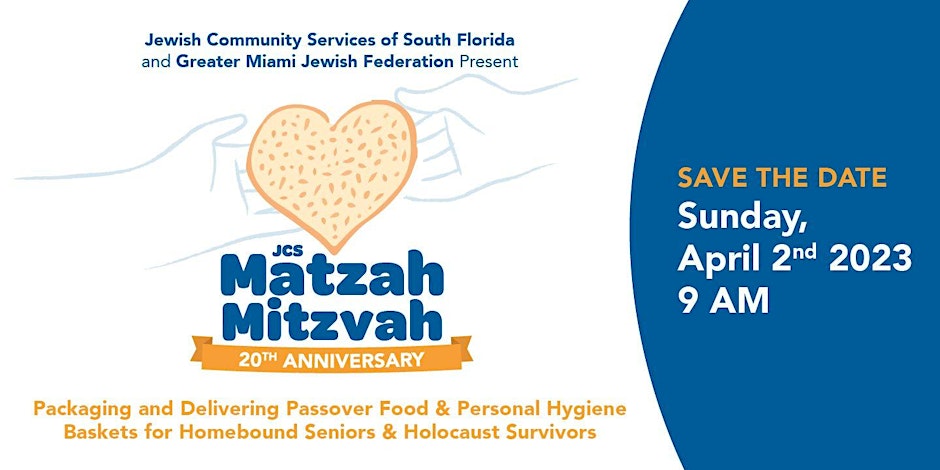 Join Repair the World Miami, Keshet, and OneTable for Pride Shabbat on Friday, March 31st from 7-9 pm at Dear Eleanor!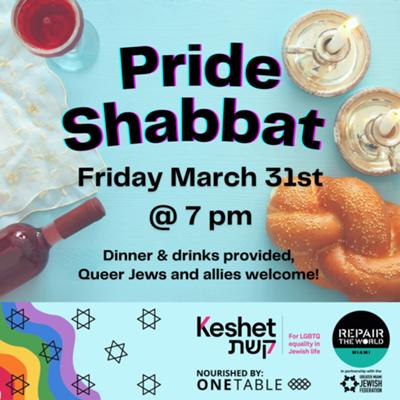 We are coming together to curate an evening that explores with you the intersections of Judaism, social change, and queerness over a delicious and connecting dinner. We welcome the Queer Jewish community and all allies to engage in this meaningful evening.
We will bring in Shabbat promptly at 7 pm with a Queer take on ritual. Over a delicious SuViche dinner and drinks, we will reflect on Queer and Jewish identities, Shabbat, and avenues of advocacy.
Register Here, $14 early bird tickets are available until March 22nd! We don't want cost to be a barrier to you. Please reach out to Delayna at delayna.feuerzeig@werepair.org for more information or for a discounted/free ticket!
For more information about the organizations partnering on this event, visit: weRepair.org/Miami / onetable.org / keshetonline.org
Program designed to communicate within our local areas, so that we can live in a community, free of bias, where everyone can feel valued. Includes local panelists, from high school students to adult community leaders, representing different races, ethnicities, faiths, ages, and genders, sharing personal stories.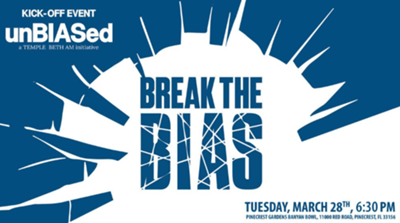 When: March 28, 2023 6:30 PM to 8:30 PM
Where: PInecrest Gardens - Banyan Bowl
11000 Red Road
Pinecrest, FL 33156
Organizer: Pamela Lear
Contact: Pamela Lear at dialogue@tbam.org

Called by the NYT Book Review "A profound and powerful work of essential reporting," Bergner recounts his brother's journey from his bipolar diagnosis along with others' gripping, illuminating stories. Bergner beautifully explores how to seek a deeper engagement with ourselves and one another—and how to find a better path toward caring for our minds.
The book is about vulnerability and personal dignity, the terrifying choices confronted by families and patients, and the prospect of fascinating new theories of treatment from pioneering labs.
March 30, 2023 7:30 PM to 9:00 PM
Where: Beth David Congregation
2625 SW 3rd Ave
Miami, FL
Organizer: Marcy Levitt
Contact: Marcy Levitt at mlevitt@alperjcc.org

Rochelle Weinstein will chat with Lauren Margolin about her newest book, "When We Let Go."
March 29, 2023 12:30 PM to 2:00 PM
Miami Beach JCC
4221 Pine Tree Drive
Miami Beach, FL 33140
Contact: Debbie Sack at debbie@mbjcc.org ((305) 534-3206)
Cost: Non- members $36 / Members $18

Women in the Holocaust: A Feminist History with Dr. Zoe Waxman
Date: Monday, March 20, 2023
Time: 7:00 - 8:30 pm

Throughout the Holocaust, the political and social order of oppression, hierarchy, and suppression of Jewish women was apparent. It was an essential part of Nazi policy, which targeted women because of their reproductive ability. Nazis singled out women as bearers of the next generation. Join Dr. Zoe Waxman as she shares a feminist history of Jewish women's lives during the Holocaust
Women in Resistance with Julia Mintz
Date: Monday, March 27, 2023
Time: 7:00 - 8:30 pm
Over 25,000 Jewish partisans fought back against the Nazis and their collaborators from deep within the forests of Eastern Europe during World War II. Against extraordinary odds, they escaped Nazi slaughter and transformed from young innocents to courageous resistance fighters. Join critically acclaimed film director Julia Mintz as she explores the experiences of Jewish women in partisans' movements and shares their stories of resistance, heroism, and resilience.
The World Baseball Classic returns to Miami in 2023!
Come support TEAM ISRAEL! Tickets still available for these exciting matchups.
Get in on the action starting March 12. Learn more at marlins.com/wbc