Pride Shabbat with Repair the World Miami, Keshet, & OneTable!
Join Repair the World Miami, Keshet, and OneTable for Pride Shabbat on Friday, March 31st from 7-9 pm at Dear Eleanor!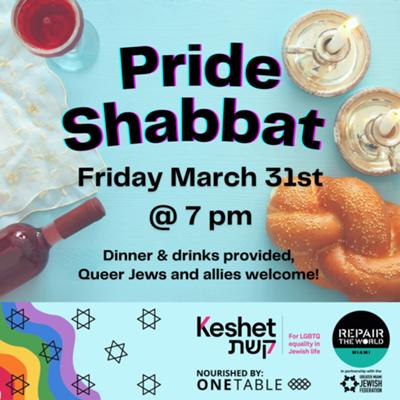 We are coming together to curate an evening that explores with you the intersections of Judaism, social change, and queerness over a delicious and connecting dinner. We welcome the Queer Jewish community and all allies to engage in this meaningful evening.
We will bring in Shabbat promptly at 7 pm with a Queer take on ritual. Over a delicious SuViche dinner and drinks, we will reflect on Queer and Jewish identities, Shabbat, and avenues of advocacy.
Register Here, $14 early bird tickets are available until March 22nd! We don't want cost to be a barrier to you. Please reach out to Delayna at delayna.feuerzeig@werepair.org for more information or for a discounted/free ticket!
For more information about the organizations partnering on this event, visit: weRepair.org/Miami / onetable.org / keshetonline.org