It's Happening In Miami
Posts by Ariel R
Monday, November 20, 7:30 PM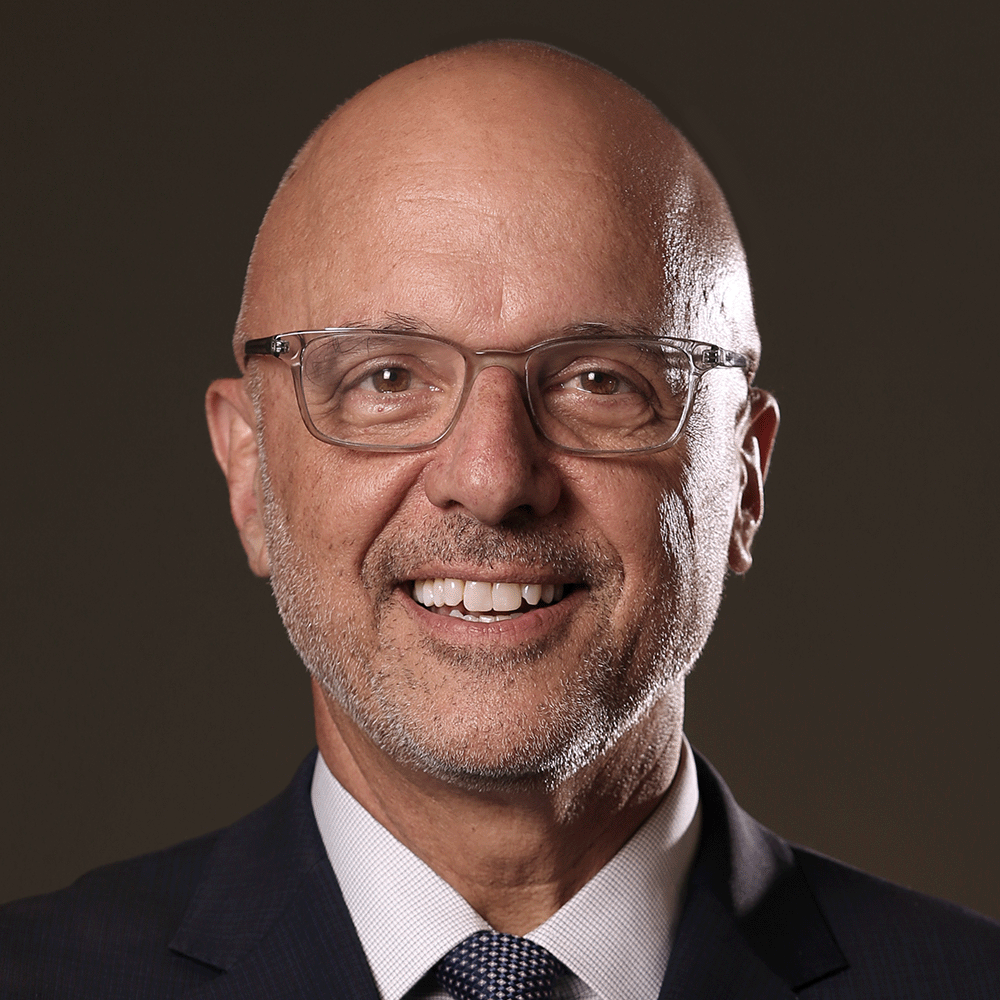 Please join us at the Miami Beach JCC for an in-person conversation with Ted Deutch, CEO of the American Jewish Committee (AJC) and Prior Chair of the House Ethics Committee. The discussion will center around what AJC is doing globally to respond to the crisis in Israel through activism. Special guests of the evening : Jacob Solomon, President and CEO of the Greater Miami Jewish Federation and Maor Elbaz-Starinsky, Consul General of Israel in Miami.
In partnership with Michael-Ann Russell JCC
GENERAL ADMISSION: $18
JCC MEMBERS $10
Miami Beach JCC, 4221 Pine Tree Drive, Miami Beach
For information, contact Debbie Sack at [email protected] or 305.534.3206.
MBJCC's Early Childhood Academy caters to 2-3-year-olds, fostering exploration, creativity, and growth in a nurturing setting. Certified teachers provide personalized attention, celebrating each child's strengths in an inclusive community. Our program embraces SHEVA, a dynamic vision of early childhood education rooted in Jewish tradition, ensuring a strong foundation for future success and shaping curious, creative, and confident learners. Click here for details.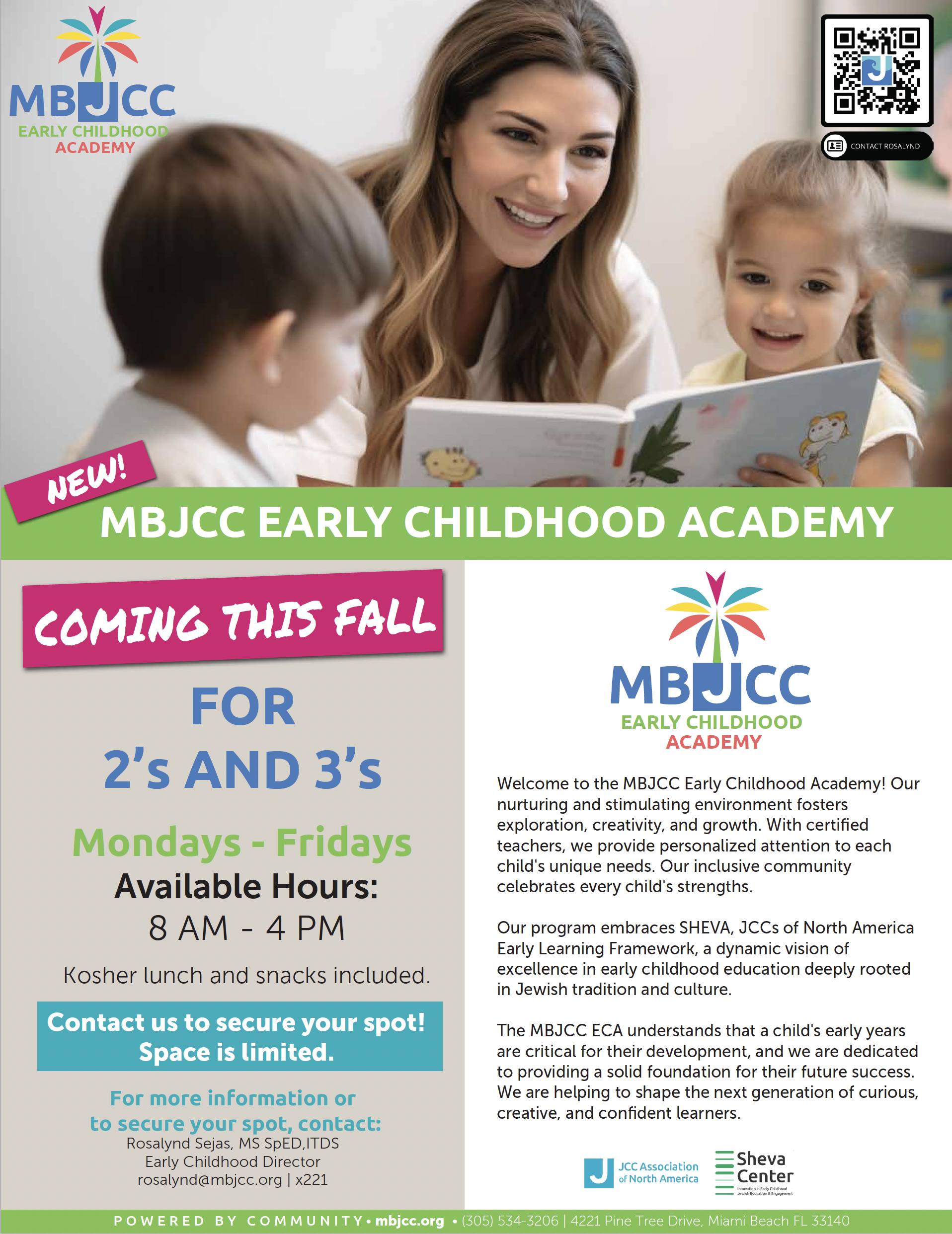 We are celebrating Israel's 75th birthday and its rich culture and history with a fun-filled event for the whole family on Wednesday, April 26th at 5 pm featuring Musicians Yaoz Magenheim, 22, and Tsur Shoham, 21, from Yerucham in Israel, and activities for all ages, including arts & crafts, dancing, games, food, and more! Find out more at mbjcc.org/israel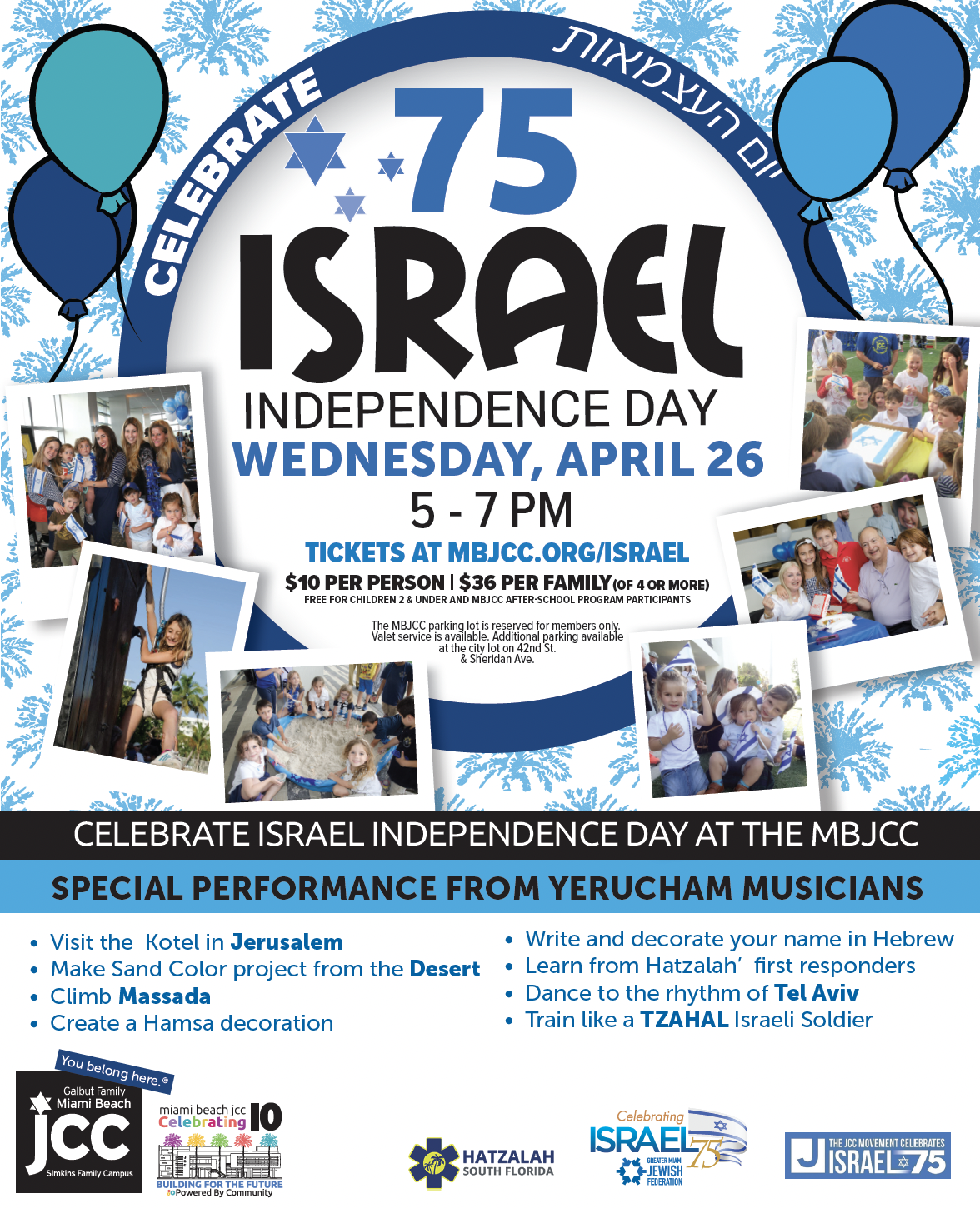 Camp Klurman is a fun-filled summer to remember. We are committed to providing an excellent, safe, well-rounded blend of traditional day camp activities, daily instructional swim/boating, sports, performing arts, robotics, in-house entertainment, various specialty camps, and a Kosher lunch. Fun-loving, dynamic staff will facilitate your child's summer of a lifetime, filled with excitement and adventure! Register Today!
GET TICKETS: www.mbjcc.org/purim
ACTIVITIES: Bounce Houses, Carnival Booth Games, Art & Crafts, Face Painting, Purim Shpiel, Prices, and more!
COSTUME CONTESTS: Come dressed to show your Purim costume. Prizes will be awarded.
ONE DAY SPECIALS: Membership and Camp Klurman
FOOD & SNACKS: Popcorn, Snow Cones and Haamentashen& BBQ by J Cafe Group (available for purchase). Dietary laws observed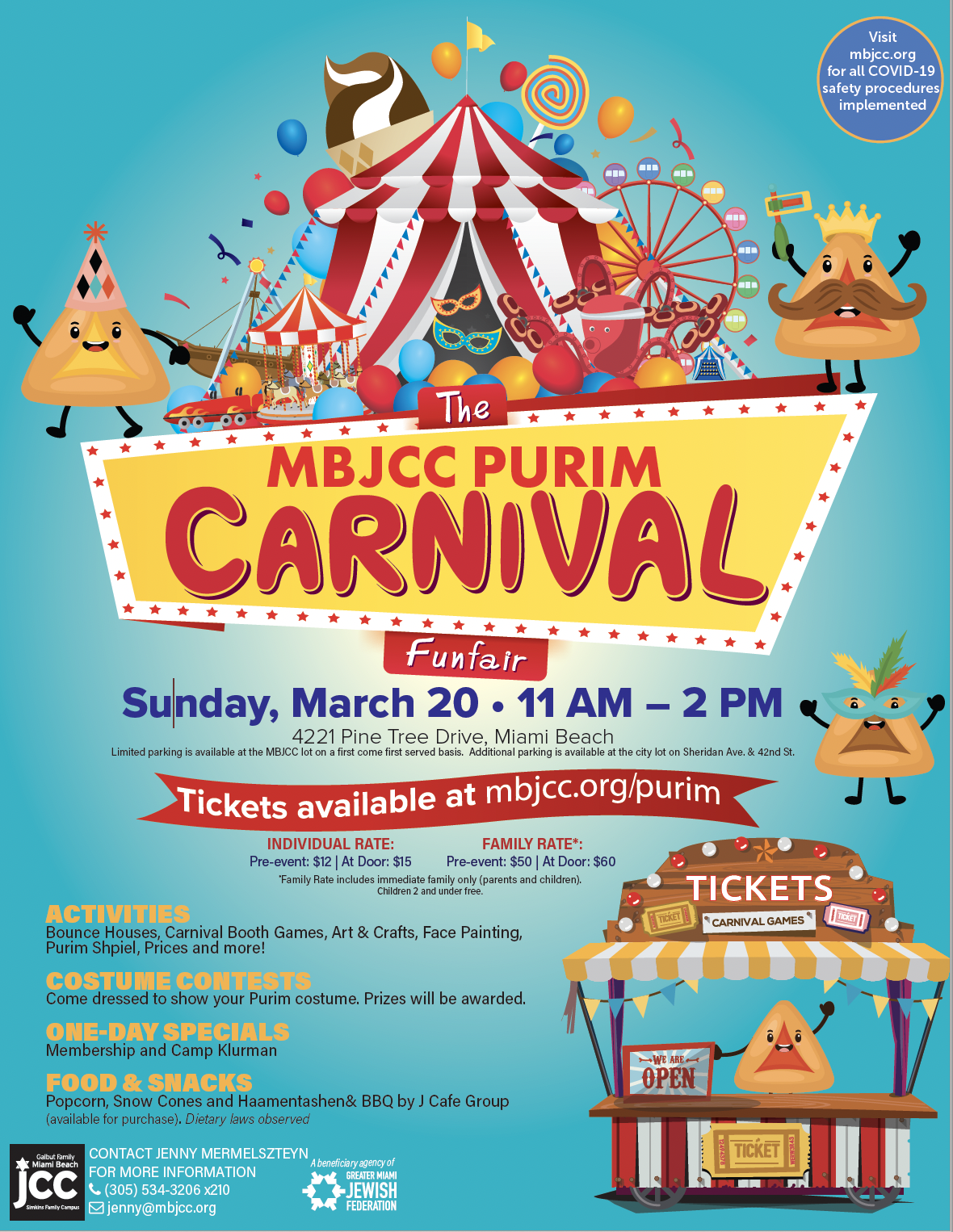 Sunday, November 28
11 am -2 pm
Outdoor Event Open to the entire community
Family Rate:* Pre-event: $50 | At the door: $60
Individual Rate: Pre-event: $12 | At the door: $15 *Family Rate includes immediate family only (parents and children). Children 2 and under free.
Join us in celebrating the Miracle of Lights! Let's reconnect and celebrate together!
ACTIVITIES: Rides, Art and Crafts, Interactive Chanukah Show with Ms. Eve, Dance Performances & Menorah Lighting with Community Rabbis

ONE DAY SPECIALS: Membership & Camp Klurman

FOOD & SNACKS: Available for Purchase (Dietary laws observed)
Join the Miami Beach JCC on Sunday, February 28 at 11 am for a family fun color war/camp-style scavenger hunt in your car through the story of Purim.
Explore fun sites around Miami Beach
Engage in small interactive challenges
Play trivia
Earn points for your team and win prizes.
Dress up your car and the whole family for the opening costume car parade for extra points!
FOR MORE INFORMATION, CONTACT: Jenny Merlmelszteyn, Director of Camp and Children/Family Programs [email protected]
On Thursday, March 12, 2020 the Miami Beach JCC will host its annual fundraiser, Concert for a Cause at ELV on Miami Beach! This year's event, benefitting the MBJCC's Everyone Belongs Scholarship Fund, will feature Mike DelGuidice - Celebrating The Music of Billy Joel & more. Mike is one of Billy Joel's official musicians and puts on a truly rocking evening which will include dinner, concert & drinks.
Along with the concert, we will be honoring Loren & David Kaiserman for their outstanding contributions to the Miami Beach JCC and awarding the JCC's first-ever "Bonim Kehilah Awards" to our Community Builders - Jay Abramowitz and Erica Groussman. Each are so well-deserving of this recognition!
We hope that we can count on you to join us for the evening! Click here for tickets and sponsorships.
Expanding its Strong Summer Program Offerings
The Klurman Family Day Camp (Camp Klurman) at the Galbut Family Miami Beach JCC on the Simkins Family Campus (MBJCC) is a fun-filled ten-week summer to remember, committed to providing an excellent, safe, well-rounded blend of traditional day camp activities, specialty camps, field trips, Jewish culture and amazing specialists. This summer, Camp Klurman has expanded its specialty camps by adding a unique Drone Flying Camp for children entering first through fifth grade. The camp is offered twice in one-week sessions this summer, with the second week beginning Monday, July 9. It is a self-exploratory and project-based learning camp with real-world STEM application. Children are introduced to drone flying and coding with general tutorials on safety. No prior experience is necessary; all skill levels are welcome to participate.
After Camper Jackson experienced the first week of the Drone Flying Camp he raved, "I'd give drone camp 3 thumbs up if I could!"
CEO Paul Frishman commented, "Here at the Miami Beach JCC we are always planning programs to stay 'relevant and cutting edge' towards the needs of our community. This year's Drone Camp offering is clearly creating NEW excitement while our campers learn unique, innovative skills in a very fun and positive environment.
For more information about Camp Klurman's Drone Flying Camp or general camp, contact Stella Gelsomino at (305) 534-3206 x235 or [email protected].