Hillel International is sending your graduating high school senior a gift to celebrate their accomplishments and help them get a head start on their college journey. Members of the Class of 2026 can click here to claim their gift and connect to current students and Hillel staff at their college or university. In addition, grads will be entered in a raffle for a chance to win a $500 gift card!
Federation's Annual Campaign supports seven Hillels across Florida – Central Florida Hillel, Hillel at FSU, Hillel of Broward and Palm Beach, Hillels of the Florida Suncoast, UF Hillel and UM Hillel. Campus Hillels are more than 600 colleges and universities around the world help students strengthen their Jewish identity through educational opportunities, holiday celebration, activities, travel experiences and mentoring. The programs are unique to each community and can include weekly Shabbat dinner, outings to local events, game nights, guest speakers, service projects and more.
Participate in our confidential and anonymous mental health survey to be entered in a raffle for a $50 gift card! Are you the parent of a teen or young adult or do you work with them in a professional setting? Federation wants to hear from you — and them!
According to the US Surgeon General, teens and young adults are facing a dangerous mental health crisis. Federation's Youth Mental Health Task Force is conducting a brief, confidential and anonymous survey of teens, young adults, parents and professionals to assess the area's most pressing needs and ensure appropriate services are available.
Make your voice heard and participate in the brief survey by clicking here. It should take no more than 10 minutes and your participation does a world of good.
Dennis Prager Shabbat Keynote Address: How to Raise a Mensch - How to Be a Mensch
Saturday, May 28 at 9:30 am at Beth Torah Benny Rok Campus - 20350 NE 26th Ave, North Miami Beach, FL 33180
Join us for Shabbat Morning Services Saturday, May 28 at 9:30 am with a special keynote address by Dennis Prager "How to Raise a Mensch- How to be a Mensch"
Dennis Prager is a best-selling author, columnist, and one of America's most respected and popular radio talk show hosts. He is the co-founder of PragerU, which has garnered more than 5 billion views on its website, mobile app, and social media channels.
Free event. Open to the community.
For more details, visit: http://btbrc.org/event/dennis-prager/
Bows and Arrows of Love##
by Rabbi Moishe Kievman Chabad Chayil
Lag BaOmer is a festive day on the Jewish calendar, celebrating the anniversary of the passing of the great sage and mystic Rabbi Shimon bar Yochai. Also known as the Rashbi (an acronym for his name), he was the author of the Zohar, a foundational work of the Kabbalah, who requested that the day of his passing be celebrated, and not mourned.
It also commemorates another event. In the weeks between Passover and Shavuot, a plague raged amongst the disciples of the great sage Rabbi Akiva and on Lag BaOmer the dying ceased. The Talmud tells us that the plague affected the students of Rabbi Akiva "because they did not act respectfully towards each other." Thus, Lag BaOmer carries the theme of the imperative to love and respect one's fellow (ahavat yisrael). Lag BaOmer teaches us that while working to help improve our fellow man, we must never allow these efforts to compromise our love and respect for him.
It is traditional to light bonfires on Lag BaOmer eve, commemorating the immense light that Rabbi Shimon bar Yochai introduced into the world via his mystical teachings.
Children customarily go out into the fields and play with imitation bows and arrows. This commemorates the midrashic tradition that no rainbow was seen during Rabbi Shimon's lifetime.
Rainbows first appeared after Noah's flood, when G‑d promised to never again devastate the world. When the world is deserving of punishment, G‑d sends a rainbow instead. Rabbi Shimon's merit protected the world, rendering the rainbow superfluous.
But there's a much deeper meaning behind the bow and arrow game, with a lesson not just for Lag BaOmer, but something we can apply every day of the year.
The first weapons devised by man were designed for hand-to-hand combat. But a person's enemy or prey is not always an arm's-length away, or even within sight. Soon the warrior and hunter felt the need for a weapon that could reach a target a great distance away, or which lies invisible and protected behind barriers of every sort.
With a bow and arrow, the tension in an arched bough of wood is exploited to propel a missile for great distances and slash through barriers. The inventor of this device first had to grasp the paradox that the deadly arrow must be pulled back toward one's own heart in order to strike the heart of the opponent, and that the more it is drawn toward oneself, the more distant an adversary it can reach.
Chassidut teaches us that the same rules that apply to tools of destruction, apply to tools of construction - the tools we use to help build each other. And this is the deeper theme and lesson of Lag BaOmer: In order to reach a friend or relative who is otherwise unreachable, we have to first dig deep within our own heart. The deeper place from within our heart this love comes from, the deeper it will penetrate in our loved ones heart. The more we work on our own character, the more our children will work on theirs.
The Rebbe writes in Hayom Yom "If you rebuke your brother and he does not listen, then it is you who is to blame. Words that come from the heart, enter the heart". If you haven't penetrated their heart, dig deeper within your own heart.
This year, Lag BaOmer is Wednesday Night - Thursday, May 18-19, 2022. I encourage you to join a Lag BaOmer celebration taking place at any Chabad or synagogue near you. You are of course welcome to join us at Chabad Chayil in HIghland Lakes for a bonfire, bbq and kumzitz, to G-d willing take place Wednesday, May 18 at 8:30pm. There's no charge and you can bring your own music instruments to join the kumzitz. For the complete history and more lessons you can learn from this fun and Kabbalistic holiday visit www.ChabadChayil.org/Lag.
About the author: Rabbi Kievman is the ambassador of The Rebbe to Highland Lakes, FL. He is founder of CHAP - an afterschool program for Jewish children in Public Schools, rabbi at The Family Shul & together with his wife directs Chabad Chayil. He can be reached at (305) 770-1919 or rabbi@ChabadChayil.org
Getting ready for college today requires much more than school supplies and textbooks. With the alarming rise in antisemitism and anti-Israel sentiment on many campuses, it is essential for Jewish high school seniors to be prepared for what's ahead.
Join the Greater Miami Jewish Federation International Division and the Center for the Advancement of Jewish Education for a special educational and social program, Sunday, May 15 from 3 to 7:30 p.m. in Miami Beach.
Learn about campus resources that support Jewish life
Gain knowledge and access tools to advocate for Israel
Dine, dance and mingle with other incoming freshmen
There is no cost to attend, but registration is required. To register, visit JewishMiami.org/college Address will be provided upon registration.
Space is limited. Dietary laws observed.
If you, a family member or friend require special accommodations to attend this program, please let us know. We will do our best to assist you.
*For more information, contact Jessica Meiler-Tangir at jmeiler@gmjf.org or 305.705.0800."
Posted by jsmith on 05/02/2022 @ 09:29 AM
CommUNITY Event for Israel
Commemorate Yom HaZikaron & Celebrate Yom Ha'atzmaut
On Wednesday, May 4th will be Hebrew Academy's incredible Community for Israel event at Hebrew Academy Miami, 2400 Pine Tree Drive, Miami Beach. We have many exciting festivities planned including a meaningful program at 6:45 pm, music, face painting, delicious food for purchase and fireworks! Doors open at 5:30 pm and raffle tickets for The Warrior Auction for Education are available for purchase now through May 4th! Check out our amazing prizes today (app.galabid.com/thewarriorauction) and good luck. Please join us and bring your family members to celebrate Yom Ha'atzmaut with Hebrew Academy!
HFLA Provides Interest-free Loans for Those in Need
If you need us ... BORROW
If you know someone ... REFER
To find out how you can apply for an interest-free loan, visit JewishMiami.org/hfla or call 305.692.7555.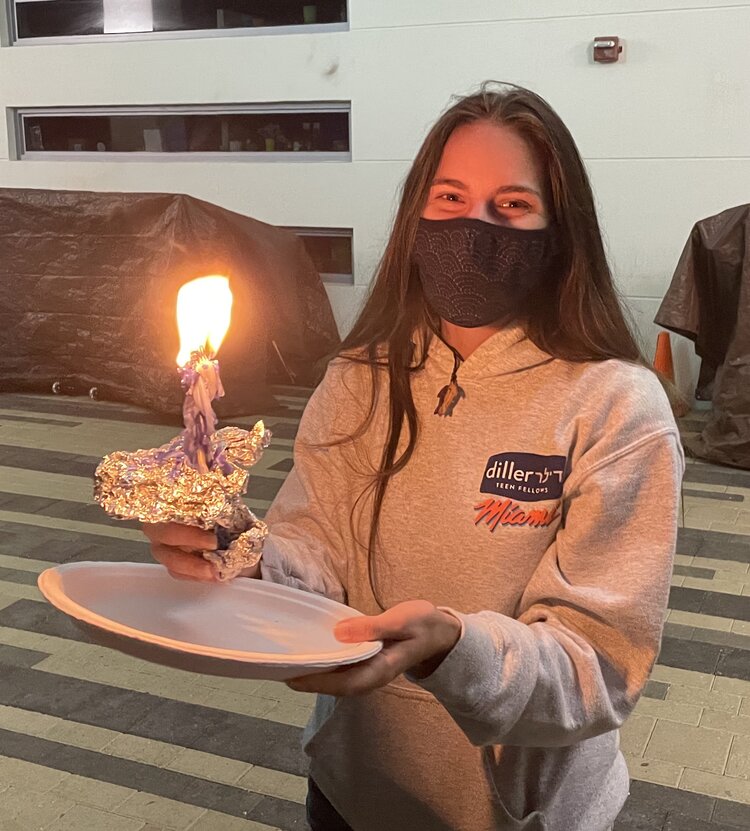 Applications are now open for Miami Diller Teen Fellows, a leadership program for Jewish 10th and 11th graders living in or attending school in Miami Dade County. Throughout the year-long Fellowship, teens develop leadership skills, connect in a global network of peers, strengthen their Jewish identities and create ripples of good throughout the world.
The program includes monthly Sunday workshops, 3 Shabbatonim (weekend retreats), a ten-day peer-to-peer exchange and hosting the Yerucham Diller Cohort in Miami and a three-week Israel Summer Seminar in July.
Diller Teen Fellows empowers teens to become leaders of tikkun olam and provides them the tools to become a force of change throughout their lifetime.
* This is an exclusive leadership cohort limited to 20 students. Apply now through May 31, 2022. Visit dillermiami for eligibility information and to learn more.*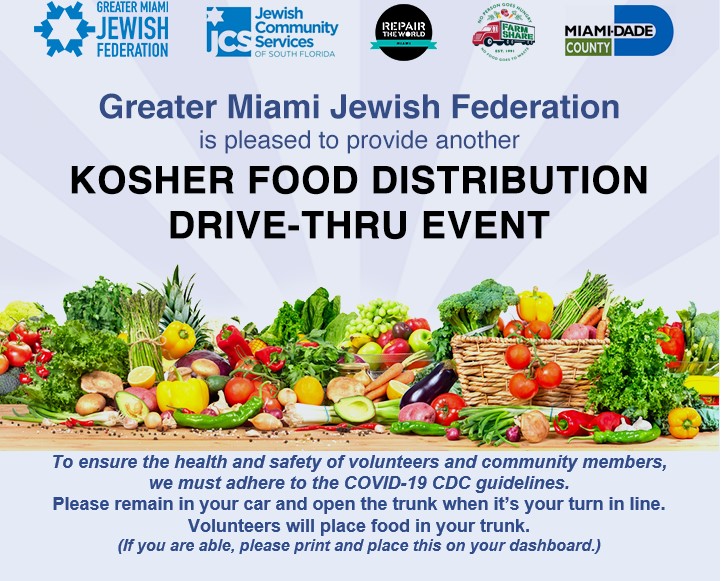 KOSHER FOOD DISTRIBUTION DRIVE-THRU
Friday, April 29, 2022 at 7:30-11 a.m.
Greater Miami Jewish Federation Building, 4200 Biscayne Boulevard
Please use entrance on Federal Highway
Kulna is a nonprofit organization in Miami's partner city of Yerucham in Israel's Negev region. The Kulna mission is to elevate Sephardic culture in Israeli society and educate younger generations about Judeo-Moroccan heritage both in Israel and in Morocco.
FESTIVAL SCHEDULE
Sunday, May 1, 4:00-8:30 p.m.:
Yom Ha'Atzmaut Sunset Yacht Party with Kulna and Moishe House Midtown
For Young Jewish Professionals ages 21-35
SOLD OUT
Monday, May 2, 7:00-8:30 p.m.:
Yom Ha'Atzmaut Celebration Concert with Kulna
Dave & Mary Alper JCC Miami
11155 SW 112th Ave, Miami
For information, contact Jenine Simon jsimon@alperjcc.org or at 305.271.9000 ext. 251.
Free event.
Click Here to RSVP
Tuesday, May 3, 6:00-7:00 p.m.:
Erev Yom HaZikaron Commemoration featuring Kulna
Temple Beth Sholom
4144 Chase Avenue, Miami Beach
For information, contact Mark Baranek at mark@tbsmb.org or 305.538.7241 ext. 376
Free event. Open to the public.
Free parking at North Beach Elementary School.
Wednesday, May 4, 7:30-10:00 p.m.:
Israel@74 Art, Dance and Music Kick-Off featuring Kulna
Michael-Ann Russell JCC
18900 NE 25th Avenue, N. Miami Beach
For information, email drorg@marjcc.org or call 305.932.4200 ext.165
Free event.
Click Here to RSVP
Thursday, May 5, 4:30-8:30 p.m.:
Israel 74 Independence Day Celebration featuring Kulna
Michael-Ann Russell JCC
18900 NE 25th Avenue, N. Miami Beach
For information, email drorg@marjcc.org or davids@marjcc.org or call 305.932.4200 ext.165
Free event. Open to the public.
Click here to RSVP
For more information please contact Bonnie Dawson at bdawson@gmjf.org or 786.866.8498.
If you, a family member or friend require special accommodations to attend these events, please let us know. We will do our best to assist you.
A MESSAGE FROM THE GREATER MIAMI JEWISH FEDERATION
We respectfully request that only those who are fully vaccinated or have a negative COVID-19 PCR test taken within 72 hours in advance of this event attend. We thank you for your understanding and cooperation.