We're sorry but we couldn't find that author.
Danny Ayalon, Israel's former ambassador to the United States and deputy minister of Foreign Affairs, will speak about religion, human rights and refugees at the University of Miami on Oct. 26.
The event is co-sponsored by Sephardi Voices, the Consulate General of Israel in Miami and UM's College of Arts & Sciences.
Ayalon was instrumental in bringing attention to the plight of Jews displaced from Islamic lands after the establishment of Israel. Within one generation after 1948, the population of Sephardi Jews in Arab lands declined from one million to less than 50,000, Sephardi Voices reports. For more information, please visit the Sephardi Voices website, at www.sephardivoices.com.
For the schedule of other programs, go to www.jbstv.org.
Joseph Malovany in Concert
World-renown Cantor Joseph Malovany (Fifth Avenue Synagogue, NYC) performs beloved classic Jewish songs and American classics at a concert at Congregation B'Nai Tikvah in North Brunswick, NJ. A program of The Tikvah for Israel Fund and Dr. Naomi Vilko. Monday Evening 8pm & 1am (5pm & 10pm PT) Wednesday 2pm (11am PT) Saturday Evening 8pm & 1:30am (5pm & 10:30pm PT)
Women in Jewish Texts: Shulman
Award-winning writer and teacher Temima Goldberg Shulman, shows the many ways in which the Jewish Tradition has been misunderstood with regard to women (e.g. Jewish texts on marriage). From the UTJ Conference "Finding Love in the Jewish Community." (Long Beach, NY) Tuesday Evening 8pm & 2am (5pm & 11pm PT) Thursday 1pm (10am PT) Saturday Evening 7pm & 2:30am (4pm & 11:30pm PT)
Progress & Torah: Shai Held
Rabbi Shai Held, Co-Founder and Dean of Mechon Hadar, discusses how the Torah sees in humanity the ability to improve the world through technology. From A Morning of Learning by Mechon Hadar and Schechter Westchester (Upper School) in Hartsdale, N.Y. NY) Tues. Evening 8:30pm & 2:30am (5:30pm & 11:30pm PT) Thursday 1:30pm (10:30am PT) Saturday Evening 7:30pm (4:30pm PT)
CUFI 2016: Middle East Briefing
A discussion of issues facing Israel and the United States with IDF Major Elliot Chodoff, British Col. Richard Kemp, and the host of "The Watchman," Erick Stakelbeck. With CUFI's Gary Bauer from 2016 Christians United for Israel (CUFI), Washington, D.C.
Wednesday Evening 7:30pm & 1am (4:30pm & 11pm PT)
L'Chayim: Daniel Pipes
Dr. Daniel Pipes, President of the Middle East Forum and publisher of its Middle East Quarterly journal, discusses both the threats of Islamic Fundamentalism and the errors people make in suggesting inappropriate policies. Wednesday 9pm & Midnight (6pm & 9pm PT) Thursday 3pm (Noon PT) Saturday 6pm (3pm PT)
"IBA News From Israel" "ILTV News From Israel" "JBS News Update" "In The News" "Election 2016"
October 14, 2016
The United Nations Education, Science and Cultural Organization (UNESCO) resolution, adopted earlier this week by its Executive Board regarding the Temple Mount and Israel's most holy sites, is unconscionable and outrageous in its indisputable revisionist history and anti-Zionist language.
The resolution is an affront to the Jewish people and our two-millennia connection to the Western Wall and the Temple it once supported. By acknowledging the holy sites both on and around the Temple Mount solely by their Arabic names, this resolution may be used by some to invalidate any claim the Jewish people has to its heritage. The result will be to heighten the already palpable religious tensions in Israel and the surrounding region.
The resolution, submitted by Algeria, Egypt, Lebanon, Morocco, Oman, Qatar and Sudan, is broad-sweeping in its condemnation of Israel, one-sided, historically inaccurate, politicized and runs counter to UNESCO's very mission. Following the release of the resolution, UNESCO's Director-General, Irina Bokova, issued a statement which underscored that Jerusalem is a sacred city of three monotheistic religions – Judaism, Christianity and Islam. Bokova said, "The heritage of Jerusalem, is indivisible, and each of its communities has a right to the explicit recognition of their history and relationship to the city."
The Greater Miami Jewish Federation and our Jewish Community Relations Council call on UNESCO's Executive Board to reject this resolution in its final vote next week at its closing plenary and to explicitly recognize the Jewish people's historic and biblical connections to holy sites in Jerusalem.
We thank the United States, the United Kingdom, Lithuania, the Netherlands, Germany and Estonia, who voted against the resolution, which denies Jewish ties to two of our religion's most holy sites: The Temple Mount, on which Haram al-Sharif resides, and the Western Wall. This is a gross attempt by UNESCO to erase history and must be condemned in the strongest possible terms.
It should be noted that on Tuesday, October 18, UNESCO adopted the controversial Arab-sponsored resolution, although Mexico changed its "in favor" vote to an abstention.
Join The Family Shul for Games, Havdala & Family Film!
Featuring award winning films, fit for all ages. Suggested donation $3. Includes fresh hot popcorn, drinks & raffle! The perfect way to spend Saturday Night with the family!
Dates: Nov. 19, Dec. 3, Dec. 17, Jan. 14, Jan. 28 (more dates to be announced)
The Family Shul is located on 2601 NE 211th Terrace. Miami, FL 33180
More info or RSVP at: http://www.chabadchayil.org/templates/articlecco_cdo/aid/1699139/jewish/Family-Film-Night.htm
Aventura Turnberry Jewish Center invite you to Friday Night Live followed by Camp Shabbat with Camp Ramah Darom-The Power of Jewish Overnight Summer Camp on Friday, November 18th at 6:00 pm.
Bounce Houses & Kid Friend Menu
Aventura Turnberry Jewish Center presents Pink Shabbat on Friday, October 28th at 6:00 pm.
Friday Night Live services followed by a family style Shabbat dinner. Join us as we rally together in support of Jewish women and families facing breast cancer. All are Welcome!
Everyone is encouraged to wear pink.
Aventura Turnberry Jewish Center presents Finding Torah - Simchat Torah Dance Party on Monday, October 24th at 6:30 pm
Live Music, Food, Dancing, & Bounce Houses.
Complimentary to all.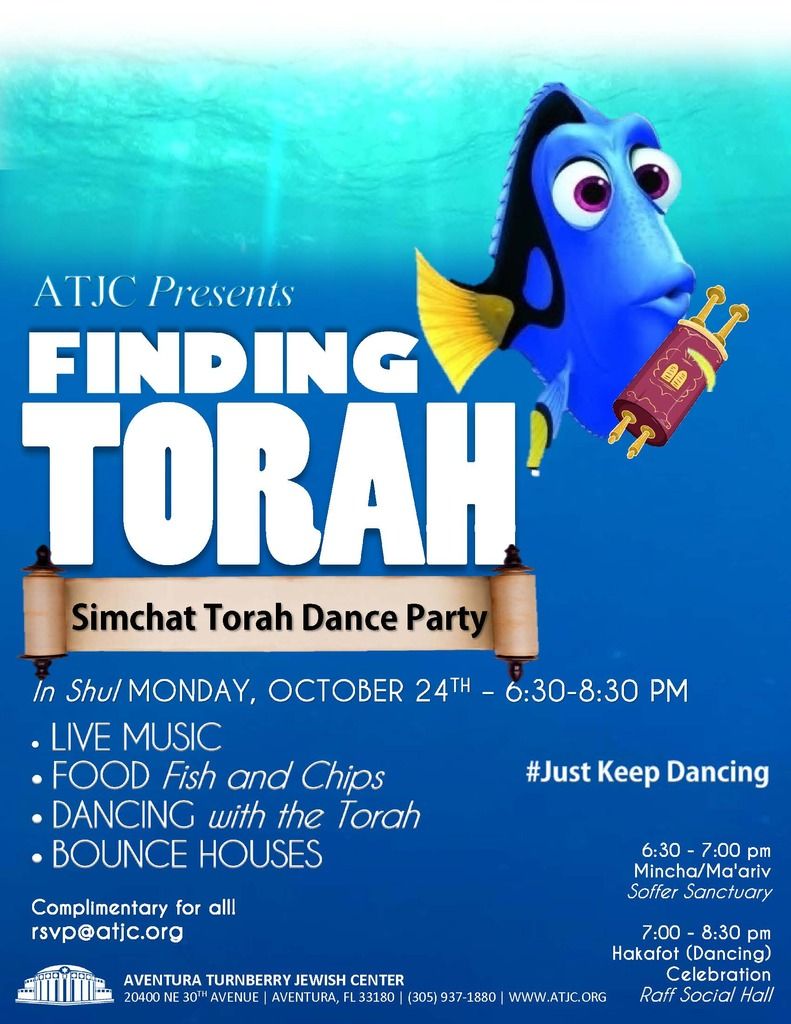 Join the Aventura Turnberry Jewish Center for Friday Night Live Services & BBQ in the Booth on Friday, October 21st at 6:00 pm.
$36 per Family or $18 per adult/$8 per child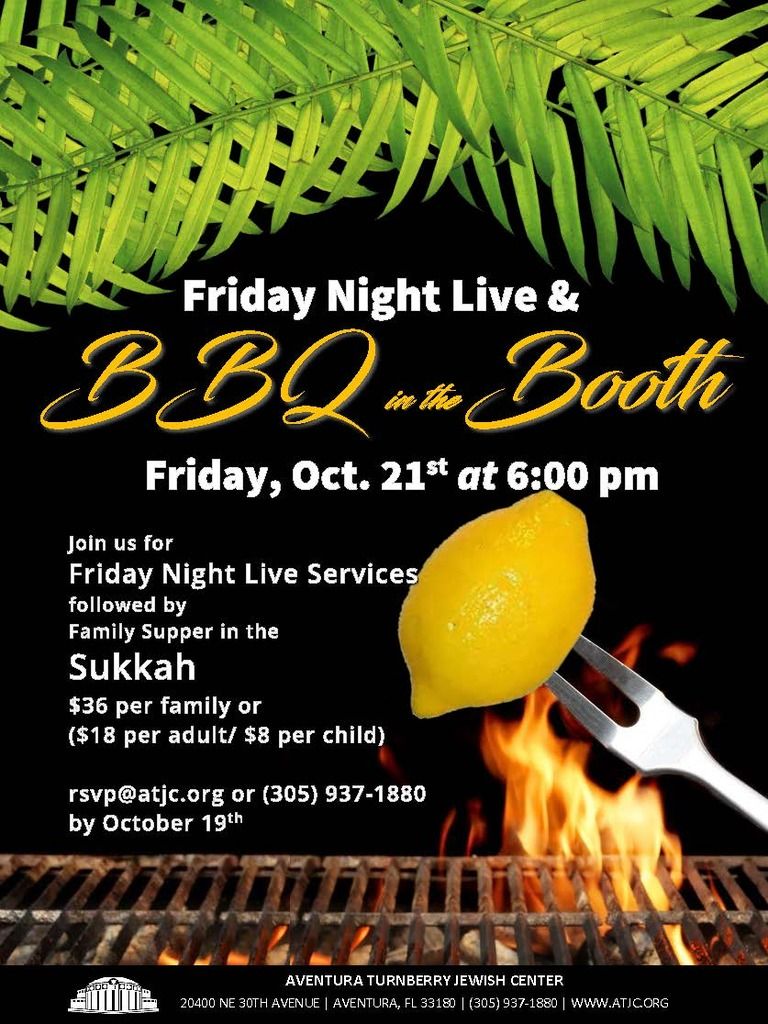 Join the Aventura Turnberry Jewish Center on Sunday, October 16th at 9:00 am for Extreme Sukkah Makeover - During Religious School. Help us decorate the Synagogue's Sukkah. Fun for the entire family!
Food, Arts & Crafts, Ice Cream Truck (cash only), Songs/Music, & Lulav/Etrog.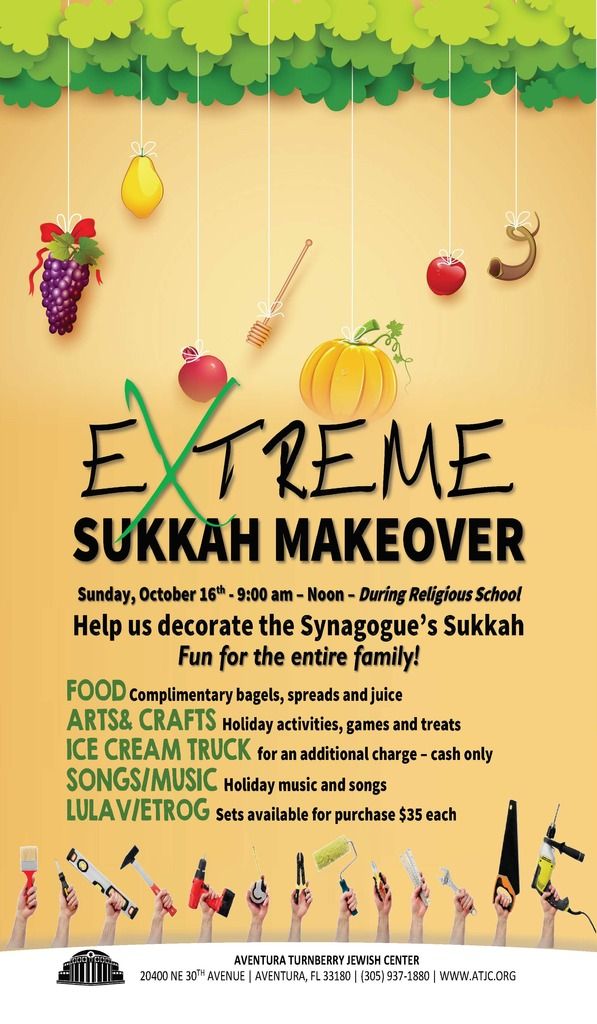 Bereavement support groups begin next week. Preregistration required.
Have you or someone you know experienced a recent loss? Mishkan Miami: The Jewish Connection for Spiritual Support, in partnership with Jewish Community Services of South Florida (JCS), is offering spiritually based bereavement groups for a limited number of participants in North and South Dade. Facilitated by both a certified chaplain and a licensed social worker, each confidential group will meet weekly for eight sessions. Learn how to understand and cope with your grief while finding strength and support from those experiencing a similar loss. Advance registration is required. For more information or to register, please contact Jewish Community Services Access and Referral at info@jcsfl.org or 305.576.6550.