We're sorry but we couldn't find that author.
Sundays, Starting January 13th 12:00pm Drawing Lessons 1:00pm Painting Lessons
Ages 6 and up. Come for one or both.
$60 per month per class. $80 for both classes. $20/30 for individual weeks.
Chabad Chayil, 2601 NE 211 Ter. Miami, FL 33180 Register at (305)770-1919 or ChabadChayil.org/4251835
Mark your calendars for the 22nd annual Miami Jewish Film Festival taking place January 10-24, 2019!
Browse the films and purchase your tickets here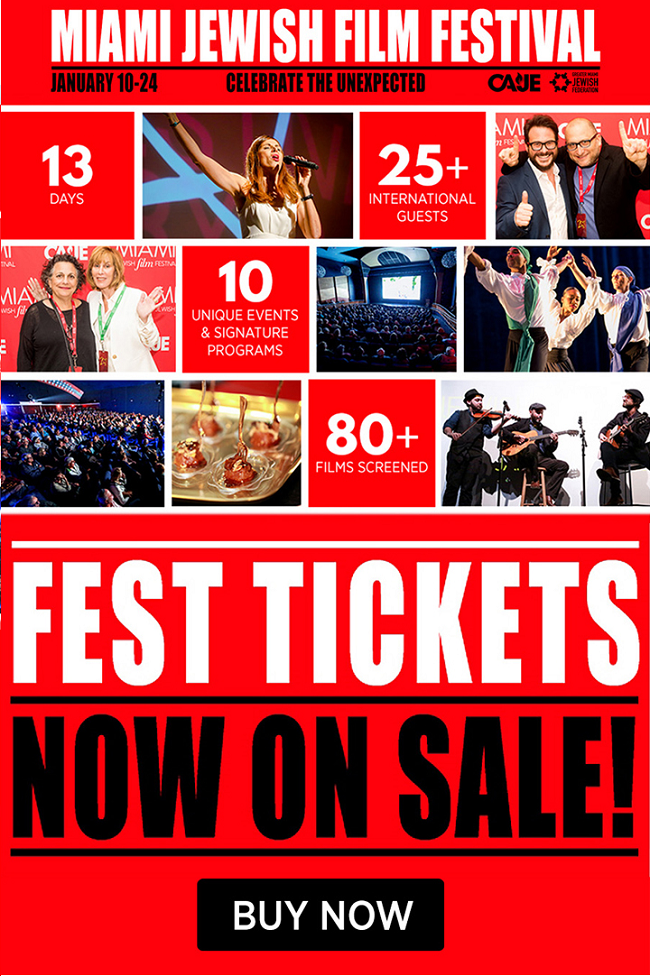 Join The Network and the Miami Jewish Film Festival for a screening of Holy Lands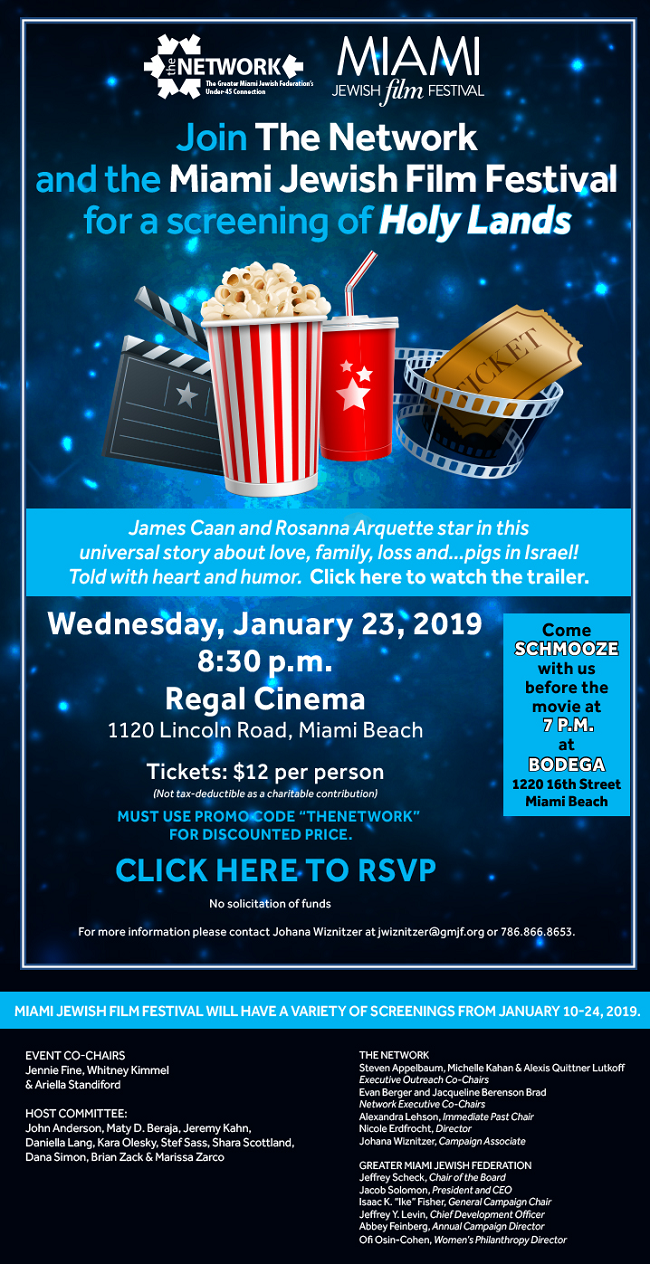 Posted by jsmith on 01/02/2019 @ 08:54 AM
Parents with little ones who are not enrolled in school are invited to join us, and invite their friends, for ECE Open House. This Mommy and Me event will give you quality time with your child and provide you with information about what our ECE Program can offer your family.
ECE Open House for potential babies, toddlers and preschoolers, is on Tuesday, January 8, at 8:30 am at Hebrew Academy, 2400 Pine Tree Drive, Miami Beach, Florida 33140.
RSVP at 305-532-6421 ext.113 or at admission@rasg.org.
Jake Ehrenreich Show #2: J Budd
Singer Julie Budd and cast members from the Yiddish production of "Fiddler On The Roof" are Jake Ehrenreich's guests on JBS's new series, "The Jake Ehrenreich Show," with Jake's inducting Sid Caesar into the Catskills Hall of Fame. Taped before a live audience at the Triad Theater in Manhattan. Saturday - 8pm & 1am; Next Sunday - 10pm
Jackie Mason
Stand-up comedian Jackie Mason performs his one-man hit Broadway show, "The World According To Me," for which he won a "Special Tony Award" in 1987. Monday (1 ½ Hours with L'Chayim) - 9pm & Midnight; Saturday Night - 9pm & Midnight
Tzipi Livni-Israel Policy Forum
Israeli Opposition Leader Tzipi Livni (Hatuna Party) explains her disagreements with Prime Minister Netanyahu. From the 2018 Israel Policy Forum reaffirming a commitment to a Two-State Solution Wednesday - 8pm & 1am; Thursday - 2pm; Saturday - 8pm & 2am
Gun Violence & Religion
A discussion of Jewish and Catholic perspectives on gun control with Tobias Winright (Prof. of Theological Ethics, St. Louis U) and Rabbi Joel Mosbacher (Temple Shaaray Tefila, NYC). By AJC Westchester/Fairfield, from Iona College, New Rochelle, NY. Thursday - 8pm & 1am; Friday - 2pm;Saturday - 7pm & 4am
ITN: Israeli Coalition Falls
Political analyst for The Times of Israel, Haviv Rettig Gur, discusses PM Netanyahu's political future with the collapse of his government, and Israeli reaction to Pres. Trump's decision to withdraw American troops from Syria. Today (Sunday) - 5:30pm, 11:30pm, 3:30am; Monday – 8:30 am & 12:30pm
L'Chayim Round Table: Year End Retrospective - Part 2
In Part 2 of a Year End Retrospective, Thane Rosenbaum, Eric Yoffie, Betty Ehrenberg and Charles Small discuss Jewish criticism of Israel, assimilation and the future of Jewish pluralism; and offer their choices of "Jewish Person of the Year." Today (Sunday) - Noon & 6pm; Monday - 3pm
L'Chayim Round Table: Year End Retrospective - Parts 1 & 2 Tuesday (New Year's Day) - 3-6pm
In Memoriam 2018
Remembering Jews who passed in 2018 including Amos Oz, Bernard Lewis, Philip Roth, Charles Krauthammer, Neil Simon, Howard Sachar, Rabbi Rachel Cowan, Rabbi Aaron Panken, Herb London, Harvey Kaylie, Ari Fuld and 11 members of the Tree of Life Synagogue in Pittsburgh. Today (Sunday) - 1:30pm & 7:30pm; Monday - 4:30pm; Tuesday - 6pm
Posted by:Edith Samers, Vice President 203.536.6914 (cell phone) JBS Jewish Broadcasting Service, a 501c3 fulltime television channel
JWorks Miami invites you to attend a FREE Interviewing Skills Workshop on Thursday, January 10th, 10:30am-12:30pm
Please RSVP at JWorks Miami - RSVP is required! The workshop will begin promptly at 10:30am, please arrive a few minutes prior and dress to impress, business casual is recommended.
Just landed the interview of your dreams? Awesome. Now, we're here to help you out and make sure you score that great job, too.
Before your next interview, brush up on interviewing basics, learn how to research a company and put together a strategic prep plan, and learn smart ways to handle any question or scenario thrown your way. We'll also show you how to follow up afterward (in a non-annoying way, of course).
Some topics we will cover:
* What to Wear!
* Frequently asked interview questions
* What not to say
* Researching the company
* Good questions to ask the interviewer
* Following up – Thank You notes
* Mock interview - time permitting
These events are also a great way for JWorks Miami staff to get to know you! Please note, we are unable to refer you to available opportunities unless we have met you in person.
All events will be held at:
Greater Miami Jewish Federation
4200 Biscayne Blvd,
Miami, FL 33137
Parking lot entrance is on Federal Highway, parallel to Biscayne Blvd. Map
If you have any questions please visit our website or call us at 305-403-6554.
We look forward to seeing you!
The JWorks Miami Team
JWorks Miami is a partnership of the Greater Miami Jewish Federation and
Jewish Community Services of South Florida
www.jworksmiami.org
jobs@jworksmiami.org
305-403-6554, option 1
On Saturday evening, December 22, a tsunami struck Indonesia's Sunda Strait region, killing more than 370 people and displacing thousands. In the wake of the devastation and mounting death toll, immediate assistance is needed. The Greater Miami Jewish Federation overseas partner the American Jewish Joint Distribution Committee (JDC) is providing emergency relief to survivors. Be a part of the international Jewish community's collective response to those who have been affected by this disaster, the third catastrophe to strike Indonesia this year.

Click here to make a donation now
Your donation will provide emergency medical care, clean water and critical supplies. Donation checks with a notation of "Indonesia Tsunami Relief Fund" should be mailed to the Greater Miami Jewish Federation, 4200 Biscayne Boulevard, Miami, FL 33137.
For assistance, you may also call 305.576.4000 ext. 428.
Join us on Monday February 25, at Beth Torah Benny Rok Campus as we honor the lives of Congressman Bill Lehman Z'L and Rabbi Marshall Meyer Z'L with the guest speaker Deborah Benchoam. Inter- American Commission on Human Rights D.C Georgetown University
Inclusion Shabbat
The Family Shul | 2601 NE 211th Terr, Miami, FL 33180 | (305) 770-1919
Join us for a Shabbat promoting inclusion & special health awareness.
Friday, Feb 8 - 6:00 pm Inclusion Service, 7:10 pm Shabbat Dinner. Saturday, Feb 9 - 10:30 am Inclusion Service with Special Children's Program, 12:00 pm Shabbat Lunch.