We're sorry but we couldn't find that author.
Scheck Hillel Community School's Jordan Alexander Ressler Arts Program presents A Spring Concert, featuring Scheck Hillel's Juda and Maria Diener Lower School strings and chorus and Ben Lipson Upper School band and orchestra. Eight ensembles will be presented.
When:
Tuesday, April 2, 2019 @ 7PM
Where:
Diener Athletic Center
Scheck Hillel Community School
19000 NE 25th Ave, North Miami Beach. 33180

This concert is dedicated to Judith Lindenfeld Gorsd, z"l. A beloved friend of Scheck Hillel Community School who named our Jordan Alexander Ressler Arts Program for her grandson, Jordan Alexander Ressler, z"l, sparking a love for the arts among a new generation of students.
Ahavat Olam, a synagogue in Kendall that embraces all Jews and Interfaith families, will host its 14th annual 2nd night Passover Seder. Led by Rabbi and Cantor Danny Marmorstein, there is sure to be lots of good music, including that #1 hit "Dayenu"!
The Seder will include a choice of chicken, brisket, or salmon, delicious vegetables, and fine aged wine: Manischewitz 5779 ... kidding! Other wines will also be served. The meal includes Roasters 'N Toasters specially baked yummy desserts, and vegetarian dinners are available upon request.
The cost is $50.00 per adult and $25.00 for children 10 and under. The Seder is open to the public, but reservations are required. This event is usually a SELLOUT, so reserve your seats EARLY! Reservations close on Tuesday, April 16, 2019.
WHERE: (THE NEW) Roasters 'N Toasters, 12729 S. Dixie Highway, in Pinecrest.
WHEN: Saturday, April 20, 2019, at 6:45 PM.
For reservations email: members@ahavatolam.org,
or call Kim (305) 412-4240 (ofc) or (305) 588-7662 (cell)
A Zissen Pesach/A Sweet Passover Chag Pesach Sameach/A Joyous Passover !!!
A Wider Bridge is a North American organization working through education, advocacy, relationship-building and grant-making to create equality in Israel by expanding LGBTQ inclusion in Israel, and equality for Israel by cultivating constructive engagement with Israel.
Click here to RSVP.
MUSS FAMILY MONTESSORI SCHOOL AT TEMPLE EMANU-EL'S INAUGURAL
                 MUSS FAMILY DAY
                April 7th, 11:00-3:00                                                                                                                                                                                                                                                                                    Muss Park, 4300 Chase Ave., Miami Beach

Enjoy food, carnival games, and appearances by the children's favorite super heroes. Bake sale and activities for the little ones.
                   $50 per family

For further information, call (786) 717-5001
For a complete schedule, go to www.jbstv.org
American Israel Pubic Affairs Committee Policy Conference 2019
AIPAC 2019: Kohr & Foreign Heads
AIPAC CEO Howard Kohr opens the 2019 AIPAC Plenary Conference to be followed by José Ulisses Correia e Silva (PM of Cabo Verde), Viorica Dǎncilǎ (PM of Romania), Juan Orlando Hernandez (Pres of Honduras) and Muriel Bowser (Mayor of Washington, DC). Tuesday - 7pm & 1am
AIPAC 2019: Dermer, Lieberman
Dr. Mort Fridman (AIPAC Pres.), Rep. Steny Hoyer (D-MD and House Majority Leader), Amb. Ron Dermer (Israel's Amb. to U.S.), former Sen. Joe Lieberman, Right Honourable Joan Ryan (U.K. Parliament Member) address the 2019 AIPAC National Policy Conference. Wednesday - 1pm; Saturday - 4am
AIPAC 2019: Pence, Haley, Gantz
Vice-President Mike Pence, Lt. Gen (Res.) Benny Gantz (Chair, Israel's Blue & White Party), former U.S. U.N. Amb. Nikki Haley and NYC Mayor Bill de Blasio address the 2019 AIPAC National Policy in Washington DC. Wednesday - 7pm & 1am; Friday - 1pm; Saturday - 1pm
AIPAC 2019: Pompeo, Schumer
Sec. of State Mike Pompeo and Congressional leaders including Sen. Chuck Schumer (D-NY), Sen. Kevin McCarthy (R-CA), Rep. Eliot Engel (D-NY), Rep. Nita Lowey (D-NY), Rep. Jim Risch (R-UD) address the 2019 AIPAC National Policy in Washington DC. Thursday - 1pm
AIPAC 2019: Netanyahu, Friedman
Israeli Prime Minister Benjamin Netanyahu and U.S. Ambassador to Israel David Friedman headline the closing plenary of the 2019 AIPAC National Policy Conference, with Congressional leaders Rep. Nancy Pelosi, Sen. Mitch McConnell and Sen. Robert Menendez. Thursday - 7pm & 1am; Saturday - 7pm; Next Sunday 3 pm
Plus:
L'Chayim: Shin Bet Head Yaakov Peri
Yaakov Peri, who served as the Director of Israeli intelligence (Shin Bet) during the first Intifada (featured in the 2012 documentary film "Gatekeepers"), discusses the moral complexities involved with the IDF's protecting Israel and explains why he supports the New State Solution. Wednesday - 9pm & Midnight; Thursday - 3pm; Next Sunday - Noon & 6pm
Ken Pollack: The Arab Threat
Former CIA analyst, Kenneth Pollack, presents an historical account of the Middle East conflict and describes the changing nature of the Arab military threat to Israel which he discusses in his book "Armies Of Sand." At The Algemeiner Editor's Club with Algemeiner Editor-in-Chief Dovid Efune. Monday - 8pm & 1am; Tuesday - 2pm
Matthew "Mati" Lazar: Zamir Choral Foundation Today - Noon & 6pm; Monday - 3pm
Yahya Mahmid: An Arab Israeli Perspective Monday - 9pm & Midnight;Tuesday - 3pm
Yossi Klein Halevi: "Letters To My Palestinian Neighbor" Thursday - 9pm & Midnight; Friday - 3pm
Larry Ruttman: Jews & Baseball (For the start of the 2019 Baseball Season) Saturday - 6pm
' A Touch Away" An Israeli television eight-episode mini-series set in Bnei Brak, a city to the east of Tel Aviv
"A Touch Away" Ep-7 Thursday - 10pm & 4am; Saturday - 10:30pm & 1am; Next Sunday - 2pm & 4am; Next Tuesday - 7pm & 2am
Edith Samers Vice President 203.536.6914 (cell phone) JBS Jewish Broadcasting Service, a 501c3 fulltime television channel
JCS and GMJF are joining together to fight food insufficiency in Miami.
Two Great Locations. One Amazing Mission.
North Location: Aventura Turnberry Jewish Center | 20400 NE 30th Ave Aventura, FL 33180
South Location: Beth David Congregation | 2625 SW 3rd Ave Miami, FL 33129
Volunteer to deliver Passover food baskets to homebound seniors during JCS' annual food distribution event.
Basket packing starts at 9:00 AM
Deliver from 10 – 11:15 AM
For questions, contact Marian Mendelsohn at 305.403.6539 or mmendelsohn@jcsfl.org.
Please join the women of North Dade for this exciting event about how to navigate peer pressure, self esteem and staying above social influence/ pressures. Embrace the joy of missing out, and get rid of the fear of missing out.
For more information and to RSVP contact wp@gmjf.org or 786.866.8441.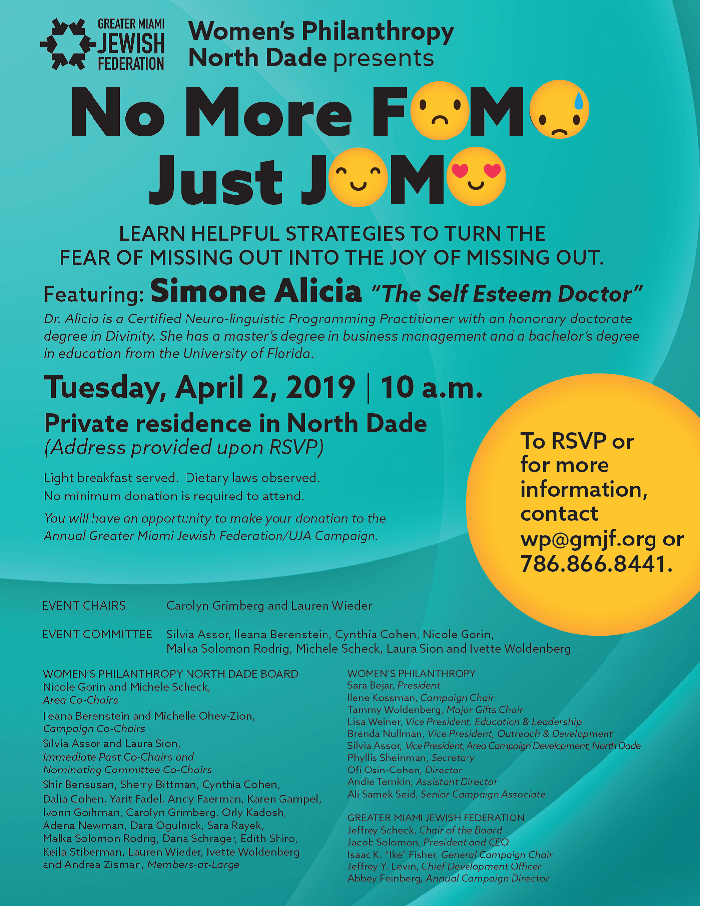 Join Temple Sinai of North Dade for our Annual Cantor Shulkes Spring Music Fest featuring Jewish bluegrass sensation Nefesh Mountain! Saturday, April 6th!
JMOF-FIU will honor four outstanding women on Sunday, April 7, 2019 at 23rd Annual Breaking the Glass Ceiling Awards Luncheon and Program. The Museum is proud to recognize this year's honorees: Susan Brustman, Michele Oka Doner, Mera Rubell & Elizabeth Schwartz and to welcome them into our prestigious group of nearly 100 Breaking the Glass Ceiling honorees to date. Click here to purchase ticketshttps://secure.qgiv.com/for/jmoffiu/event/797769/
The FIDF Young Leadership are turning it up for Miami's Music Week and celebrating Purim with the HOTTEST party in South Florida at the 2019 White Party "Masquerade"!
Join young professionals from all across South Florida as we celebrate in style at our NEW location the legendary "Moore Building" located in stylish Miami Design District. The evening will be filled with:
-Dancing -Music -Gourmet food -Premium Open Bar -And much much more!
Come eat, drink, celebrate, donate and participate!
Event Co-Chairs: Zoe Robins Hinda Adler Andor Tobelem
Tickets: Regular $105 (till 3/21) Door $125
To purchase tickets: FIDF.org/WhiteParty2019
The FIDF YL Miami White Party is 21 and over. All attendees must present a valid photo ID. No refunds.
For more information about the 17th Annual FIDF YL White Party, please contact Elana Kashti, Development Associate, at Elana.Kashti@fidf.org or 305-354-8233