We're sorry but we couldn't find that author.
Join us Sunday, April 14 at Temple Beth Sholom for CAJE Celebration of Learning Honoring Maxine E. Schwartz.
CAJE is a vital component of our Jewish community and our educational system. Your support demonstrates your passion in making sure quality Jewish education remains strong and vibrant in Miami for years to come!
Click here to RSVP.

Posted by cbk203 on 03/19/2019 @ 10:11 PM
"The Association for Jewish Special Education (AJSE) will be celebrating Purim at Temple Beth Am on Thursday, March 21, from 4pm to 6pm.
The Jewish adult special needs community is welcomed, along with their friends and interested volunteers. The program includes the Reading of the Megillah by Rabbi Jaime Aklepi, holiday music, games and refreshments. There is no charge. For further information and to RSVP, please contact Charlotte at 305-205-3846, charlotk@bellsouth.net or Benee at 1-954-442-9624, benehow@gmail.com.
"The AJSE is a 40+ year-old, local, private organization, with the mission to provide holiday celebrations for Jewish adults with developmental disabilities and their friends, and is supported by the Greater Miami Jewish Federation."
Please let us know if you are coming! We want to make sure we have enough refreshments!
A night about Israel with Gabriel Ben Tasgal. Current Israel Affairs: 2019 Elections, peace plans and anti-Semitism.
Click here to RSVP.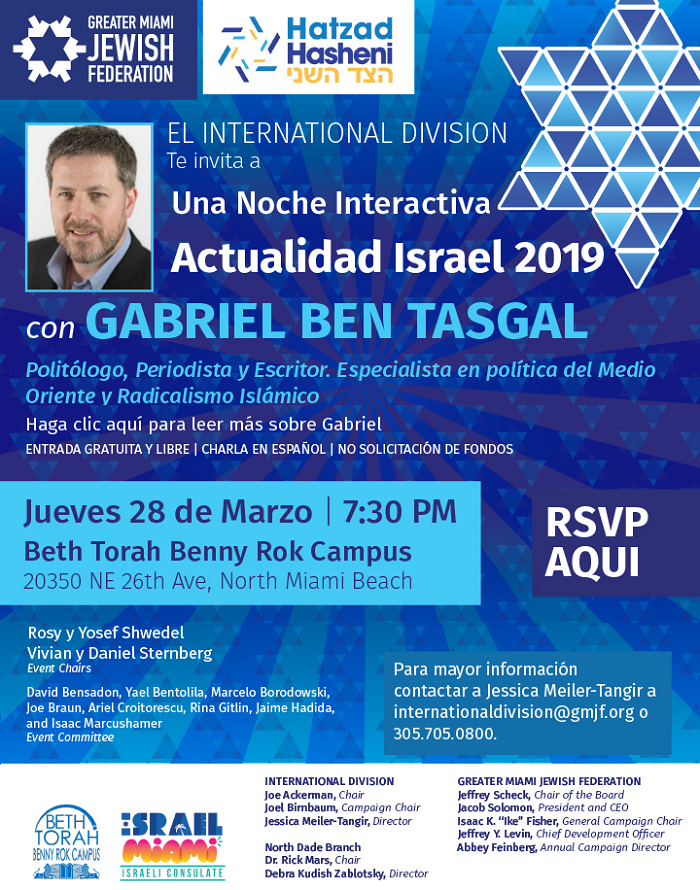 A discussion on healthy living, plant-based cuisine and Jewish perspectives.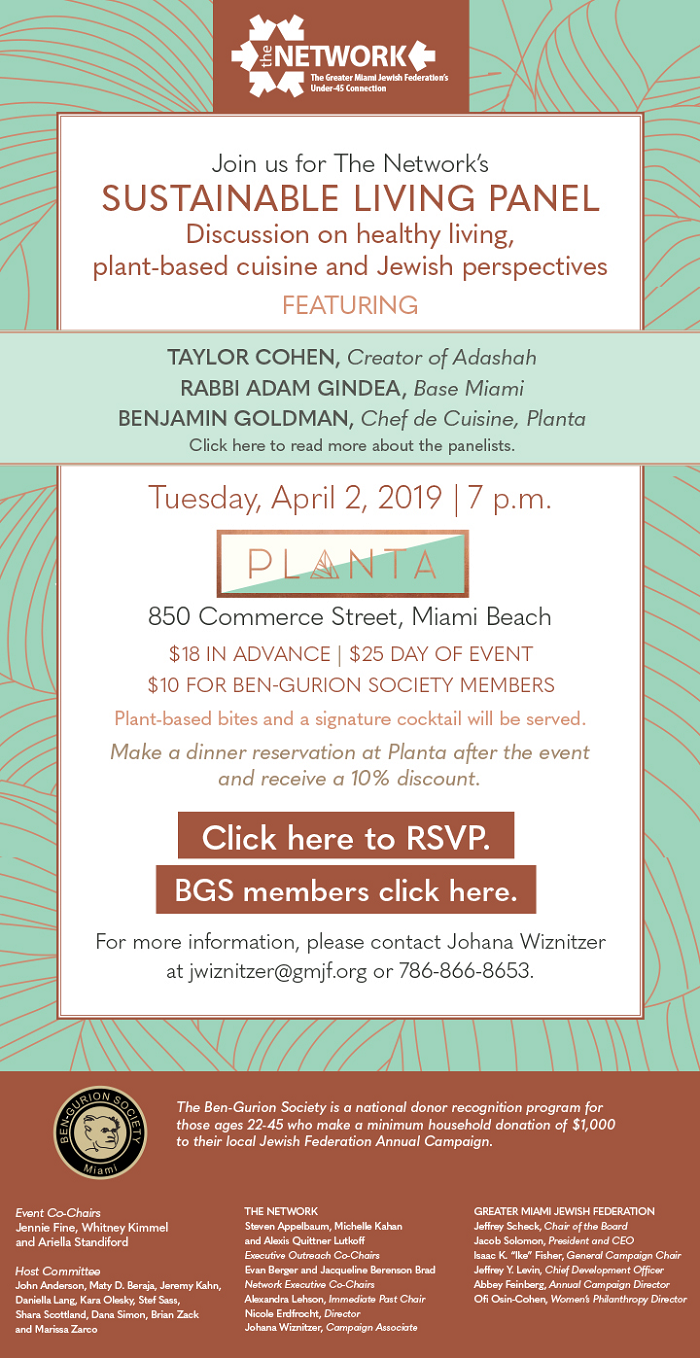 May 17-19
Experience a spirited Shabbat in Crown Heights, Brooklyn! Visit the heart of the Chassidic Chabad Community, 770, the Ohel and more. Gourmet meals, inspiring lectures & accommodations are included. Cost $259 per adult & $100 per child.
Find out more and register at (305) 770-1919 or www.ChabadChayil.org/BrooklynShabbat.
For a complete schedule, go to www.jbstv.org
Wisdom of Maimonides: Jeff Katz
New York Attorney Jeffrey Katz, author of The Secret Life: A Book of Wisdom from the Great Teacher, discusses Jewish values through the lens of the great Jewish philosopher Maimonides. A program of ISGAP from the ISGAP Center in NYC. Monday - 7:30pm & 2am; Wednesday - 1:30pm
Stories & Songs of Elie Wiesel
Cantor Deborah Katchko-Gray describes the influence studying with Elie Wiesel had on her and plays some of the songs she sang with him. For Holocaust Remembrance Day, a program by The Jewish Historical Society of Fairfield County, at JCC of Stamford, Ct. Monday - 8pm & 1am; Tuesday - 2pm; Saturday - 8pm & 2am
Ken Spiro: 7 Jewish Wonders
Rabbi Ken Spiro (Senior Lecturer for AISH HaTorah & Jerusalem U, and author of World Perfect: The Jewish Impact on Civilization) discusses 7 characteristics of Jewish history which reflect a profound connection to Biblical prophecy. A program of Dr. Naomi VIlko from Congregation Kehilath Jeshurun, NYC. Tuesday - 8pm & 1am; Wednesday - 2pm; Saturday - 7pm & 4am
L'Chayim: Matthew Lazar - Zamir
Matthew "Mati" Lazar, founding director of the Zamir Choral Foundation, describes his Jewish background and his love of music; and the Jewish philosophy and joys of Zamir - especially the international teen HaZamir Chorale (performing March 31, 2019 at 4pm at David Geffen Hall). Tuesday - 9pm & Midnight; Wednesday - 3pm; Next Sunday - Noon & 6pm
Talmud: Purim
Rabbi Mordechai Becher, Senior Lecturer with Gateways and author of Gateways to Judaism, shares photos of ancient artifacts, excavations and other images to explore the historical background of the Purim story. On JBS's "Dimensions of the Daf." This Morning (Sunday) - 9am; Tuesday - 9am & 4:30pm; Wednesday - 7pm & 2:30am
92Y: Borsch Belt Comics
The influence of Borscht-Belt comedians on mainstream American humor is outlined in glowing terms by critically acclaimed writer Warren Adler in conversation with Brooklyn-born comic Stewie Stone. From New York's 92nd Street Y .Sunday - 8pm & 1am; Monday - 10pm & 4am; Wednesday - 10:30am; Friday - 8pm & 1am; Saturday - 3pm
Film: Circumcise Me
Through stand-up comedy and personal reflections, Chris Yisroel Campbell tells how he, son of an ex-nun and a Catholic schoolteacher, converted to Judaism (3 times), made Aliyah and struggles with spirituality after friends were murdered in a terrorist bombing. Sunday - 9pm & Midnight; Thursday - 10:30am; Friday - 9pm & 4am
Jewish 101: Purim Peeves
In a special "Jewish 101" Purim edition, Rabbi Mark S. Golub shares five of his pet peeves relating to modern Jewish thought. Wednesday - 10am & 5:30pm; Thursday - 11:30am
92Y: Gene Wilder z"l
The late Jewish comic genius Gene Wilder talks with Wendy Wasserstein about his life and work. From the 92nd Street Y in New York City. Wednesday - 7:30pm & 1am
92Y: The Films of Mel Brooks
The films of Mel Brooks are discussed by Professor Jeremy Dauber, Professor of Yiddish Language, Literature, and Culture at Columbia University. From New York's 92nd Street Y. Wednesday - 8:14pm & 1:44am; Thursday - 2pm
L'Chayim: Jackie Mason
One of American Jewry's iconic comedians, Jackie Mason, reflects upon his choice to give up the Orthodox rabbinate for the world of comedy, discusses his controversial career, and shares some of his observations on Jewish life today. Wednesday - 9pm & Midnight; Thursday - 3pm
The Art of the Kvetch
A discussion of the "kvetch" (complaining) on Jewish humor, and its implications for Jewish secular culture. With Michael Wex (Born to Kvetch), Val Vinokur & Noah Isenberg (The New School) and Jeffrey Israel (Williams College). At The New School in NY. Wednesday - 10pm; Thursday - 1pm
Jewish Comedy of Elon Gold
Jewish standup comedian Elon Gold tells stories about his life, from hosting a Chabad Telethon, to impressions of his own rabbi's ill-fated attempts at standup comedy. From the 2017 AIPAC National Policy Conference. Thursday - 12:30pm
L'Chayim: A Jew Grows in Brooklyn - Jake Ehrenreich
Entertainer, musician and author Jake Ehrenreich (star of The Jake Ehrenreich Show on JBS) shares intimate stories about growing up with survivor parents and his struggles with being different; and discusses his book and one-man show, "A Jew Grows In Brooklyn."
Thursday - 9pm & Midnight; Friday - 3pm
Shalom Kids - Mr. Bookstein's Store: For Purim
Celebrate Purim at Mr. Bookstein's Store as Shifra, Darah, and Fella prepare to dress in costumes, hear the Megillah of Esther, and celebrate the joyous holiday. Sunday- 7:30am & 4pm; Monday - 7am; Wednesday - 7:30am & 4pm; Thursday - 7am
The Purim Story
The story of Esther, Mordechai and Haman is read by Jan Weiss. Monday - 7:30am; Tuesday - 7am; Thursday - 7:30am
Purim Puppets
For Purim, ventriloquist Jonathan Geffner and his hilarious puppet partners perform songs and tell stories while visiting Mr. Bookstein's Store to celebrate the Jewish holiday. A special "Megillah Mishigas" presentation for children. Tuesday - 7:30am & 4pm; Wednesday - 7am
Muzika: Idan Raichel
One of Israel's most popular musical artists, award winning singer and song-writer Idan Raichel, is profiled in JBS's weekly music series, "Muzika." Friday - 10:30pm
Deborah Lipstadt on Antisemitism Today - Noon & 6pm; Monday - 3pm
Janusz Makuch: Polish Jewish Culture Monday - 9pm & Midnight; Tuesday - 3pm
Allen Lewis Rickman: Yiddish Theater Saturday - 6pm
In The News: Eli Lake on Democrats
Bloomberg syndicated columnist Eli Lake analyzes the Democratic leadership's failure to adequately respond to the antisemitic remarks of Ilhan Omar and discusses the implications for the future of the Democratic Party. Sunday - 5:30pm & 11:30pm; Monday - 3:30am, 8:30am & 12:30pm
"A Touch Away" An Israeli television eight-episode mini-series set in Bnei Brak, a city to the east of Tel Aviv – Ep 6
Thursday - 8pm & 2am; Saturday - 10:30pm & 1:30am; Next Sunday - 2pm & 4am; Next Tuesday - 7pm & 2am
Edith Samers Vice President 203.536.6914 (cell phone) JBS Jewish Broadcasting Service, a 501c3 fulltime television channel
Michael- Ann Russell JCC invites you to a Community Purim Celebration on Thursday, March 21 from 3 to 7 PM. Families can enjoy delicious Kosher food for purchase. The event will feature Free Musical Performance by Noam Agami, Drum Circle by Music Box Productions, Reading of the Meguilah, Face Painting, Purim Art Project, Crate your Purim Masks, Soccer Challenge, Carnival attraction, and much more.
Location of Purim Celebration: Scheck Family Plaza at the Michael-Ann Russell JCC - 18900 NE 25th Avenue - North Miami Beach, Florida 33180 Information: Diania@marjcc.org or 305 932-4200 ext 119
Moshav band live concert at Temple Moses! Opening band at 9:00pm, Moshav band 9:15pm, Dj MCS at 10:30pm... 3 Megilah readings starting at 8:00pm
Early kids programming starts at 7:00pm with Jimmy the Musical Maggid. Costume march, food for sale and valet parking Wednesday March 20th Get tickets online at www.templemoses.com or call 305-861-6308
Thursday, April 4th at 7:30 PM
Arieh King, Director and Founder of the Israel Land Fund (ILF), will speak at Temple Emanu-El on Miami Beach.
Mr. King developed the idea for the Fund over the course of ten years of working in the east Jerusalem area. In October 2018, Mr. King was elected to his second term on the Jerusalem City Council, where he works tirelessly for the rights of Jews to live and travel with equal treatment in every part of the holy city.
Arieh works to strengthen the Jewish presence in eastern Jerusalem, where roughly 200,000 Jews live alongside approximately 230,000 Arabs. These efforts include increasing security, adding bus lines to ease transportation for Jews, and an initiative to limit the Muslim muezzin prayer call. #30
Temple Emanu-El is located at 170 Washington Avenue, Miami Beach. For more information, call (305) 538-2503 ext. 221
The primary vision of the JTP is to provide Jewish tennis players an exclusive professional program to achieve a top world competitive level. Our vision combines high quality education with a deep connection to Jewish culture and Israel.*
The JTP's team decided that there is no better way to launch the JTP than to honor two of the greatest Israeli tennis legends, Shahar Peer and Shlomo Glickstein. Shahar and Shlomo are the perfect examples of what we strive for with our elite platform. They are a true representative of the organization visions and values.