We're sorry but we couldn't find that author.
Temple Emanu-El on Thursday, March 14th at 7 PM, will feature Whim 'n Rhythm, Yale University's all-senior SSAA a cappella group, for an evening of music. 1701 Washington Avenue, Miami Beach.
Regular price tickets available at the door (cash/card/check): Priority $40 Adults $25 Seniors (65+) $20
Students $15 Member Discount at the door: Priority $35 Adults $20. Discounted tickets are available for pre-order at whimattempleemanuel.eventbrite.com.
For further info, contact Ariela Zebede-Yale College Class of 2019/Tour Manager, Whim 'n Rhythm 2019 (305) 206-8644 ariela.zebede@yale.edu
Let's make a lot of noise this Purim and celebrate with joy while we raise funds to help the Jewish community.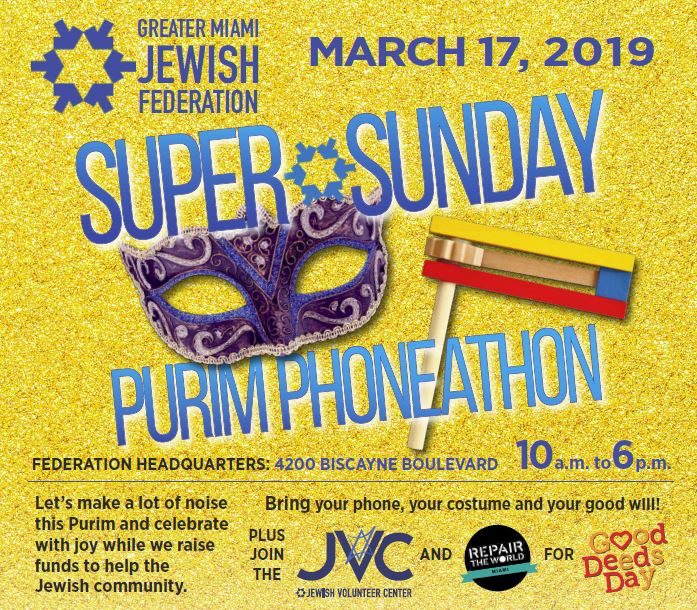 Take a voyage into the mysteries of the human mind with a captivating show on Sunday, February 24 at 4pm in the Russell Theater at the Alper JCC. The phenomenal Guy Bavli, Master of the mind, will have audiences laughing and shaking their heads in disbelief as he reads their minds with a mix of mentalism, illusion, psychology, physiology and intuition. His amazing ability to move objects and read minds will leave you in wonder and astonishment long after this performance. The celebrity mentalist has appeared on TV more than 400 times, put on thousands of shows in more than 60 countries, and performed 1,200 shows at Caesar Palace, Las Vegas. Not a believer? Come join us and see for yourself!
JCC Members $35 | Community $40 | Students $15 | Family Package: 2 Adults/2 Students $75
For tickets visit alperjcc.org or call 305.271.9000 x268 or email asantana@alperjcc.org.
Located at the Dave and Mary Alper Jewish Community Center, Russell Theater Bldg. 4, 11155 SW 112 Avenue, Miami 33176
For a complete schedule, go to www.jbstv.org:
Witness: William Bernheim
William "Willie" Bernheim, born in 1922 in Lodz, Poland, describes his experiences in the Shoah and his survival in Buchenwald, and shares his Holocaust paintings published in his book "My Story: From Hell To Rebirth." Today (Sunday) - 3pm ; Monday - 10:30am; Tuesday - 7pm & 4am; Thursday - 1pm & 5am
92Y: Living Well, Aging Well
Rabbi Harold Kushner (When Bad Things Happen to Good People) and Rabbi Rachel Cowan z"l (Wise Aging) discuss what it means to live a good life. With Rabbi Peter J. Rubinstein, Director of Jewish Community, at the 92nd Street Y in NYC. Tonight (Sun) - 8pm & 1:30am; Monday - 10pm & 4am; Wednesday - 10:30am; Friday - 8:30pm & 1am; Saturday - 3pm & 5am
Israel @ 70: The Arts (CUNY TV)
For Israel's 70th birthday, an array of Israel's leading artists celebrates the vibrancy and diversity of the Israeli art scene, including jazz clarinetist Anat Cohen, blues singer Ravid Khalani and host Donna Hanover. A special presentation of CUNY TV. Monday - 7:30pm & 2am; Wednesday - 1:30pm
StandWithUs Gala: Royce & Engel
The 2018 StandWithUs NY "Leaders of Tomorrow Gala" with Israeli Consul Gen. Dani Dayan, former Rep. Ed Royce (R-CA), Rep. Eliot Engel (D-NY), TV matchmaker Siggy Flicker, founder Roz Rothstein, Shahar Azani and emcee Elon Gold. From Gustavino's in NYC. Monday - 8pm & 1am; Wednesday - 2pm; Saturday - 8pm & 1am
UN & Israel: Cotler/Rubinstein
Irwin Cotler (Former Minister of Justice of Canada) and Elyakim Rubinstein (Former VP of Israeli Supreme Court) discuss why the U.N. should not be rejected despite its anti-Israel bias. Touro Law Center & and University System from the Jewish Center in NYC. Tuesday - 8pm & 1am; Thursday - 2pm; Saturday - 7pm
L'Chayim: Yechiel Eckstein z"l
A 2015 L'Chayim in memory of the founding Pres. of the International Fellowship of Christians and Jews Rabbi Yechiel Eckstein z"l (2/6/19) who talked of his personal journey, answered his critics, and analyzed Israeli and Jewish life. Tuesday - 9pm & Midnight; Wednesday - 3pm
David Goodman
In honor of Black History Month, David Goodman remembers his brother's sacrifice and how the murders of Andrew Goodman, James Cheney and Michael Swerner helped sway a nation in support of the Civil Rights movement (Saturday 6pm)
On L'Chayim this Week:
Allen Lewis Rickman: "Tevye Served Raw" Today - Noon & 6pm
Brooke Goldstein Monday - 9pm & Midnight; Tuesday - 3pm
Richard Haass Tuesday - 9pm & Midnight ; Wednesday - 3pm
Talmud: Marriage Rabbi Mordechai Becher, senior lecturer at Gateways and author of Gateways to Judaism, reviews the theme of marriage as found in Talmud.
On the JBS series "Dimensions of the Daf." Today (Sunday) - 9:30am; Tuesday - 9:30am & 5pm; Thursday - 7:30pm & 4am
L'Chayim: The Psychology Of Love
Dr. Aaron Ben Ze'ev, former President of the University of Haifa, professor of philosophy and author of "Love Online", discuss the psychology of love. Thursday - 9pm & Midnight; Friday - 3pm
Series: A Touch Away
For Valentine's Day, JBS begins the 8-part hit Israel TV mini-series, "A Touch Away" -- a story of forbidden love and secrets when a secular Jewish family from Russia moves in next to a Haredi family in B'nai B'rak - and their daughter, about to be part of an arranged marriage, falls in love with the charismatic son. (In Hebrew with English Subtitles.) Wednesday - 8:20pm; Thursday 1am; Friday - 10:30am; Saturday 10pm
Submitted by: Edith Samers Vice President 203.536.6914 (cell phone) JBS Jewish Broadcasting Service, a 501c3 fulltime television channel
Join Women's Philanthropy Central Area Board for a conversation about making the film My Survivor with Helen Sachs Chaset, Ed.D. (Executive Producer), Jerry Levine (Director) and Maxine E. Schwartz (Executive Producer).
Click here to RSVP.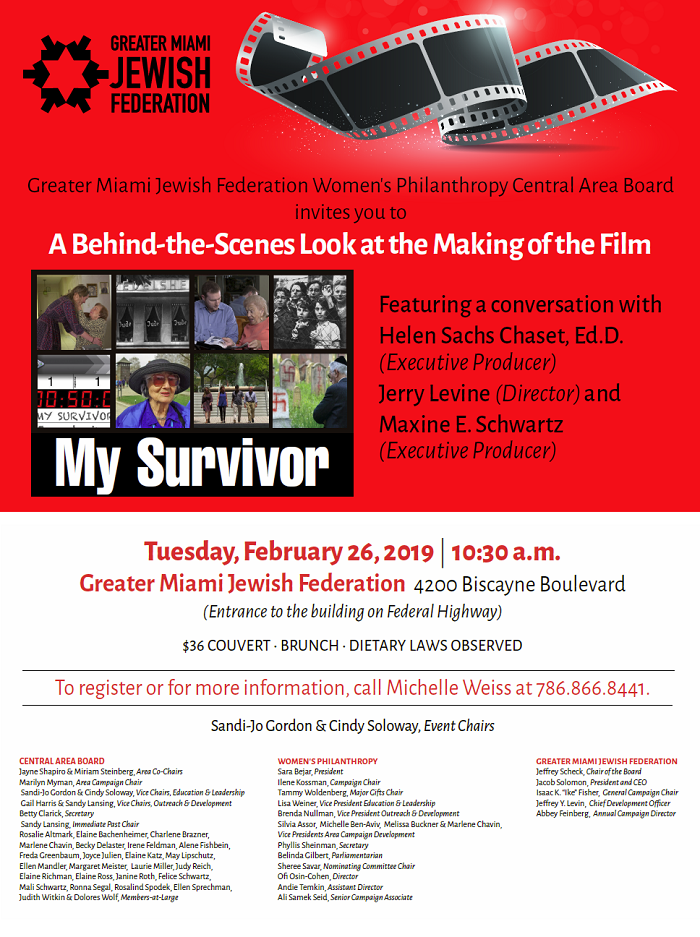 In honor of Jewish Disability Awareness & Inclusion Month, The Friendship Circle Miami, The Alper JCC & Jewish Community Services invites you to a special screening of My Hero Brother, Wednesday, February 13 at 7:30pm Located in the Robert Russell Theater at the Alper JCC 11155 SW 112 Avenue, Bldg. 4, Miami
A group of people with Down Syndrome embark on a demanding trek through the Himalayas with their siblings. As they deal with physical and emotional challenges, unresolved conflicts come to surface and heartwarming friendships develop.
$10 per person / Max $25 per family Tickets: www.friendshipcirclemiami.org/myherobrother
Alper JCC Berrin Family Jewish Book Festival Presents Steven Levenson, Dear Evan Hansen: The Novel In conversation with Christine Dolan, Artburst Theater Critic | Includes refreshments Sunday, February 10, 2019 4pm at the Alper JCC 11155 SW 112 Avenue • Robert Russell Theater Admission packages: Student $10 (no book) | Student $20 (with book) | 1 Adult (with book) $30 | 2 Adults (one book) $40
The Tony Award-winning co-creator of Dear Evan Hansen, Broadway's 2017 Best Musical, presents his groundbreaking novel inspired by the show. A letter that was never meant to be seen by anyone draws high school senior Evan Hansen into a family's grief, and he is given the chance of a lifetime: to belong. No longer tangled in his once-incapacitating anxiety, this new Evan has a purpose. And a website. Every day is amazing until everything is in danger of unraveling. A simple lie leads to complicated truths in this big-hearted coming-of-age story of grief, authenticity and the struggle to belong in an age of instant connectivity and profound isolation. Show Tunes performed by Miami Children's Theater
WHAT "THE MAMBONIKS," a new film about the Jewish love of Latin music and dance, will make its world premiere at the Miami Film Festival. Directed by Peabody Award-winning producer Lex Gillespie, the movie was filmed in South Florida and features many local residents in starring roles.
WHEN March 3, 2019, at 3PM
WHERE The Coral Gables Art Cinema, 260 Aragon Avenue, Coral Gables, FL 33134, 786.385.9689
TICKETS HERE https://2019.miamifilmfestival.com/films/mamboniks/
ABOUT THE FILM Bagels meet bongos in THE MAMBONIKS, a 90-minute documentary that tells the little-known story of the Jewish love affair with Latin music. Set in New York, Havana, Miami Beach, and the Catskill Mountains, this uplifting film features a lovable, somewhat zany collection of dancers from the 1950s. Now retired yet still dancing in Florida, they share their passion for the mambo, the hot dance from Cuba that became a world-wide sensation. With an infectious soundtrack including Tito Puente, Celia Cruz and mambo king Pérez Prado, this film explores a mostly unexamined aspect of Jewish life and culture.
WATCH THE TRAILER https://vimeo.com/267148924
Scheck Hillel Community School's Jordan Alexander Ressler Arts Program presents "Once Upon a Mattress." Grade 6-12 students and crew will take you to the faraway kingdom of Queen Aggravain with this classic musical favorite for the whole family to enjoy!

WHAT:
Musical Theatre Production of "Once Upon a Mattress" directed by Anthony Campisi with musical direction by Laura Bass and choreography by Justine Rosales.

WHO:
Scheck Hillel Community School's Jordan Alexander Ressler Arts Program (Student cast and crew).

WHEN:
Wednesday, February 20, 2019 @ 7 PM
Thursday, February 21, 2019 @ 7 PM
Sunday, February 24, 2019 @ 2 PM

WHERE:
Scheck Hillel Community School (19000 NE 25th Avenue, North Miami Beach, FL 33180).

BOX OFFICE:
Purchase tickets at eHillel.org/boxoffice ($13/ticket online or $15/ticket at the door).

ABOUT THE PLAY:
This musical theatre adaptation of Hans Christian Andersen's fairy tale, "The Princess and the Pea," tells the story of a prince in search of a true princess. "Once Upon A Mattress" begins in a faraway kingdom long ago, where due to an unhappy curse, the King is unable to speak. Meanwhile, his terror-of-a-wife, Queen Aggravain, has taken over control of the kingdom. Most importantly, in an attempt to keep Prince Dauntless single, she has decreed that only the princess that can pass her test may marry her son. Further, no one else in the kingdom may marry until Prince Dauntless does.

Luckily, Sir Harry is able to find an amazing princess, Winnifred the Woebegone. She instantly catches the attention of Prince Dauntless, and in the end, is able to pass the Queen's supposedly impassable sensitivity test. When the Queen still tries to prevent Prince Dauntless from marrying, he ends up standing up to her, which ends up breaking the curse on the King. Now able to speak, the King regains his rightful position as leader of the kingdom, and all is well.

Hans Christian Andersen wrote more than 150 fairy tales including "The Little Mermaid," "The Emperor's New Clothes," "The Ugly Duckling," "Thumbelina" and "The Snow Queen." More than 120 years after the publication of "The Princess and the Pea," Mary Rodgers, Marshall Barer and Jay Thompson adapted "The Princess and the Pea" to musical theatre in 1958.

About Scheck Hillel Community School
Scheck Hillel Community School educates and inspires students 18 months-Grade 12 to become exemplary global citizens with enduring Jewish identity and values through an individualized college preparatory curriculum highlighted by Design/STEM, Capstone, college dual enrollment, arts, athletics and community service. Its 14-acres include a 115,000-sq.-ft athletic complex with academic expansion plans. Set within a nurturing, diverse community, Scheck Hillel is one of the world's largest Jewish community day schools and a National Blue Ribbon School of Excellence. For more information about Scheck Hillel Community School or to arrange a visit to the school, please contact our Admissions office at 305.931.2831x173 or write to admissions@eHillel.org.
Please join us for a North Dade Business Network Breakfast on February 28, 2019 at Skylake Synagogue. We will have time to network with other professionals as well as hear from Dr. Arthur Agatston, world renowned cardiologist and author of The South Beach Diet.
Arthur Agatston MD, FACC is a world renowned cardiologist who is best known for his contribution to medicine by his development of the "Agatston Score." Dr. A is also an expert in nutrition who authored the New York Times #1 best seller "South Beach Diet" in followed by 12 other nutrition, cardiac prevention and gluten related books which have sold more than 23 million copies in 33 languages worldwide. He has authored more than 200 scientific papers and abstracts. He was recognized as one of "Time 100" most influential individuals in 2004.
To register, please click here.