It's Happening In Miami
Posts by life23
Posted by life23 on 03/30/2021 @ 01:50 PM
April 7th at 12:00
Join American Friends of Magen David Adom, the JCRC of the Greater Miami Jewish Federation, and the Consulate General of Israel in MIami for an informative conversation with panel of Experts: Marc Codron, Director of Strategic Partnerships at JDC-Eshel, Dr. Ofer Merin, Director General of Shaare Zedek Medical Center, Professor Eilat Shinar, Director of Blood Services Division and Magen David Adom.
Register here

Posted by life23 on 02/17/2021 @ 09:06 AM
On behalf of the Diversity, Equity and Inclusion Council please join a panel for a book review of Caste; The Origins of our Discontents by Isabel Wilkerson.
Tuesday, February 23, 2021 4:00 PM
The book describes racism in the Unites States as an aspect of a caste system- a society-wide system of social stratification characterized by notions such as hierarchy, inclusion and exclusion, and purity. Wilkerson does so by comparing aspects of the experience of American people of color to the caste systems of India and Nazi Germany, and she explores the impact of caste on societies shaped by them and their people.
For more information, please contact: events@miamibeachchamber.com

Posted by life23 on 12/02/2020 @ 10:43 AM
Monday, December 7, 2020 6:30-8:00 pm
Mishkan Miami Invites you to a Special Uplifting Journey as we move through the Hanukkah holiday and into the New Year!
                             with

Rabbis Frederick Klein and Cheryl Weiner and Cantorial Soloist Laura Lenes
Experience words of comfort for those who are experiencing grief--- the loss of a loved one, the loss of a job, or the loss of connection with others due to the pandemic.
Learn skills, activities, rituals that help us cope with grief and loss through the holidays.
Discover how we can support each other in this challenging time.
Listen to music, songs, and blessings that soothe the soul.
Share how we can bring our inner source of light to illuminate the world.
                   Register in advance for this meeting:

https://us02web.zoom.us/meeting/register/tZUvdOurpzoqGdcFTziHOZ1f7BDgmJXDDuzS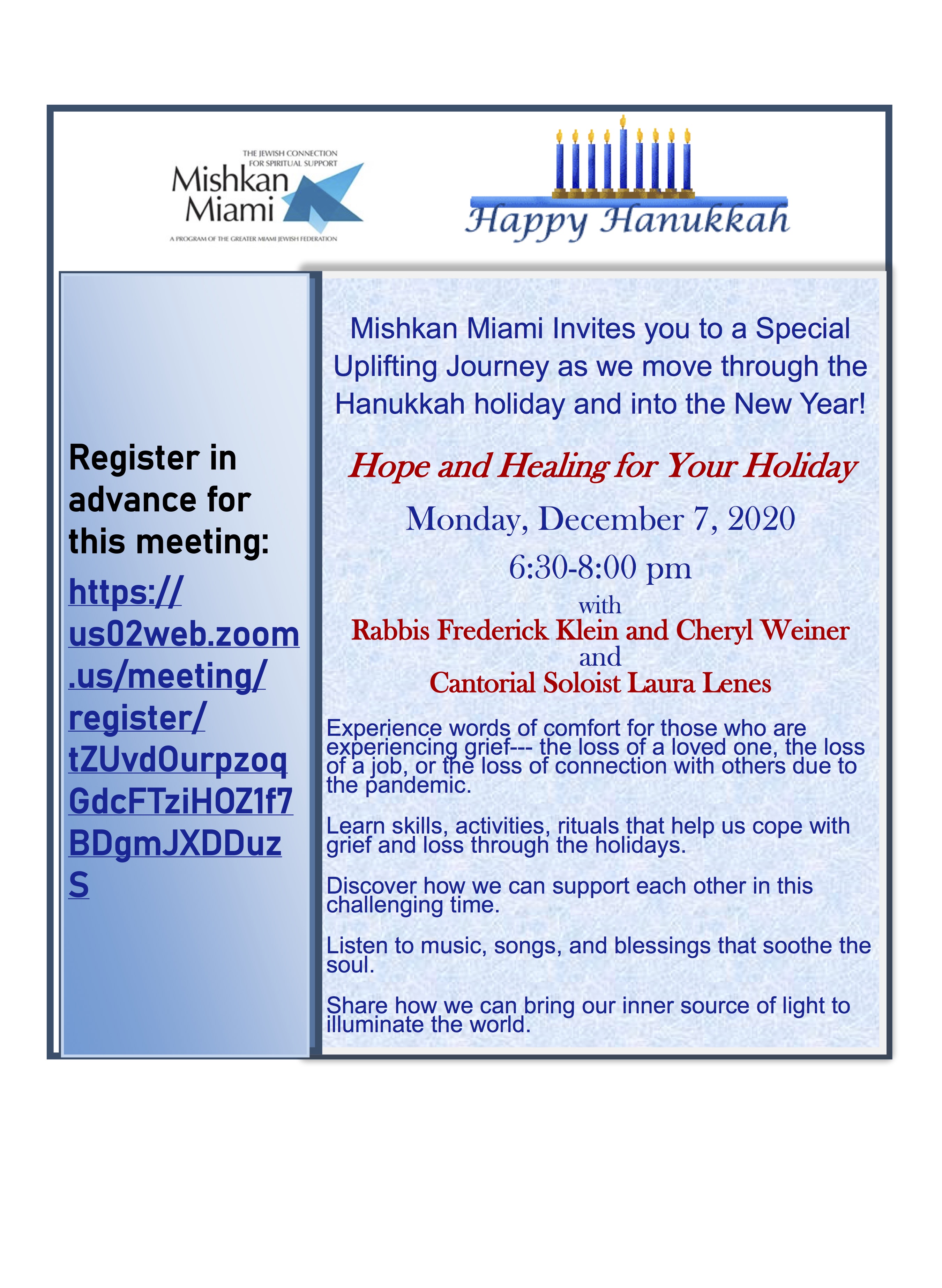 Posted by life23 on 10/16/2020 @ 10:19 AM
"Can We Talk?" Empowering us and others to Talk Jewishly about Advanced Planning- Apply for Mishkan Miami's Sacred Jewish Conversation Facilitator Training Program
Especially during an uncertain time such as this, many of us at all ages and stages of life have though about not only our values, legacy and end-of-life wishes for ourselves, but we want to engage in this conversation with others- friends, family, and our medical professionals. From experience, we know that engaging others in these conversations can be daunting, but you are not alone.
• Do you think about having this conversation with family members? • Are you interested in learning how to facilitate this conversation with your friends, congregation or book club? • Are you a medical professional, a long-term care facility worker or a legal professional with clients who could benefit from these conversations? • Are you a social worker or case manager working with older adults? • Are you clergy who wants more information and resources for your congregation?
Mishkan Miami will be our second training to become a Sacred Jewish Conversation facilitator. In a few online sessions, you will receive materials and build confidence in engaging others in this important conversation about end-of-life wishes.
Because of public health concerns, we have gone virtual. You will be able to join this group from the comfort of your home!
Click the link below to apply, or call Rabbi Fred Klein, director of Mishkan Miami at 305-562-1235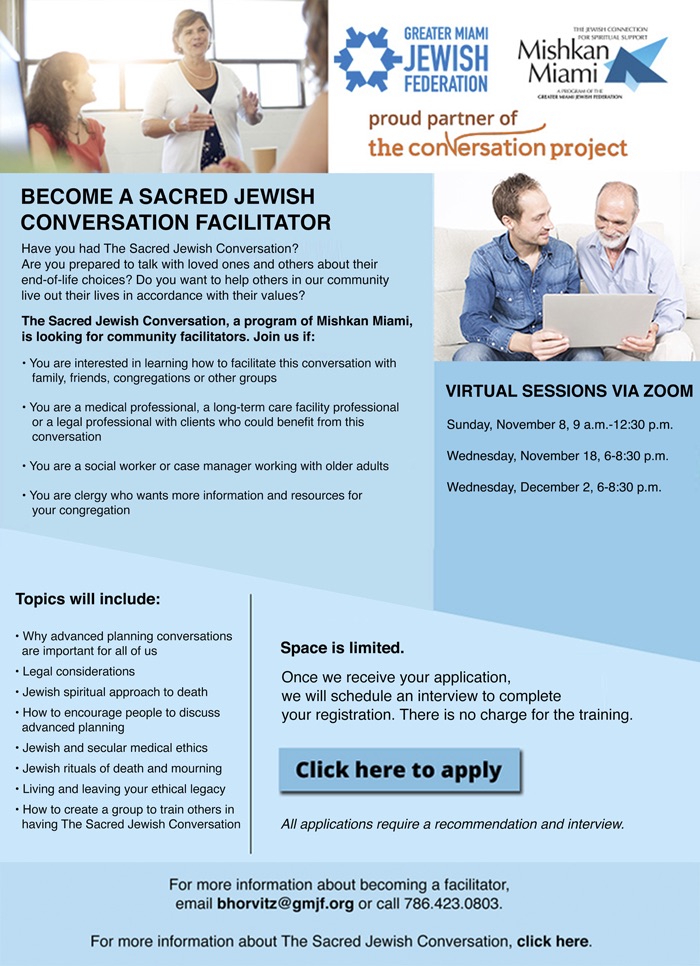 Posted by life23 on 10/16/2020 @ 10:17 AM
Help Your Self through Helping Others: Join Federation's VIRTUAL Spiritual Care Volunteer Program
""You go out to visit someone new and you find a new part of yourself."- volunteer and participant Do you want to experience a unique and meaningful opportunity to bring comfort, spiritual solace and joy to people in need? Mishkan Miami can help you make a difference in the life of someone who is alone, scared and suffering.
Through the Refuat Ha-Nefesh program, we train volunteers of all denominational backgrounds to learn the art of spiritual care. Over the course of six months, our volunteers hear from rabbis, chaplains, doctors, social workers and bereavement specialists on how to connect with people at their most vulnerable moments. As part of Refuat Ha-Nefesh, you will transform the life of others by listening, sharing and engaging. You will help someone make meaning out of what is happening to them.
Because of public health concerns, we have gone virtual. You will be able to join this group from the comfort of your home!
Click the link below to apply, or call Rabbi Fred Klein, director of Mishkan Miami at 305-562-1235
Posted by life23 on 07/09/2020 @ 09:25 AM
Dear friends:
Join me and AJC for this historic conversation with Argentina's President Fernández to pay tribute to the 85 victims of the AMIA attack and raise our collective voices against terrorism and antisemitism in all its forms.
See below the message from Juan Dircie, Deputy Director, AJC Belfer Institute for Latino and Latin American Affairs. Sign up and register and share the event with your organization's community.
Firstly, we must inform you that the date of the event has been moved and will take place on Thursday, July 16th, 2020, at 12 pm ET.
This year's event will include a testimony from a survivor of the attack as well as a conversation with President Alberto Fernandez of Argentina.
Please share the event's details with your community by email and all social media outlets, to spread the word as widely as possible.
Below we have included a suggested text that can be used to advertise the event.
Remembrance and Justice: A Special Conversation with the President of Argentina, H.E. Alberto Fernández, on the 26th Anniversary of the AMIA attack
It has been twenty-six years since AMIA – the institutional heart of Argentine Jewry – was targeted in a devastating terrorist attack perpetrated by Iran's proxy, Hezbollah.
Since the immediate aftermath of the attack and until the present day, AJC has been calling for justice and accountability for the single deadliest antisemitic incident since the Second World War. Over the past several years, after a turbulent investigative journey, Argentina has laudably identified Iran as responsible for the attack, designated all of Hezbollah as a terrorist organization, and adopted the IHRA Working Definition of Antisemitism, with AJC's active encouragement and support.
Today, despite the unprecedented difficulties surrounding the COVID-19 pandemic and domestic challenges in Argentina, President Alberto Fernández is strengthening ties with the United States, with Israel, and with the Jewish community in Argentina and around the world.
Register in advance for this program: https://zoom.us/webinar/register/WN_wKn9q8d-Scqyko8oToENdw
After registering, you will receive a confirmation email containing information about joining the webinar.