Wednesday, November 18 at 8 p.m.
Virtual event via Zoom

BEYOND THE GHETTO GATES: A NOVEL
BY MICHELLE CAMERON

Curl up with a good book and then join us online for a discussion with the author. Even if you don't have time to read the book first...we want to see you online!

Give Miami Day is almost here! This year, you can begin participating early starting on Monday, November 16 through Give Miami Day on Thursday November, 19.
Donate on givemiamiday.org/jewishmiami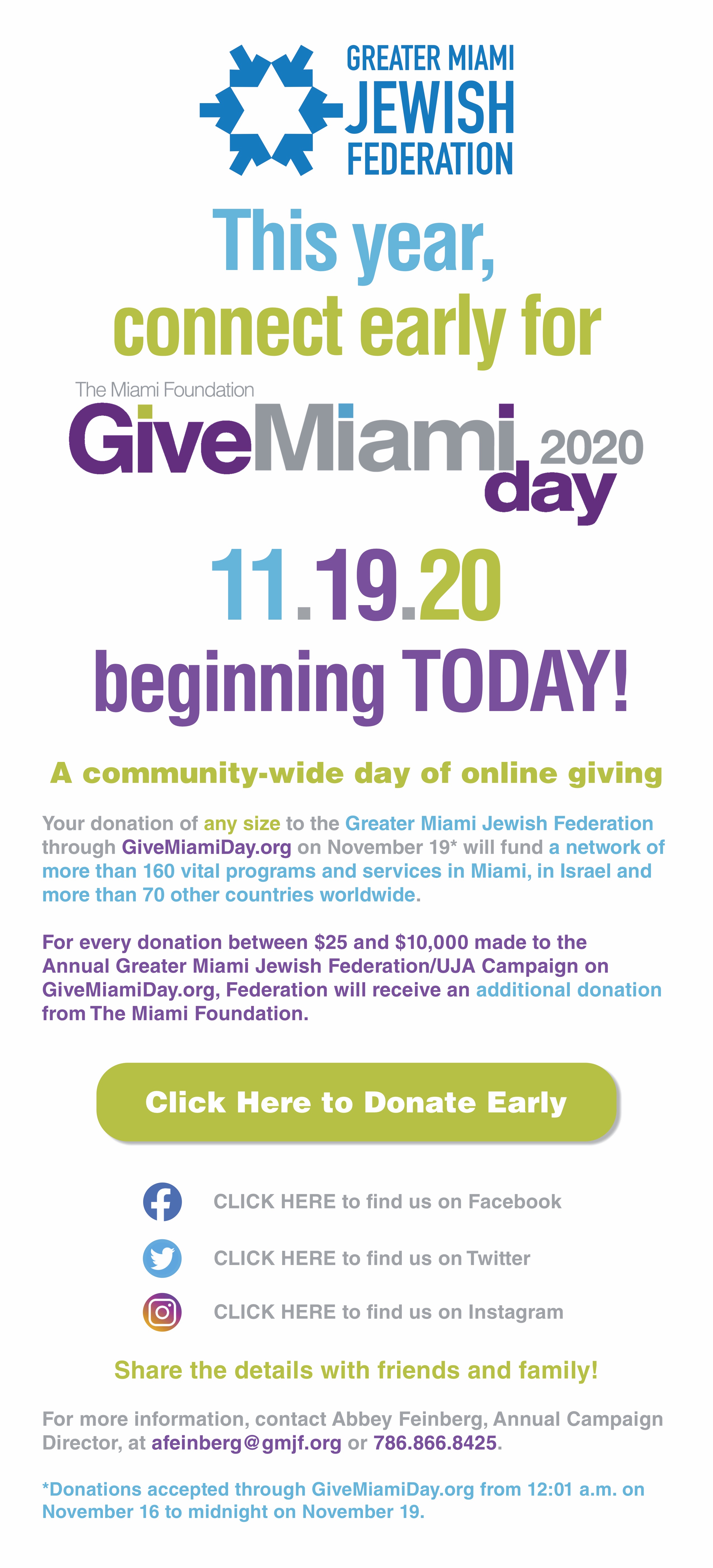 The Greater Miami Jewish Federation has established an Emergency Relief Fund to assist people affected by Hurricanes Eta and Iota in Central America. As always, Federation will absorb all administrative costs so that 100 percent of funds collected will be used to provide critically needed aid to people in Central America impacted by the disaster.
Our community has decades of experience with hurricanes. We understand the devastation and suffering that follow a catastrophic storm like Hurricanes Eta and Iota. Even in the midst of our own crisis, let us join together to help people affected — wherever they may live — to rebuild their lives.
Sharsheret: The Jewish Breast & Ovarian Cancer Community supports Jewish women and families facing breast and ovarian cancer. All of the organization's services are available online and over the phone, including peer support, connection to social workers and web-based resources. During a time when immunocompromised women are losing their support networks because of social distancing, these critical resources are incredibly important.
JWorks Miami has moved operations online to continue helping Jewish job-seekers in Miami-Dade County find a job. The program helps residents develop resumes and cover letters, hosts mock interviews (which will be online during the COVID-19 outbreak) and network with potential employers. The program is free to job seekers and employers through a partnership between the Greater Miami Jewish Federation and Jewish Community Services of South Florida.
To learn more, CLICK HERE.
In response to the coronavirus pandemic, the Hebrew Free Loan Association of Miami is offering an emergency Coronavirus Financial Impact Loan this time. Federation is providing interest-free emergency loans to qualified Jewish borrowers in need in Miami-Dade County. The emergency loans, up to $3,000 can help with expenses related to the pandemic, such as lost wages due to being unable to go to work, childcare costs due to school closures, related medical expenses and more.
Repayment terms: Repayments will begin on the 1st or the 15th of the month, 6 months after the loan is initiated.
Process:
Loan applications will be reviewed in the order they are received by HFLA.
A video interview will be scheduled with members of the HFLA loan committee.
If approved, HFLA staff will send loan documents to the applicant via email.
Once all loan documents are signed and returned, HFLA will release funds to the borrower.
Call 305.692.7555 or click here for more information and to apply.
Learn more about HFLA at http://www.hebrewloan.org
Throughout the pandemic, Federation's primary human service agency, Jewish Community Services of South Florida (JCS), is providing immediate help the vulnerable and at-risk members of the community. Call 305.576.6550 to reach the helpline, 24/7 every day. JCS is working around the clock to provide a safety net for those in need.
Services include:
· Food assistance
Kosher Food Bank is offering boxed groceries at scheduled appointment times
Meal deliveries for the frail and homebound
Limited grocery shopper services are available for senior, frail clients that are homebound and/or are self-isolating in order to avert exposure to the virus.
· Home Health Care
Home Health Aides provided by the Masada Program are specially trained in all health and safety procedures and continue to care for our clients in the Holocaust Services Program with utmost care and unique precautions.
· Job counseling and assistance
· Mental health counseling
Behavioral Health Counseling staff in all programs are making phone call "check-ins" with their clients. JCS staff will be implementing a pilot Tele-Mental Health Program in April.
· Domestic violence support
· Screening for financial assistance or interest-free loans
Posted by Yodeah on 11/10/2020 @ 12:08 AM
Please join us on Tuesday, November 24, 2020 at 7pm for Yodeah's Virtual Men's Event with Max Weinberg, long-time drummer with Bruce Springsteen's E-Street Band, and his daughter Ali Rogin, PBS NewsHour Producer and author, Beat Breast Cancer Like a Boss. They will share their story of how a BRCA mutation impacted their family. The conversation will be moderated by Rabbi Laila Haas and will also include Dr. Elizabeth Etkin-Kramer, Yodeah's Founder and Gynecologist and Dr. Akshay Bhandari, Urologist.
Click HERE for more information!