We're sorry but we couldn't find that author.
Jerusalem U and Miami Jewish Film Festival Present:
Mekonen
Mekonen: The Journey of an African Jew is the new mini-documentary from the creators of Netflix-featured Beneath the Helmet and PBS-featured Israel Inside. The film follows the backstory and personal journey of Mekonen Abebe, a young African-Israeli Jew, once a young shepherd in Africa and now a commander in the Israeli Defense Forces. Mekonen is one of many brave young men and women drafted into compulsory service in the IDF, to defend their homeland and the liberal values of democracy, freedom and equality. Mekonen is an uplifting and inspiring film that will move audiences and show viewers that anything is possible with the right attitude, tools and support. Stay following the film for a Q&A with the producer.
Monday, May 16, 2016, 7:30 p.m. at the Miami Beach JCC, 4221 Pine Tree Drive
For more information, please contact 305.534.3206 or karen@mbjcc.org
No cost to attend
EAT FOR ISRAEL - EAT IN MIAMI/FEED IN ISRAEL - Thursday, May 12, 2016 - YOM HA'ATZMAUT - Israel's Independence Day!!! Eat at some of the most fabulous participating Caterer's & Restaurants in South Florida and they will donate 10% of your bill on that day. All funds will benefit WIZO Centers by feeding hungry children in Israel. The food we provide is often the only hot meal the children will receive. Just a few of the fabulous participating Caterers & Restaurants: So Heavenly, Bourekas Etc., The Kugel Factory, Kastners Market, Miami Beach, 41st Street Deli, Bagel Time, China Beach, 26 Sushi & Tapas, Cine Citta Caffe, Kosh Sushi & Grill, Acqua Trattoria, Foozo Artisian Restaurant, Fuego, ASI'S Grille & Sushi Bar, Capri Sushi & Italian, Carlos & Gabby Smokehouse & Grill, Lenny's Pizza, The Backyard BBQ&BREW, Harbour Grill Steak and Sushi, Rustiko Artisian Bistro, Serendipity, Blaze Tex-Mex BBQ, Fresko - MAKE YOUR RESERVATIONS AND LET'S MAKE A DIFFERENCE!!!
The Temple Mount is one of the most important religious sites in the world and is the focal point for three major religions. It is the holiest site in Judaism in which direction Jews have prayed towards for centuries.
What makes this place so unique? Why is it the most contested piece of real estate on earth?
Come discover the Underground Secrets of the Temple Mount based on archaeological discoveries that have been exposed in recent years. Learn secrets of the Western Wall, and marvel at the ancient construction methods used over 2000 years ago. Join us as we reconstruct the glorious edifice that once stood upon the Temple Mount - the place where heaven meets earth.
Sunday, May 15, 7:00 pm, at Chabad of Downtown Coral Gables, 1827 Ponce de Leon Blvd, Coral Gables.
Complimentary admission for ONLINE reservations by 5/14, $10 at the door.
RSVP: www.ChabadGables.com/event or call 305-490-7572.
Rabbi Avrohom Stolik (a.k.a. Jewish Indiana Jones) has lectured on the topic of biblical archaeology in dozens of communities throughout the US and beyond. Visit Rabbi Stolik's website at www.JerusalemUncovered.com.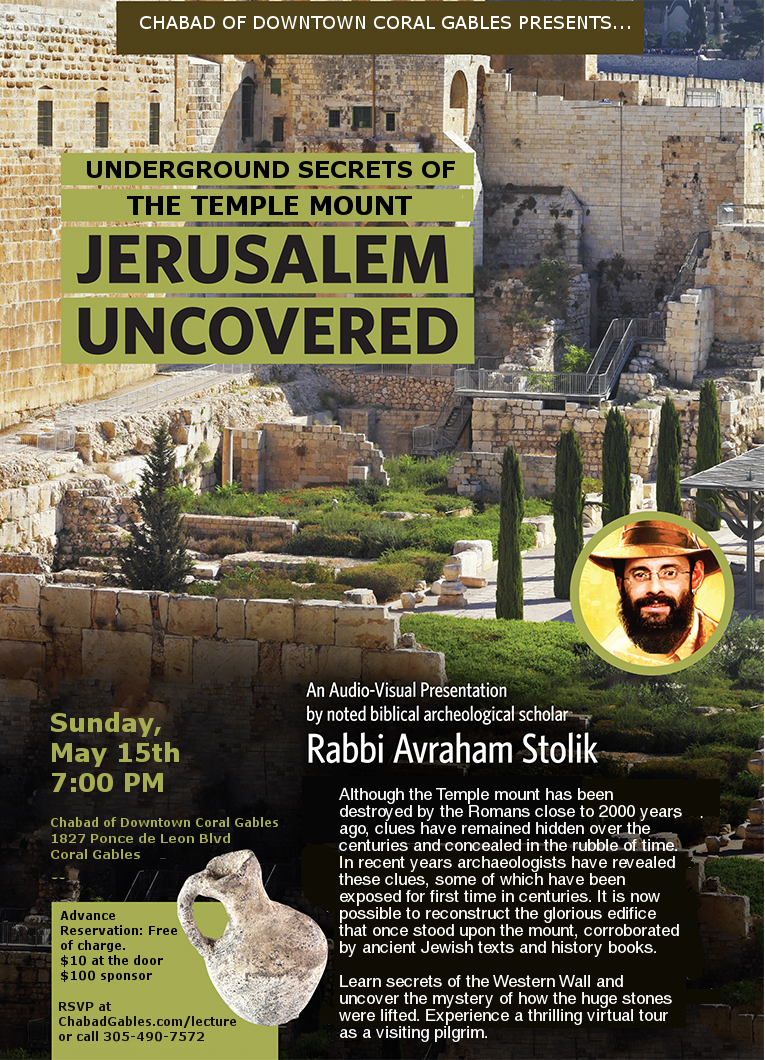 To watch many more programs, including the 2016 Election, Israel, Jewish Studies, and Jewish Culture, go to www.jbstv.org and click on "Schedule."
L'Chayim: A Woman Of Valor
For Mother's Day, Sara Esther Crispe (TheJewishWoman.org) and Rabbi Jeffrey Segelman (Westchester Jewish Center) discuss Mark Pearlman's book, "More Precious than Pearls: A Prayer for the Women of Valor in Our Lives," recited on Shabbat. Sunday Noon & 6pm
L'Chayim: Esther Wachsman
Esther Wachsman is the mother of Nachshon, murdered by Hamas Sunday 3pm; Monday 3pm
92nd Street Y: Anita Diamant
Best-selling feminist Jewish author Anita Diamant (The Red Tent) offers a moving look at the past, present, and future of Jewish women in Pitching Our Own Tent: Reinventing the Jewish Woman. Recorded at New York's 92nd Street Y. Sunday 7pm; Monday 10am
JBS Jewish Film Festival: Mamadrama
With characteristic Jewish humor, iconic filmmakers Paul Mazursky, and Paul Bogart join Larry Peerce and actress Lainie Kazan in reflecting (with disarming candor) on their own Jewish mothers and how they influenced their on-screen portrayals. Sunday 8:30pm & Midnight
Talk Books: Amos Oz
One of Israel's leading novelists and long-time peace activist, Amos Oz, discusses his autobiographical book, "Tales of Love and Darkness," in which he describes his childhood in Jerusalem as the State of Israel was being born. With Connie Martinson. Monday 11:30am
The Case For Israel (Alan Dershowitz)
Harvard Law Professor Alan Dershowitz offers a strong defense of the State of Israel and answers a number of hostile questions. JBS exclusive coverage of a UJA Federation of Greenwich event. Monday 1pm
The Jewish State
Laura Lewis of the Masorti Foundation discusses the connection between American Jews and Israel while exploring a range of complex issues challenging Israeli society today. From JBS's exclusive coverage of the 2015 Limmud Conference, Stamford, Ct. Monday 2pm
History of Israel: Stephen Berk
An overview of the creation and history of Israel (including Arab rejection), and barriers to peace today are presented by Dr. Stephen Berk, professor of history at Union College Monday 5pm
Israel's Worth: Daniel Gordis
Why Israel's survival is critical to the future of Jews throughout the world is addressed by Dr. Daniel Gordis, senior vice president of the Shalem Center and author of "Saving Israel." A JBS exclusive interview. Monday 7pm & 2am; Tuesday 1pm
Israel's Significance: Leon Wieseltier
Literary editor of The New Republic and a leading commentator on the Jewish and Israeli social scene, Leon Wieseltier reflects on Israel and puts the Jewish State into perspective for world Jewry. Monday 8pm; Tuesday 2pm
L'Chayim: Sgt. Benjamin Anthony
Sgt. (Res.) Benjamin Anthony, who defends the IDF on college campuses ("Our Soldiers Speak"), describes his Jewish youth in Leeds (UK), the anti-Semitic beating he witnessed his brother endure, and his profound commitment to Israel & the Jewish People. Monday 9pm & Midnight; Tuesday 3pm
Israeli Soldiers' Character
Two Israeli soldiers on active duty--Capt. Neta Gery, MD, and an IAF pilot who flies an F-15I in combat--describe the ethical standards and character of the IDF (including how the IDF treats Palestinians), and explain why they do not hate Palestinians. Monday 10:30pm; Tuesday 1:30am
Friday, May 27th at 6:00 pm
ATJC & Tauber Academy present Graduation Friday Night Live on Friday, May 27th at 6:00 pm. Followed by a Celebration honoring our Graduating students from the Tauber Academy and Religious School. With Rabbi Jonathan Berkun on guitar, Cantor David Muchnick on Keyboard and Cantor Marcos Askenazi on drums in the Soffer Sanctuary followed by celebration in the Social Hall.
You don't want to miss this year's Temple Judea Annual Meeting and Sofer Experience, Wednesday, May 18.
Sofer Experience 3:00pm - 7:30pm Annual Meeting -7:30pm
See the Sofer in Action
Bring your entire family and join us for the unique opportunity to write a letter, a word or more in our Torah Scrolls! • One of the Rabbis from Sofer on Site will be in the sanctuary restoring our Sifrei Torah • Work with the Rabbi and participate in this wonderful Mitzvah • Join in learning stations around the sanctuary including learning to scribe, experiencing the ritual and more. Sign Up here for your slot on Wednesday, May 18th A Sofer will be at Temple Judea form 3:00 p.m.-8:00 p.m. For more information and to sign up for a time slot visit www.judeagables.org
Temple Judea's Shabbat En Español - Friday, May 6, 2016 - 6 de Mayo - 7:45 PM
Services led by Gaby & Rabbi Siegal Gaby y Rabbi Siegal Los esperan!
For more information contact Gaby at g.ensergangir@judeagables.org or call 305 667-5657
Temple Judea 5500 Granada Blvd. Coral Gables, FL 33146
Shavuot Celebration – Sunday, June 12 - 10:00 AM
On Shavuot, we commemorate God giving us the Torah, and we celebrate by studying Torah.
Join us on Sunday, June 12th, at 10:00 AM in the Silverman room for our Shavuot Service which includes Yizkor. A Potluck luncheon will follow.
Please rsvp to Mary Ann at m.deaktor@judeagables.org or 305-667-5657.
Temple Judea 5500 Granada Blvd. Coral Gables, FL 33146
Temple Judea's Healing Service
Please join Jodi and her special musical guests at Temple Judea on Wednesday, May 25, 2016 at 7pm for our next Creative Service for Healing and Renewal.
A musical and spiritually nurturing experience, intended to provide a space of comfort and healing for those of you who may be experiencing some kind of challenge in your lives – whatever that may be.
Feel free to bring family and/or friends who may not currently be a part of our community. A special dessert reception will follow, provided by A Caring Touch, Temple Judea's Chesed Community.
For more information contact Jodi at j.rozental@judeagables.org.
Temple Judea 5500 Granada Blvd. Coral Gables, FL 33146
Posted by cbk203 on 05/04/2016 @ 03:43 PM
This Friday night, May 6th, after services, Peter Tarjan PhD will be the guest speaker at Temple Beth Tov Ahavat Shalom.
Dr. Tarjan is a survivor of the Holocaust. His book,"Children Who Survived the Final Solution." includes his own experiences as a child of the Holocaust in Hungary. In addition, these experiences are noted in the testimony he gave to the International Raoul Wallenberg Foundation.
Temple Beth Tov Ahavat Shalom is the cozy, Conservative synagogue at 6438 SW 8th Street, West Miami 33144. Kabbalat Shabbat Services are usually from 8:15pm to 9:15pm. We are fortunate to have Dr. Peter Tarjan as guest speaker to remember Yom Hashoah Light refreshments will follow. There is no charge.
Other Journal Entries | Report Abuse | Main Page | New Post