We're sorry but we couldn't find that author.
NEW EXHIBIT LAUNCHES
ISRAEL21c, a non-profit organization and online news source, has launched the second in its series of DIY exhibitions for readers and users, entitled "My Name is Israel: An online exhibition exploring Israel's humanitarian aid worldwide."
The exhibit covers 15 ways that Israel has sent aid to 140 countries, including disaster relief, community building, and medical care. The exhibit is free to use as source material or coverage, in whole or in part, with attribution. Read full guidelines on the exhibition page and here.
View the My Name is Israel exhibition online: http://www.israel21c.org/exhibition/my-name-is-israel/
Saturday, November 5, at 10:30am
Network Families Storytime at Temple Beth Sholom. The Greater Miami Jewish Federation's Network, PJ Library & Temple Beth Sholom are joining together to host this fun event for children under 8. We will read PJ Library stories with a Shabbat theme. Temple Beth Sholom is located at 4144 Chase Avenue in Miami Beach. For more information, contact Nicole Erdfrocht, Campaign Association at the Network, at nerdfrocht@gmjf.org or (786) 866-8448.
Join us for a fun night celebrating Jewish life at the University of Miami. We have live music, DJ, Open bar, Jewish-themed costume competition, luxury drawing with a chance of winning 2017 Mini Cooper!


Date: November 2, 7pm
Where: Braman Miller Center for Jewish Student Life - 1100 Stanford Drive, Coral Gables, FL 33146
For more info about the event Click Here
We are thrilled to share that the following Miami institutions have signed on as 2016-17 Proud PJ Library Community Partners.
These Community Partners are taking advantage of a unique opportunity to leverage the PJ Library brand to strategically engage their own organization's constituency.
PJ Library is an award winning Jewish family engagement program, created and funded by the Harold Grinspoon Foundation, which strengthens the identities of Jewish families and their relationship to the Jewish community. Supported locally by the Blank Family Foundation, PJ Library is managed by the Greater Miami Jewish Federation and offers FREE, high quality Jewish books and music each month to families raising Jewish children ages 6 months through 8 years and through PJ Our Way, for children ages 9-11.
With a total of 13,359 children 0-8 years old and another 3,372 ages 9-11 in our Miami Jewish community, reaching families throughout this geographically-large and culturally-diverse community must be a community-wide priority. The gift of PJ Library helps the organized Jewish community reach out to families who may not be affiliated, to show them the richness, diversity and fun that we have to offer in our many organizations.
We look forward to our Community Partners' participation in this collaborative effort as we work together to both grow the number of PJ Library subscribers in our Miami community and engage families with young children in meaningful Jewish experiences.
PROUD COMMUNITY PARTNERS:
Aventura Turnberry Jewish Center/Tauber Academy
Bet Shira Early Childhood Center Beth David Congregation and The Gordon School of Beth David Congregation Beth Moshe Congregation/Bayles Early Childhood Center Chabad Chayil - The Family Shul Congregation Ahavat Olam Congregation Dor Chadash Dave & Mary Alper Jewish Community Center on The Jay Morton-Levinthal Campus/Glen Greenstein ECD
Galbut Family Miami Beach Jewish Community Center on the Simkins Family Campus Hebrew Academy RASG Early Childhood Development Hochberg Preparatory/Suzy Fischer Early Childhood Academy at Beth Torah Benny Rok Campus Jewish Museum of Florida-FIU Lehrman Community Day School Michael-Ann Russell Jewish Community Center on the Sanford L. Ziff Campus Shalom Family/Temple Beth Sholom Skylar Mai Hebrew Montessori Temple Beth Am/Temple Beth Am Day School Temple Beth Sholom/Temple Beth Sholom Foundation School Temple Israel of Greater Miami Temple Judea/Margaux Early Childhood School Temple Menorah Temple Sinai/Jacobson Academy The Gan
Join us at the next North Dade Business Breakfast featuring Ambassador Dennis Ross, Former U.S. Envoy to the Middle East. This is a great networking event followed by an important conversation. For more than twelve years, Ambassador Ross played a leading role in shaping U.S. involvement in the Middle East peace process and dealing directly with the parties in negotiations. Ambassador Ross will be speaking about his book, Doomed to Succeed: The U.S.-Israel Relationship from Truman to Obama.
October 19th at 7:30pm
Simchat Beit Hashoaiva for adults and children at Aspaclaria. Music, Food, Shows & Fun for the whole family!
Location: Aspaclaria 18240 W Dixie Hwy
More info @ ChabadChayil.org
http://www.chabadchayil.org/templates/articlecco_cdo/aid/3466698/jewish/Simchat-Beit-Hashuaeva.htm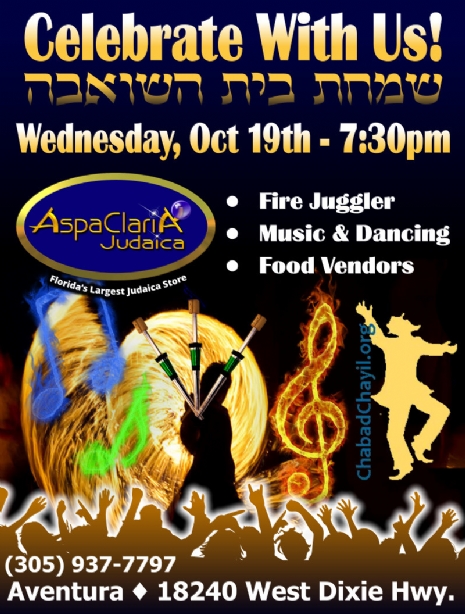 Keynote speaker and Emmy Award winner Debra Messing, will be sharing her powerful Jewish story at Federation's Women's Event on Friday, November 18 at the Hilton Miami Downtown, chaired by Corey Feinsilver.
Messing, a member of the only Jewish family in an Irish-Catholic neighborhood, experienced a great deal of anti-Semitism as a child. Join your friends and hundreds of other women at this informative and empowering Women's Philanthropy event!
THE SHOW MUST GO ON! We have learned that Debra Messing was injured on set while filming a movie. However she is still looking forward to speaking to the women of Miami and will be joining us via a live feed. We wish her a speedy recovery.
It's that time again..........."EAT IN MIAMI - FEED IN ISRAEL" - Enjoy Breakfast, Lunch & Dinner at some of South Florida's best Kosher Restaurants and 10% of all proceeds will go to WIZO to feed the Women and Children of Israel. Call the WIZO FL Office 305-861.8860 for a list of participating restaurants.
Join us Wednesday, December 14, 2016 at our 4th annual Kosher Food and Wine Miami 2016 hosted by WIZO FL at the Diplomat Resort and Spa on. All attendees will experience world renowned local and international wines as well as delectable kosher cuisine.
Guests are invited to sample wines from more than 30 upscale wineries, featuring over 300 different wines and partake in the delicious and innovative fare of South Florida's leading kosher establishments. Tickets are open to the public and cost $150 pp. VIP tickets are available for $200 which includes an exclusive VIP reception from 6:00-7:00 pm. Kosher Food and Wine Miami 2016 tickets are available and can be purchased online CLICK HERE to purchase your tickets today! Sponsorship opportunities available by calling the WIZO FL Office 305.861.8860.
All proceeds from Kosher Food & Wine Miami will benefit WIZO Florida projects in Israel.
About WIZO: The Women's International Zionist Organization is a nonprofit organization of women in over 50 countries working together to improve the lives of women, children and the elderly living in Israel. Next to the Israeli government, WIZO is the largest provider of social welfare services in the country.