We're sorry but we couldn't find that author.
Join us Wednesday, February 6, for a panel conversation moderated by Carol Brick-Turin.
Email wp@gmjf.org to RSVP.
Posted by jsmith on 01/15/2019 @ 10:53 AM
Addressing Cyberbullying, Sexting, and Unwise Social Media Use: The Role of Parents with Dr. Sameer Hinduja
Learn how to manage your child's social media
Cyberbullying
Digital citizenship
...and more
Tuesday, February 19 @ 7:00 pm Hebrew Academy (RASG) 2400 Pine Tree Drive Miami Beach, Florida 33140
FREE
About Dr. Sameer Hinduja Dr. Sameer Hinduja is a Professor in the School of Criminology and Criminal Justice at Florida Atlantic University and Co-Director of the Cyberbullying Research Center. He is recognized internationally for his groundbreaking work on the subjects of cyberbullying and safe social media use, concerns that have paralleled the exponential growth in online communication by young people. He has written seven books, and his interdisciplinary research is widely published and cited in a number of peer-reviewed academic journals. As a noted speaker and expert on teens and social media use, Dr. Hinduja also trains students, educators, parents, mental health professionals, and other youth workers how to promote the positive use of technology.
Through the power of flowers, volunteers will spruce up the live and homes of the residents living at The Sterling. Together, we will repurpose flowers, creating beautiful bouquets and arrangements while socializing with older adults.
Click here to RSVP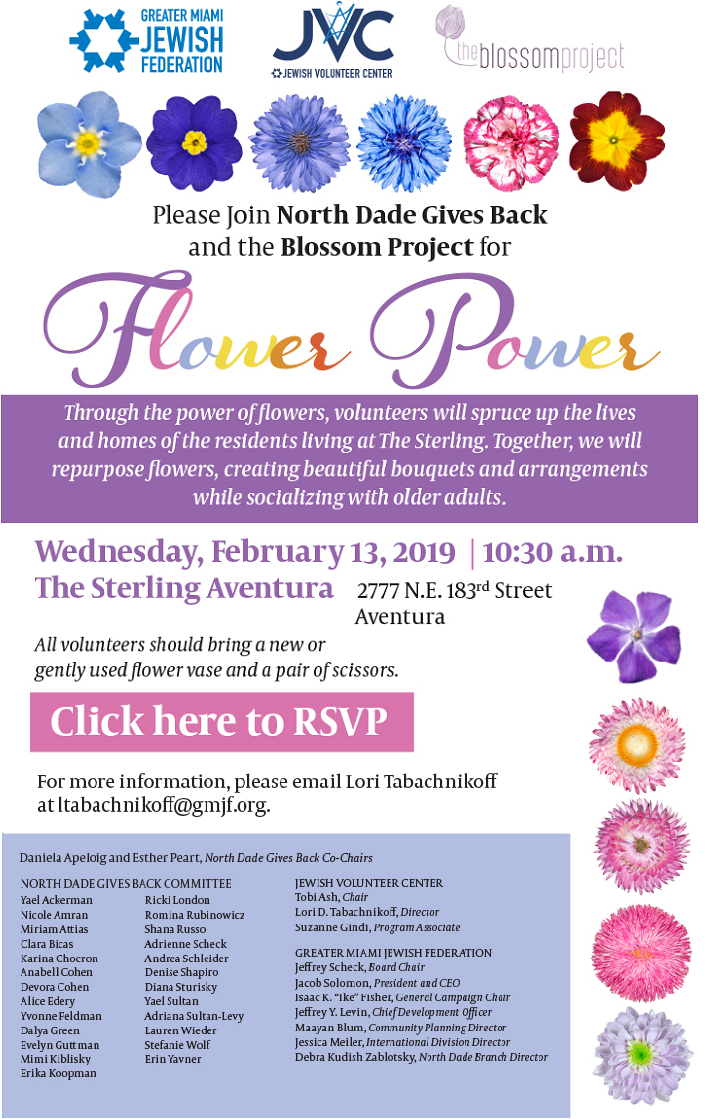 Ahavat Olam welcomes back the Big Bad Bima Band on Friday, January 25th at 7:45 P.M. These talented musicians will uplift the Shabbat service with a contemporary meaning to traditional Hebrew prayers. A delicious oneg will follow. Ahavat Olam is located at 10755 SW 112 Street, 33176, on the grounds of Killian Pines United Methodist Church, in Kendall. For further information, please call 305 412-4240 or write members@ahavatolam.org
How do you spell inspiration? J-A-C-K-O, as in Virginia A. Jacko, President and CEO of Miami Lighthouse For The Blind. Virginia will speak on her book, "The Blind Visionary", which explains her journey through blindness, and how it is possible to lead a productive and full life while blind. One of only a handful of blind chief executives in our country, on her watch Miami Lighthouse has become an innovation engine, heralded globally for its leadership and management. From facilitating fully equipped mobile optometric offices traveling to schools throughout Florida, a pre-school created for blind early learners, to providing consulting service for compliant websites for many types of business, Ms. Jacko has achieved an enviable record of outstanding accomplishments.
Virginia will also speak about her recent trip to Israel; visiting institutions for the blind there, providing a unique opportunity to exchange curricula, pedagogy, and share descriptions of their respective facilities, and seeking to identify commonalities and differences in order to learn from each other.
Ms. Jacko will speak on Friday, February 8th, during the evening Shabbat service at Ahavat Olam, a Kendall synagogue located at 10755 SW 112 Street, on the grounds of Killian Pines United Methodist Church. The service begins at 7:45 p.m. Don't miss this extraordinary and kindhearted dynamo! For further information, please call 305 412-4240 or write members@ahavatolam.org
Thank you for your interest in The Main Event. Federation is appreciative of your loyal and continued support. We have reached capacity and are no longer accepting registrations. We hope to see you at a Federation event in the future.
92Y: Author David Grossman
Israeli author David Grossman discusses his novel A Horse Walks into a Bar and parts of the book are read aloud and performed. From the 92nd Street Y in New York with fellow author Nicole Krauss. Tonight (Sun) - 8pm & 1:30am; Monday - 10pm & 4am; Wednesday - 10:30am; Friday - 8:30pm & 1am; Saturday - 3pm & 5am
Glick, Shaked, Soloveichik, Hertog
At the Second Annual Jewish Leadership Conference on "Jews and Conservativism," Roger Hertog (Tikvah Fund Chairman and President of the Hertog Foundation), Caroline Glick (Jerusalem Post), Ayelet Shaked (Israel's Justice Minister) and Rabbi Meir Soloveichik (Congregation address aspects of Jewish conservativism in Israel and America. Monday - 7:30pm & 1pm; Wednesday - 1:30pm; Saturday - 7pm & 1:30am
Tribute To Charles Krauthammer z"l
Conservative columnist, author and TV commentator Charles Krauthammer z"l is remembered by Bill Kristol (Weekly Standard), Rich Lowry (National Review) and Matthew Continetti (Washington Free Beacon). At 2018 Jewish Leadership Conference on "Jews and Conservativism" at the Grand Hyatt Hotel in NYC. Tuesday - 8pm & 1am; Thursday - 2pm; Saturday - 11am & 4am
L'Chayim: Abigail Pogrebin
Abigail Pogrebin, former producer for "60 Minutes" and author of "Stars of David" and "One and the Same: My Life as an Identical Twin," describes growing up with a famous mother (feminist Letty Pogrebin) and reflects upon her own Jewish journey. Mon - 9pm & Midnight; Tue - 3pm
L'Chayim: Letty Pogrebin
Letty Cottin Pogrebin, one of America's pioneering feminists (Ms. Magazine) and author of ten books ("Single Jewish Male Seeking Soul Mate"), describes her personal Jewish journey and shares her view of Jewish life today. Tue - 9pm & Midnight; Wed - 3pm
Jewish Film Festival: The Law
The powerful story of Simone Viel, who survived Auschwitz to become a champion of women's rights in post-war France, serving as Minister of Health and helping to legalize abortion in the 1970's. Starring Emmanuelle Devos and directed by Christian Faure. Today (Sunday) - 9:30pm & Midnight; Friday - 9pm & 4am
Francis Bok & Charles Jacobs: Slave Trade Survivor Wednesday - 9pm & Midnight; Thursday - 3pm
Stuart Weinblatt: Confronting Illness Thursday - 9pm & Midnight; Friday - 3pm
Tuvia Tenenbom: "The Lies They Tell" Saturday - 6pm
ITN: David Harris on Rep. Tlaib
David Harris, CEO of the American Jewish Committee, explains his concerns with the statements of freshman Rep. Rashida Tlaib (D-MI) who criticized US Senators supporting anti-BDS legislation claiming they are forgetting which country they represent. Tonight (Sunday) - 11:30pm; Monday - 3:30am, 8:30am, 12:30pm
Talmud: Dimensions of the Daf
As the Jewish world reads Parashat B'Shalakh and the parting of the Red Sea, JBS presents Rabbi Mordechai Becher discussing when the Torah is not to be taken literally Sunday 9:30am; Tuesday 9:30am & 5pm; Thursday 7:30pm
Jewish 101: Miracle of Nachshon
The Rabbinic tradition's notion of "a miracle" and what really caused the Red Sea to split. Sunday 10am;Wednesday 9am & 4:30pm; Friday 1pm
Shabbat Shirah: Jules Frankel z"l
To celebrate Shabbat Shirah (Sabbath of Song), in memory of Miriam's and Moses' leading the Israelites in song after crossing the Red Sea, JBS replays an annual concert of one of American Jewry's foremost lay leaders and song leaders Jules Frankel's (z"l), as he is joined by song-leader and composer Steve Dropkin.From the East Brunswick New Jersey Jewish Center (2012). Friday - 7:30pm
From The Aleph Bet"
The Easiest & Most Friendly Way To Learn To Read Hebrew Mondays - 9am & 4:30pm; Wednesdays - 7pm; Saturdays - 9am
Edith Samers Vice President 203.536.6914 (cell phone) JBS Jewish Broadcasting Service, a 501c3 fulltime television channel
The Family Shul | 2601 NE 211th Terr, Miami, FL 33180 Saturday, February 9th at 7:30pm
Join us for Havdala & a special family film promoting inclusion. Featuring "Front of the Class" (an inpirational and moving film) fit for all ages. Refreshments will be served! No charge. The perfect way to spend Saturday Night with the family!
"Refusing to be beaten by his affliction, Tourette's syndrome sufferer Brad Cohen vows to become a teacher, overcoming prejudice, ignorance and fear as he struggles to make his dream come true".
To RSVP call (305) 770-1919 or visit www.chabadhcayil.org/4261423
A Multigenerational Experience For the Entire Family
Friday, January 11, 2019 @ 6:15 PM at Temple Sinai
18801 NE 22 Ave, North Miami Beach, 33180
Join us for a special Kabbalat Shabbat where our own Cantor Norman will be performing some of Debbie Friedman's songs in her memory, on her 8th yahrzeit.
Debbie was a well known American singer-songwriter of Jewish religious songs and melodies. This is our tribute to her life and legacy.