We're sorry but we couldn't find that author.
Join thousands of community members to learn from industry experts, political and diplomatic figures, and thought leaders against the backdrop of strengthening Israel and uniting the Israeli-American and Jewish communities. This year's Israeli-American Council National Conference will take place at The Diplomat Beach Resort in South Florida from November 29 to December 2, 2018, and will explore Israel's journey from declaration to Startup Nation.
Israel's Speaker of the Knesset, Yuli Edelstein, will make history at the Conference. He will become the first Speaker of Israel's parliament to make a special trip to the U.S. to address the Israeli-American community. Additional speakers will include: Miriam Peretz, Israel Prize Winner; Ayelet Shaked, Israel's Minister of Justice; Isaac Herzog, Chairman of the Executive Jewish Agency for Israel; and Robbi and Stuart Force, activists and parents of Taylor Force. The IAC National Conference is the largest forum of its kind and offers participants the opportunity to engage in a variety of programs, plenaries, breakout sessions, interactive workshops, and facilitated discussions tailored to meet the various interests of community members and audience.
This inspiring gathering will tackle some of the most pressing issues of our time, bring together the Israeli-American and Jewish communities for deep dive discussions, and will yield takeaways that will help strengthen Israel and our communities.
The Conference spans from Thursday, November 29, to Sunday, December 2, 2018 and includes: opening plenary + evening sessions and celebrations (Thursday evening) - Friday sessions (Friday, all day) - Shishi Israeli (Friday evening, communal Shabbat dinner) - Saturday sessions (Saturday, all day) - main night and after party (Saturday evening) - Sunday session and closing event (Sunday, until 1:30pm).
More information: https://www.israeliamerican.org/conference | Questions? Email: iac@mcievents.com
"Bagels Over Berlin" is a new documentary film that honors the Jewish veterans of the United States Army Air Corps during World War II, as told by the men who volunteered for this dangerous duty. Film's Director, Alan Feinberg will introduce the program. Special surprise guest will be in attendance. Screening will take place on Tuesday, November 13th at 7:00 p.m. Temple Beth Sholom 4144 Chase Ave. Miami Beach Fl. 33140
Please contact Mark Baranek at: Mark@tbsmb.org or call 305 538-7231
Sunday, Dec 2nd 2:00-6:00pm
Free Event Includes Roaming Entertainment, Circus Shows, Live Performances, Food Court, Holiday Boutique, Hourly-Prize Giveaway & Grand Menorah Lighting! $12 Wristbands Include Unlimited: Laser Tag, Game Truck, Rides, Cotton Candy, Bounce Houses, Face Painting & Balloon Art Wristbands, Early Bird Specials, Group Rates and Info at 305-770-1919 or ChabadChayil.org/fair NE 211th Ter, Miami, FL between Dixie Highway & NE 26th Street
ShareTheLights
Go to jbstv.org to see an up-to-date schedule and other places to watch us.
92Y: Author David Grossman
Israeli author David Grossman discusses his novel "A Horse Walks into a Bar" as parts of the book are read aloud and performed. From the 92nd Street Y in New York with fellow author Nicole Krauss. Sunday- 8pm & 1:30am; Monday - 10pm & 4am; Wednesday - 10:30am; Friday - 8pm & 1am; Saturday - 3pm
Morally Engaging In War (Goldins)
Lt. Tzur Goldin, an IDF commander in Gaza during "Operation Protective Edge" (2014), discusses Hamas's kidnapping and probable murder of his twin brother Hadar. A program of AJC Westchester/Fairfield from the JCC of Harrison, NY. Wednesday - 8pm & 1am; Friday - 2pm; Saturday - 8pm & 2am
L'Chayim: New State Solution, Pt 1
The founders of an organization dedicated to replacing the Two-State Solution with the "New State Solution," Benjamin Anthony (Our Soldiers Speak) and Brig. Gen (R) Amir Avivi, explain their plan and why Palestinians will accept it. Wednesday - 9pm & Midnight; Thursday - 3pm
L'Chayim: New State Solution, Pt 2
In part two of a discussion exploring the idea of a Palestinian state in the Gaza Strip extending into the Egyptian Sinai, Benjamin Anthony and Brig. Gen (R) Amir Avivi continue to explain and defend their "New State Solution." Thursday - 9pm & Midnight; Friday - 3pm
Jewish Film Festival: Beyond Eyruv
An 18-year old boy decides to leave his ultra-Orthodox community to try to build a life for himself in the secular world while carrying the burden of a deep and disturbing secret. An award-winning documentary from director John Mounier. Tonight (Sunday) - 9pm & Midnight; Friday - 9pm & 4am
Plus: Film: Inside Israel - Tuesday 1pm; Saturday 1pm
Film: Apollonia - Thursday 10:30am; Saturday 9pm & Midnight
L'Chayim: Ehud Diskin - "Lone Wolf In Jerusalem"
Ehud Diskin, born in Jerusalem in 1944 and serving in the Six-Day War and in Israeli intelligence, explains why he wrote his best-selling novel "A Lone Wolf In Jerusalem" telling the story of Israel's pre-state struggle against the Arabs and the British, and addresses the charge that the Irgun was the equivalent of Arab terrorists today Today (Sunday) - Noon & 6pm
Sports & American Jewry
Dr. Jeffrey S. Gurock ("Judaism's Encounter with American Sports") discusses how Jewish engagement with sports reflects Jewry's evolving status in America, while posing challenges to Jewish identity. From Fairfield University's Bennett Center for Judaic Studies. Monday - 8pm & 1am; Wednesday - 1pm
L'Chayim: Jews & Baseball
As Major League Baseball heads into the 2018 World Series, author Larry Ruttman ("American Jews and America's Game") reviews the history of Jews in baseball - on and off the field. Monday - 9pm & Midnight; Tuesday - 3pm; Saturday - 6pm
L'Chayim: Israeli Baseball
Peter Kurz (Pres, Israel Association of Baseball) and filmmaker Jeremy Newberger discuss their film ("Heading Home") showing Team Israel's success in the 2017 World Baseball Classic, and the experience of the American Jews on the team. Tuesday - 9pm & Midnight; Wednesday - 3pm
Jewish Ballplayers
Former baseball players Ron Blomberg (Yankees), Art Shamsky (Cardinals/Mets), and Elliot Maddox (Yankees/Mets/Rangers) talk with journalist Richard Deutsch about their Jewish identity and being Jewish in the major leagues. From Temple Sholom in Greenwich, CT. Tuesday - 10pm & 4am; Wednesday - 2pm
Talmud: The Binding of Isaac
As the Jewish community reads parashat Lech L'Chah about Abraham and Sarah, Rabbi Mordechai Becher, Senior Lecturer for the Gateways Organization and the author of "Gateways To Judaism," discusses the Talmudic insight into the story of "The Binding of Isaac" (The Akedah) in a program entitled, "He Told You What?," On the original JBS series "Dimensions of the Daf." Sunday - 9am; Tuesday - 9am & 4:30pm; Thursday - 7pm & 4am
Jewish 101: The Binding of Isaac
The Akedah, "The Binding of Isaac," is for many the most troubling--and misunderstood--passage in the Torah. Hear why it was revolutionary and liberating for its time and how it remains a powerful message for our own time. Sunday- 10am
Inviting all children (and parents!) to a Mega Kids Shabbat Party! Celebrating all of those who have a birthday in the Hebrew month of Elul! Everyone is invited so please join us for Tefillah, Treats, Games, and Special Entertainment!
Chabad Chayil 2601 NE 211th Ter. Miami, FL 33180
RSVP at www.ChabadChayil.org/3825418 Learn about your Jewish birthday at http://www.chabadchayil.org/birthday
Hereditary Cancer: Jewish Families May Be at Risk
Panel With NCJW Representatives
Tuesday, November 13, 2018 6:30 PM at Beth David Congregation
RSVP
Decoding November Ballot
Tuesday, October 23, 2018 6:30 PM at Beth David Congregation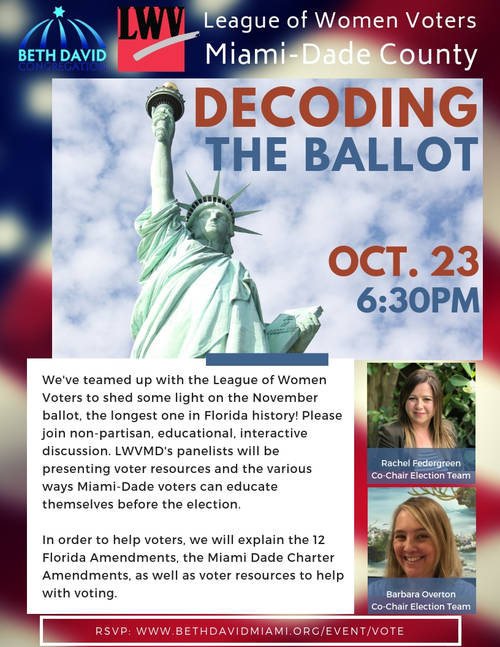 RSVP
Is Media coverage of Israel biased?
A Middle Easterner's Perspective
October 31, 7pm at Beth David Congregation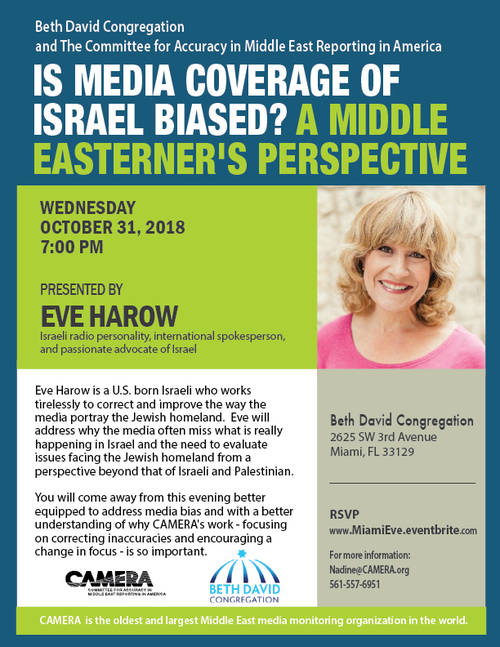 Chabad Chayil, 2601 NE 211 Terrace, Miami, FL 33180
Approximately 2 hour course. $55 includes certificate. Limited space.
Sunday, Oct 21, 11:00am
RSVP at (305) 770-1919 or ChabadChayil.org/3766408/
Tuesday, Oct 23 Chabad Chayil, 2601 NE 211 Terrace, Miami, FL 33180
A certified scribe will be visiting the community checking Mezuzas & Tefillin. He will only be with us for a few hours, so his time is limited. To make sure you reserve a spot to have yours checked, please call ahead.
He charges $9 per Mezuzah and $55 for Tefillin ($80 Gasos). Discounts & payment plans available to anyone that needs.
Go to ChabadChayil.org/2675078 or call (305) 770-1919. The scribe will be at the Shul from 10:00am.