We're sorry but we couldn't find that author.
Passover is just around the corner and, how better to get into the Passover mood than to read Murder In Another Inn by Barbara Fox. The book is set in Miami Beach and deals with a murder that takes place during a Passover Seder. Sandy, the new owner of the inn, knows nothing about Passover but has to learn quickly because a local temple has booked the inn for their two seders. Sophie, the kosher caterer next door and Rabbi Josh the handsome young Rabbi introduce Sandy to the traditional foods and customs for Passover; the book includes several ofSophies recipes including a flourless chocolate cake. A mystery club and a book signing are scheduled for the same night as the seder and when a murder occurs, the police find that the victim had ties to all three events. The suspects include the caterer, the book publisher, a noted author and a few members of the congregation. A romance between Sandy's step-daughter (who may or may not be Jewish) and the rabbi takes up Sandy's time as she tried to solve the mystery. Murder In Another Inn is the third in the Murder In The Inn Series; it was just re-released as an ebook and is available from Barns and Noble and many other online book stores.
For a complete schedule and other TV providers in the United States, go to www.jbstv.org
The Israeli Election 2019 Results and Analysis
A panel discusses the early results of Tuesday's national elections in Israel with Rabbi Josh Weinberg (Union of Reform Judaism), Thane Rosenbaum (Forum on Law, Culture & Society), Richard Stone (past Chairman of the Conference of Presidents) and Danielle Ziri (Haaretz' New York Correspondent). LIVE: Tuesday Night - 7pm & Midnight; Wednesday - 3pm
And Watch JBS Election Updates Throughout the Day
Jewish Cinema: Oren Rudavsky
Filmmaker Oren Rudavsky discusses his film "Joseph Pulitzer: Voice of the People" which tells the story of the Jewish newspaper publisher With American Jewry's leading film scholar Eric Goldman on "Eric Goldman's Jewish Cinematheque."
Monday - 7:30pm & 2am; Wednesday - 1pm
Ron Dermer and Ethan Bronner
Israel's U.S. Amb. Ron Dermer discusses some of the major issues relating to the US-Israeli relationship with Senior Bloomberg News Editor Ethan Bronner. A program of The Jewish Week and Sutton Place Synagogue from Sutton Place Synagogue in NYC.
L'Chayim: Y. Fleisher-Elections
Yishai Fleisher, the International Spokesperson for the Jewish Community of Hebron, shares his perspective on a range of issues including the Israeli-Palestinian conflict and the 2019 Israeli elections. Monday - 9pm & Midnight; Tuesday - 3pm
On L'Chayim this week
Josh Hammerman - "Mensch Marks" Today - Noon & 6pm; Monday - 3pm
Shlomo Riskin & Ken Brander - Women in Judaism Tuesday - 9pm & Midnight; Wednesday - 3pm
Mordechai Kedar - The Muslim Mind Thursday - 9pm & Midnight; Friday - 3pm
Jay Goldberg - "The Courtroom Is My Theater" Saturday - 6pm
92nd Street Y - Harold Kushner on Psalm 23 Rabbi Harold S. Kushner, author of "When Bad Things Happen To Good People," delivers a moving and inspiring commentary to Psalm 23, "The Lord Is My Shepherd." An exclusive Shalom TV (now JBS) presentation taped before a live audience at New York's 92nd Street Y. Tonight (Sunday) - 8pm & 1:30am; Monday - 10pm & 4am; Wednesday 10:30am; Friday 8pm & 1am; Saturday 3pm & 5am
Finale - "A Touch Away"
The story of a young Jew from the former Soviet Union who makes Aliyah and moves into the Haredi community of B'nai B'rak - and falls in love with a young Haredi girl who has been betrothed to another by her parents. Today (Sunday) - 2pm & 4am; Tuesday - 9pm & 2am; Wednesday 9am & 5pm
The Jake Ehrenreich Show
This month, Jake welcomes the Hasidic singer who has taken the American music world by storm, Shulem; and author, TV Reality and "America's Worst Mom," Lenore Skenazy. And this month Jake inducts Totie Fields into the Catskills Hall of Fame. Saturday (April 6) - 8pm & 1am; Next Sunday - 10pm & 2am
ITN: Ron Kampeas on AIPAC
Ron Kampeas, the Washington Bureau Chief of the JTA, describes the mood this year's AIPAC National Policy Conference in Washington, DC in the wake of comments made by Democratic members of Congress disparaging Israel and AIPAC. This Morning (Sunday) - 8:30am
ITN: Dov Lipman on Elections Israeli commentator and former Yesh Atid Knesset Member, Dov Lipman, explains why the Israeli electorate still wants Benjamin Netanyahu to head the government and what that will mean for American Jewish relations with Israel. Tonight - 11:30pm & 3:30am; Monday - 8:30am & 12:30pm
Edith Samers Vice President 203.536.6914 (cell phone) JBS Jewish Broadcasting Service, a 501c3 fulltime television channel
Tune in Sunday, April 28 on WPBT at 5:00 p.m. (Miami) and at noon in Palm Beach on WXEL for a screening of A Call to Remember. This remarkable life-affirming story that reflects the extensive collaboration between director Ken Winikur, Miami Holocaust survivor David Schaecter, and world-renowned Holocaust scholar Michael Berenbaum, who also produced the film.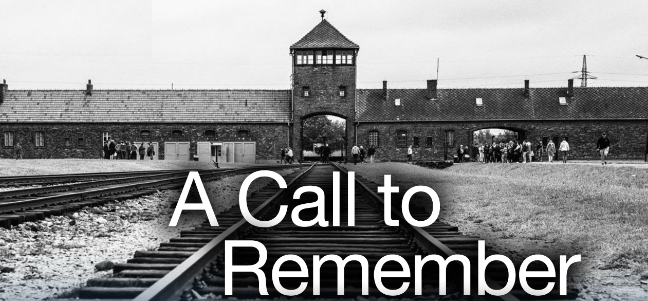 This seder is designed to be an enriching, fun experience for adults 18 and over who have cognitive or physical challenges. A volunteer will be partnered with each participant who may also be accompanied by a companion, caregiver or a family member. The seder is during Passover on Wednesday, April 24th from 3-5 p.m. at the synagogue in North Miami Beach.
Reservations are a must and should be made by April 15th. To reserve or for more information, email contact name and phone number to Rich Berger, Beth Torah co-president at rberger@btbrc.org or call the synagogue office at 305-932-2829.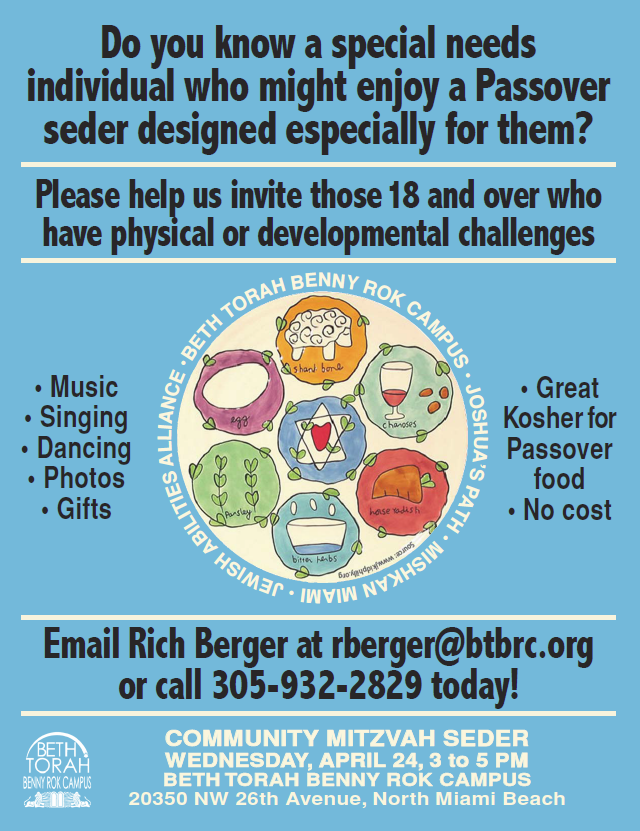 Grief is most definitely not a 'one size fits all'. Modern Loss is a web-based platform to provide support, founded by Jewish entrepreneur and former Colbert Report writer Rebecca Soffer and award-wining writer and journalist Gabrielle Birkner. The book of the same name shares modern stories of loss, which are insightful, touching, provocative and even 'scandalous'. In our culture, where people sometimes feel unsafe to share, the movement they have begun tries to reclaim grief as part of the tapestry of our lives. In doing so, they have supported thousands on their journeys. Join Federation's spiritual support director, Rabbi Frederick Klein, as he engages Rebecca and Gabrielle in a conversation about their own stories of loss, share surprising stories from others and help us to reframe how we can support friends and loved ones while going through their own grief. The book and their stories are surprisingly inspiring and will inspire you as well. As their tagline says: Candid conversation about grief. Beginners welcome. Sponsored by the the MARJCC/Sanford L. Ziff Campus. Mishkan Miami of the Greater Miami Jewish Federation and Jewish Book Council. Books will be available for purchase. Call Rabbi Klein at 305-576-4000 for more information.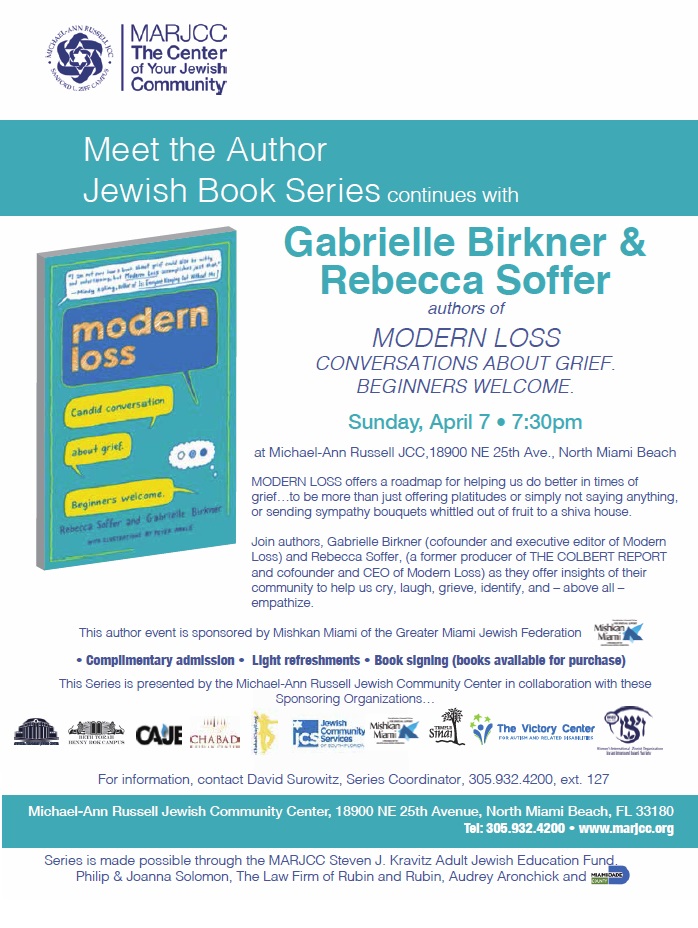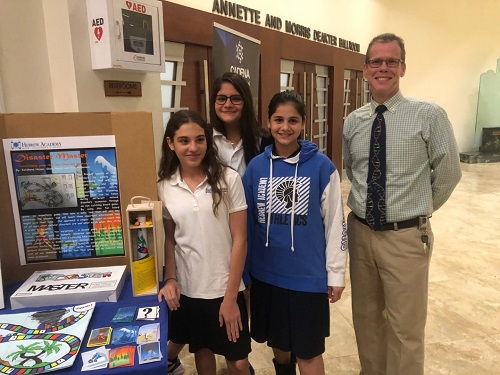 On Thursday, March 14, Hebrew Academy Middle School students competed in the 3rd Annual Cadena Initiative Social Entrepreneurship Competition, at Beth Torah Benny Rok Campus, against teams from other local Jewish Day Schools. Their objective was to come up with an idea that could be used before, during, or after a natural disaster in an underprivileged community. Students researched different disasters and areas they are likely to occur.
With the guidance of Middle School Science Teacher, Mr. Gonzalez, our 8th graders Bat Sheva Hazan, Rina Askenazi-Cohen, Shira Mayer won first place in the competition for the second year! They created a board game titled "Skilled Survivor," which teaches children how to handle and protect themselves during a natural disaster in a fun and innovative way. As first place winners for South Florida, they will now move on to the international competition in Mexico City in May. If their idea wins, Cadena will invest in their concept, bring it to life, and install it in the communities around the world that would benefit from the warning system to help save lives.

Here is more information about the Cadena Initiative:
The Cadena Initiative is a humanitarian non-profit organization committed to providing aid, hand in hand, to people affected by natural disasters around the world. The foundation develops long-lasting, cost-efficient solutions that enhance the quality of living for vulnerable communities around the world. The Cadena Foundation is an ambassador to the United Nations, serving as an official spokesperson in resilience strategies, and an active participant in the United Nations World Humanitarian Summit. Cadena is the only Jewish Latin American member of the START Network, the largest humanitarian group of leading NGO's.
Listen to guest speaker David Yarus, JSwipe founder and network with other Jewish communal professionals.
Click here for more information.
This year's conference will be led by Dr. Jessica N. Zitter, a noted physician, palliative care expert and medical ethicist. Dr. Zitter calls us to rethink the role that each one of us has in deciding the best course of action when someone is near the end of life and to revisit what we mean by being a hero in such a situation.
Click here for more information and here to register.
Mega Kids Shabbat Party Saturday, April 6, 10:30am Chabad Chayil, 2601 NE 211 Terr. Miami, FL 33180
Inviting all children (and parents!) to a Mega Kids Shabbat Party! Celebrating all of those who have a birthday in the Hebrew month of Nisan! Everyone is invited so please join us for Tefillah, Treats, Games, and Special Entertainment!
RSVP at www.ChabadChayil.org/3825418
Learn about your Jewish birthday at http://www.chabadchayil.org/birthday
Wednesday, April 9th 10:30 am.
Chabad Aventura South
Amanda Dawn was diagnosed with Hodgkin's Lymphoma at the early age of 21. She was forced to put her life on hold and come to terms with a frightening situation. Throughout her journey, she discovered her inner strength by becoming aware of the power of her Neshama (Jewish soul).
Project Connect series, uniting all Jewish women of North Dade. Suggested Donation $18 Information & RSVP at (305) 770-1919 or visit www.chabadchayil.org
Direct Link: chabadchayil.org/4344236