We're sorry but we couldn't find that author.
CU@Shabbat, Temple Sinai's popular family Shabbat program, is back! Join us Friday, January 11th for a night of bubbles the whole family will enjoy.
All CU@Shabbats begin at 6:00 pm and include dinner for $36 per family. This event is geared toward children 10 and under is open to the community so please forward this to your friends!
Be sure to mark your calendar for the whole season: Friday, January 11, 2019 Friday, March 1, 2019
RSVP by clicking the "Tickets" button or by following this link-> https://www.tsnd.org/event/cushabbat.html
Temple Sinai of North Dade 18801 NE 22nd Ave. North Miami Beach, FL 33180
Saturday, December 22nd, 10:30am Chabad Chayil, 2601 NE 211 Terr. Miami, FL 33180
Inviting all children (and parents!) to a Mega Kids Shabbat Party! Celebrating all of those who have a birthday in the Hebrew month of Tevet! Everyone is invited so please join us for Tefillah, Treats, Games, and Special Entertainment!
RSVP at www.ChabadChayil.org/3825418
Learn about your Jewish birthday at http://www.chabadchayil.org/birthday
Wednesday, January 9
12:30 pm – Author Presentation and Luncheon
$36 | $18 Members | Patrons Free

A historical thriller bringing to life the drama of the birth of organized crime in 1930s New York City from the tale of one family.
"A compelling, fast paced historical thriller… Fans of Boardwalk Empire and Dennis Lehane will love it."— Kristin Hannah, #1 New York Times bestselling author
Andrew Gross is the author of New York Times and international bestsellers The Blue Zone, Don't Look Twice, and The Dark Tide (which was nominated for the Best Thriller of the Year award by the International Thriller Writers), Reckless, Eyes Wide Open, and most recently, One Mile Under. He is also coauthor of five number-one bestsellers with James Patterson, including Judge & Jury and Lifeguard.
For the up-to-date schedule, go to www.jbstv.org each day
Saban Forum: Jared Kushner
Hayim Saban sits with Jared Kushner, Senior Advisor to the President of the United States, to discuss "America First" model and the Administration's Middle East peace plan. From the 2017 Saban Forum at the Brookings Institute in Washington DC. Monday - 7:30pm & 2pm; Wednesday - 1:30pm
Welcoming The Stranger
Cantor Laura Bresnik, Rev. Beate Storck and Dr. Heba Elkhateeb discuss how Judaism, Christianity, and Islam view the "stranger" in the past and in today.
A program of The Interfaith Women's Initiative from the Darul Islah Mosque in Teaneck, NJ. Monday - 8pm & 1am; Wednesday - 2pm
This year's Annual Chabad of Mineola Chanukah Telethon hosted by Rabbi Anchelle Perl Sunday 7-11pm
L'Chayim: Filmmaker of "93 Queen"
Filmmaker Paula Eiselt discusses her hit documentary "93 Queen," which follows an Orthodox mother of six, "Ruchie" Frier, and a group of Orthodox women as they shake the status quo of their Chasidic community in Borough Park, Brooklyn by trying to create a female ambulance service. Wednesday - 9pm & Midnight; Thursday - 3pm
ZOA Gala
The ZOA's 2018 Louis D. Brandeis Awards Gala with John Bolton, Danny Danon, Caroline Glick, Mark Levin, Suzanne Somers, Richard Grenell and ZOA National President Mort Klein. Hosted by Kimberly Guilfoyle of Fox News from the Marriot Marquis hotel in NYC. Tuesday - 7pm & 1am; Thursday - 1pm; Saturday - 7pm & 1:30am
On L'Chayim This Week:
Yaakov Zada Daniel - star of Israel TV series "Fauda" Today (Sunday) - Noon & 6pm; Monday - 3pm
Mordechai Kedar - The Muslim Mind Monday - 9pm & Midnight; Tuesday - 3pm
Susan Tuchman - Fighting BDS Tuesday - 9pm & Midnight; Wednesday - 3pm
Michael & Susan Ashner - Beit Rut Home For Girls Thursday - 9pm & Midnight; Friday- 3pm
Eichmann Trial Remembered
On the anniversary of Adolph Eichmann's conviction by an Israeli court, Michael Goldmann-Gilead, a key member of the special Israeli police unit created to gather evidence for the trial (April-December 1961) discusses his work and the trial. With Eli M. Rosenbaum at the Museum of Jewish Heritage in NYC. Saturday (Dec 15) - 2pm; Next Sunday - 7pm
92Y: Capture of Adolph Eichmann
Avner Avraham, a former Mossad agent, and Eli Rosenbaum, a former prosecutor of Nazi war criminals for the U.S. Dept. of Justice, describe Israel's dramatic capture of Adolf Eichmann in 1960. With novelist Thane Rosenbaum at the 92nd Street Y, NYC.
Saturday (Dec 15) - 3pm; Next Sunday - 8pm
Film: Righteous Rebel
Phil Schneider's powerful and moving depiction of the courageous work of Rabbi Avi Weiss, who has devoted much of his rabbinic career to defending Jews and Jewish causes everywhere - from Soviet Jewry, to the Auschwitz Convent, to Jonathan Pollard. Saturday 4am, midnight (start of Dec 16)
Edith Samers Vice President 203.536.6914 (cell phone) JBS Jewish Broadcasting Service, a 501c3 fulltime television channel
HOSTED BY THE NETWORK 20s:

Join the Network 20s committee on Tuesday, December 18th and learn how to make 4 different drinks and learn about the Federation. Don't miss out on this amazing event!!

Event starts promptly at 7: 15 p.m.

intended for participants ages 22-29

Kosher food options will be available at the event.

Tickets start at $18 and day of the event are $25
click here
BGS (no charge)
click here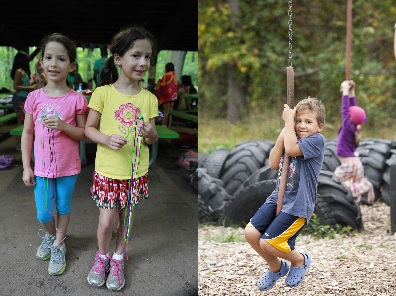 The Greater Miami Jewish Federation is now accepting applications for 2019 Need-Based Jewish Overnight Summer Camp Scholarships for children between the ages of 8 and 17, to help make Jewish overnight summer camps more affordable for Miami-Dade County families.

Camper Eligibility Criteria:
• Miami-Dade County resident
• Ages 8 – 17
• Completed online application, see link below

Required Documents:
• 2017 income tax return (Form 1040)
• Camp acceptance letter or invoice

Camp Eligibility:
• Funding assistance is available for Jewish overnight camps listed on the Foundation for Jewish Camp website, click here to find an eligible camp
• summer camp must be located in the United States
• Financial assistance is limited to one session only

Application deadline is Thursday, January 31, 2019 at 11:59PM. Late applications will not be accepted.

Recognizing that Jewish overnight camp is a significant vehicle for Jewish engagement, the Annual Federation /UJA Campaign has allocated $100,000 each year since 2002 for funding assistance. Last year, nearly 200 need-based scholarships were awarded to children, enabling them to attend a variety of overnight camps from all religious streams, as well as JCC overnight programs and youth group movements.


Additional Funding Resources:
• Foundation for Jewish Camp Scholarship Directory
• Contact your camp administrator to inquire about financial assistance
• Contact your rabbi or synagogue
• Interest free loans are available through the Hebrew Free Loan Association, 305.692.7555

For more information, call 786.866.8431 or email icohen@gmjf.org

Are you a young adult looking to experience Israel? We are thrilled to announce that this year's Miami Community Birthright trip will welcome participants ages 27-32, taking place June 12-24, 2019. Participants will explore Israel with their peers, develop connections with their heritage and make memories to last a lifetime. The fast-paced, active itinerary includes rafting on the Jordan River, floating in the Dead Sea, hiking Masada, enjoying Tel Aviv's night life, visiting the Western Wall and exploring Miami's partnership city of Yerucham. Space is limited; click here to register.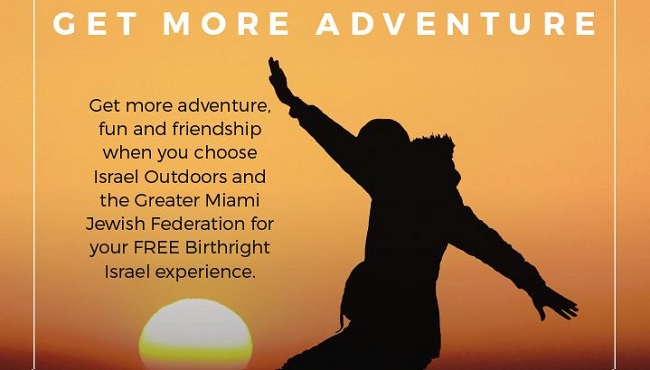 Make this holiday season special by participating in the Greater Miami Jewish Federation Jewish Volunteer Center's 11th Annual Jewish Community Volunteer Days, sponsored by Wells Fargo.
On Friday, December 21; Sunday, December 23; Monday, December 24 and Tuesday, December 25, join volunteers in family-friendly activities that include preparing and serving meals, distributing donated toys at social-service agencies and spending time with hospitalized children, at-risk youth and homeless shelter residents. Young professionals can join in on Sunday, December 23 at meaningful events hosted by Repair the World. To register, click here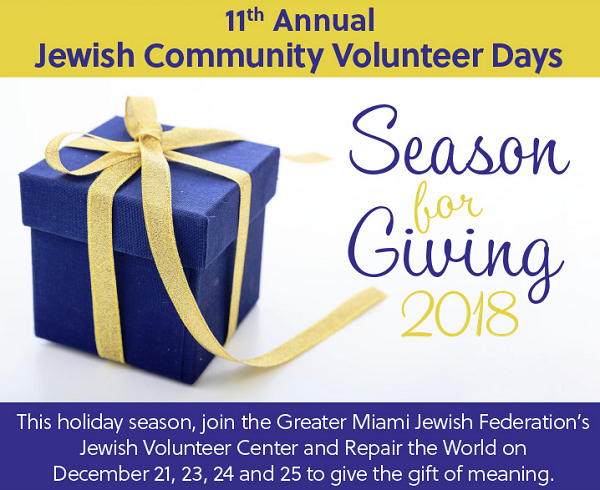 Join us on our Gospel Shabbat 2019
Friday January 25, 7:00pm