We're sorry but we couldn't find that author.
Decoding November Ballot
Tuesday, October 23, 2018 6:30 PM at Beth David Congregation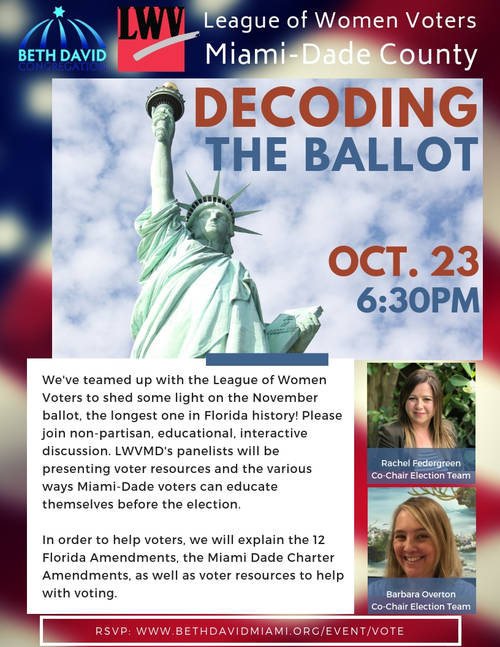 RSVP
Is Media coverage of Israel biased?
A Middle Easterner's Perspective
October 31, 7pm at Beth David Congregation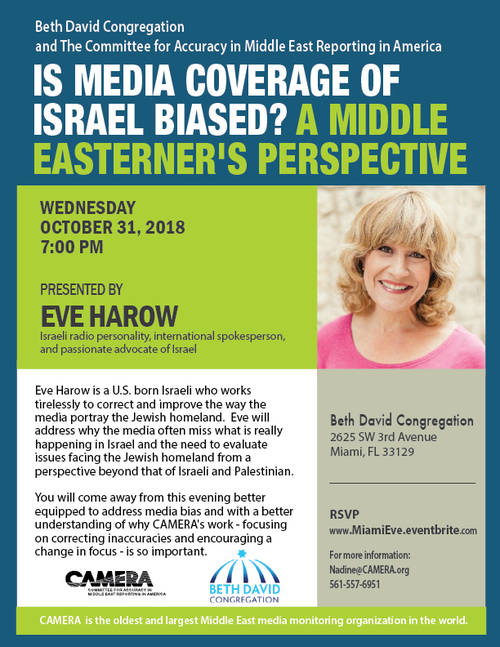 Chabad Chayil, 2601 NE 211 Terrace, Miami, FL 33180
Approximately 2 hour course. $55 includes certificate. Limited space.
Sunday, Oct 21, 11:00am
RSVP at (305) 770-1919 or ChabadChayil.org/3766408/
Tuesday, Oct 23 Chabad Chayil, 2601 NE 211 Terrace, Miami, FL 33180
A certified scribe will be visiting the community checking Mezuzas & Tefillin. He will only be with us for a few hours, so his time is limited. To make sure you reserve a spot to have yours checked, please call ahead.
He charges $9 per Mezuzah and $55 for Tefillin ($80 Gasos). Discounts & payment plans available to anyone that needs.
Go to ChabadChayil.org/2675078 or call (305) 770-1919. The scribe will be at the Shul from 10:00am.
Be a part of NCJW Miami's community service project "We've Got You Covered" creating and providing personal cozy fleece blankets for cancer patients undergoing infusion treatments.
In partnership with Mt. Sinai Cancer Treatment Center, NCJW Miami is creating blankets for their patients each month.
Join us for a morning of camaraderie while helping to make someone's life a little more comfortable.
Spend two hours with us so we can wrap people in care and comfort.
Friday, October 26 10 a.m. - 12 Noon 10350 W Bay Harbor Dr, Bay Harbor Islands, FL 33154 Free parking across the street. We will be meeting in the building's community room on the second floor.
RSVP HERE
Questions? Contact Amy Bloom at amybloom@ncjwmiami.org or (305) 697-9028.
Join NCJW Miami each month to celebrate, study and explore Jewish Women's issues and social justice action, led by one of our community's female clergy. Bring your lunch and we'll provide the beverages, either at a synagogue or hosted by one of our members.
No charge to attend. You do not need to be of the Jewish Faith. All are welcome.
Join us for our second monthly Rosh Chodesh program!
Led by Rabbi Efrat Zarren-Zohar, Executive Director of Center of Advancement of Jewish Education in Miami, at the home of Sharlane Packar in Bay Harbor Islands. (Address provided upon RSVP.)
Future Rosh Chodesh programs: Tuesday, December 11 led by Rabbi Amy Morrison at the home of Vanessa Ressler (Miami Beach) Wednesday, January 9 led by Cantor Lisa Segal at the home of Melinda Berman (Miami Beach) Monday, February 4 led by Rabbi Gayle Pomerantz at Temple Beth Sholom Tuesday, March 6 led by Rabbi Robyn Fisher (location TBD) Thursday, April 9 led by Rabbi Julie Jacobs (location TBD) Monday, May 6 led by Rabbi Judith Siegal at Temple Judea Thursday, June 13 led by Rabbi Lauren Berkun at Aventura Turnberry Jewish Center
Addresses provided upon RSVP.
RSVP to: https://ncjwgms.wufoo.com/forms/rosh-chodesh-a-spiritual-gathering-for-women/
Questions? Contact Amy Bloom at amybloom@ncjwmiami.org or (305) 697-9028.
Hannah Amoils and Marina Ganopolsky, Co-Chairs/Team Captains, invite you to FLY with us on Sunday, October 28!
RSVP HERE: https://ncjwgms.wufoo.com/forms/ncjw-2nd-annual-flywheel-for-fienberg-fisher/
NCJW Miami donated one uniform shirt for every child at Fienberg Fisher K-8 Center, and we are fundraising to support this donation of 1200 shirts.
Can't make it? Make a donation to help underwrite a shirt or two - one uniform shirt is $10.
"We are so very grateful to NCJW Miami for the generous donation of a new uniform shirt for every student. The uniforms allow all students to take pride in being a part of Fienberg Fisher K-8. The gift of a brand new uniform, for so many of our children who might otherwise be wearing hand me downs, makes a world of difference" - Maria Costa, FF K-8 Principal.
DATE: Sunday, October 28 TIME: 1:30 - 3:30 p.m. LOCATION: Flywheel Sports Miami Beach, 1919 Purdy Avenue
The 45-minute class, led by "The Team Captain & The Visionary" instructor Lee Lentz, will begin at 2 p.m. Nosh and beverages will be provided after class.
Special Halloween activities will be happening for kids!
Minimum contribution to participate is $50 per rider – prizes will be awarded to the Top Fundraisers and Highest Scores on the TORQ Board.
Ask friends and family to sponsor you: Bring donations with you to the event on October 28, OR:
*FOR DONATIONS IN SUPPORT OF A RIDER(S): Add the name of the rider(s) you are supporting when making your contribution (there will be a space to provide his/her name).
The highest fundraiser will be able to choose from these fabulous prizes:
1 - (5) Flywheel rides OR 2 - $100 gift card to Crust (#1 restaurant in Miami on TripAdvisor) OR 3 - (2) tickets to the Tuesday, February 26, 8pm performance of The Waitress at The Adrienne Arsht Center for Performing Arts of Miami-Dade County
High School Students who participate or volunteer at the ride on Sunday, October 28 will receive (2) community service hours.
Questions? Contact Amy Bloom at amybloom@ncjwmiami.org or (305) 697-9028.
RSVP HERE: https://ncjwgms.wufoo.com/forms/ncjw-2nd-annual-flywheel-for-fienberg-fisher/
Thank you for supporting NCJW Miami's mission of Tikkun Olam – to repair the world!
A Free, Interactive Experience Presented by The National Council of Jewish Women Greater Miami Section
RSVP: https://ncjwgms.wufoo.com/forms/you-be-the-judge-why-the-courts-matter/
*Host Committee: Nicole Graham, Mara Leventhal, Joni Meiselman & Lori Sobel
Tuesday, October 23 7 – 9pm Temple Israel of Greater Miami 137 NE 19th Street, Miami, FL 33132 Free Parking across the street and Light Refreshments.
This event is free and open to the public with RSVP. RSVP required to attend.
Join us for an evening of dynamic civic engagement training:
● Play the part of a federal judge and "decide" an important case.
● Learn how to ensure the federal bench is fair, independent, and diverse.
● Confidently understand our federal court system and how it impacts you.
● Led by Lindsay Morris, NCJW Inc. Associate Director, Government Affairs and Advocacy Department
● With an introduction by Nancy Ratzan, Honorary President of NCJW Inc. and Common Cause National Policy Chair
Thank you to our Sponsors: Progress Florida Education Institute MANDEL LAW GROUP, PA Akerman, LLP Elizabeth F. Schwartz, Esq. LLORENTE & HECKLER, P.A.
Thank you to our Partner Organizations: ACLU of Florida Greater Miami Chapter ADL Florida Catalyst Miami League of Women Voters Miami-Dade Miami-Dade chapter of the Florida Association for Women Lawyers Miami Next Leaders Temple Israel of Greater Miami The Commonwealth Institute The Women's Fund Miami-Dade The Women's Law Society at FIU WMN Miami (Women's Movement Now)
*In Formation, to join contact Amy Bloom at (305) 697-9028 or amybloom@ncjwmiami.org.
RSVP: https://ncjwgms.wufoo.com/forms/you-be-the-judge-why-the-courts-matter/
Pre & Post Bar Mitzvah Group! Friday, Oct 19 at 6:00pm
New monthly class for boys pre & post Bar Mitzvah (11-13) on what it means to be a Bar Mitzvah! Parents are encouraged to join!
Although we will follow a curriculum, the class will be open and welcome to questions throughout. We will discuss lot's of basic Judaism and this is a great and meaningful way to bond with your child. The class is open to all, (weather they are studying for Bar Mitzvah at Chabad or elsewhere) and there is no charge.
Chabad Chayil, 2601 NE 211 Terr. Miami, FL 33180
More info at (305) 770-1919 or ChabadChayil.org
Direct link: https://www.chabadchayil.org/templates/articlecco_cdo/aid/4159264/jewish/Bar-Mitzvah-Group.htm
Join thousands of community members to learn from industry experts, political and diplomatic figures, and thought leaders against the backdrop of strengthening Israel and uniting the Israeli-American and Jewish communities. This year's Israeli-American Council National Conference will take place at The Diplomat Beach Resort in South Florida from November 29 to December 2, 2018, and will explore Israel's journey from declaration to Startup Nation.
Israel's Speaker of the Knesset, Yuli Edelstein, will make history at the Conference. He will become the first Speaker of Israel's parliament to make a special trip to the U.S. to address the Israeli-American community. Additional speakers will include: Miriam Peretz, Israel Prize Winner; Ayelet Shaked, Israel's Minister of Justice; Isaac Herzog, Chairman of the Executive Jewish Agency for Israel; and Robbi and Stuart Force, activists and parents of Taylor Force. The IAC National Conference is the largest forum of its kind and offers participants the opportunity to engage in a variety of programs, plenaries, breakout sessions, interactive workshops, and facilitated discussions tailored to meet the various interests of community members and audience.
This inspiring gathering will tackle some of the most pressing issues of our time, bring together the Israeli-American and Jewish communities for deep dive discussions, and will yield takeaways that will help strengthen Israel and our communities.
The Conference spans from Thursday, November 29, to Sunday, December 2, 2018 and includes: opening plenary + evening sessions and celebrations (Thursday evening) - Friday sessions (Friday, all day) - Shishi Israeli (Friday evening, communal Shabbat dinner) - Saturday sessions (Saturday, all day) - main night and after party (Saturday evening) - Sunday session and closing event (Sunday, until 1:30pm).
More information: https://www.israeliamerican.org/conference | Questions? Email: iac@mcievents.com