We're sorry but we couldn't find that author.
Shabbos, April 20, 8:00pm Tribute Shabbat Dinner marking the 16th yohrtzeit of our beloved Rabbi Dovid Bryn zt"l, founder of the California Club Shul & Chabad Chayil, reminiscing the good old days! Please also join us for a special Kiddush/Lunch honoring his memory Saturday, April 21, after services. For a full schedule of Yohrtzeit events call (305) 770-1919 or visit www.RabbiDovidBryn.org Chabad Chayil, 2601 NE 211th Terrace, Miami, FL 33180
Mezuzah Checking Tuesday, April 17 Chabad Chayil, 2601 NE 211 Terrace, Miami, FL 33180
A certified scribe will be visiting the community checking Mezuzas & Tefillin. He will only be with us for a few hours, so his time is limited. To make sure you reserve a spot to have yours checked, please call ahead. He charges $9 per Mezuzah and $55 for Tefillin ($80 Gasos). Discounts & payment plans available to anyone that needs. Go to ChabadChayil.org/2675078 or call (305) 770-1919. The scribe will be at the Shul from 10:00 am.
Join us for a beautiful and delicious Shabbat dinner Israeli style! Kabbalat Shabbat, great music, children activities and delicious food. Special dance performance by Israeli Dance Troupe: "Machol Midbar." Organized by IAC Florida & Beth David Congregation. Supported by the Greater Miami Jewish Federation.
Friday, April 20, 2018 8PM
Beth David Congregation 2625 SW 3rd Ave, Miami, FL 33129 (305) 854-3911
Aventura Turnberry Jewish Center Invites you to join us for our Annual Holocaust Memorial Service
SUNDAY, APRIL 15TH at 10:00 AM
Guest Speaker
VICTOR FARKAS
Holocaust Survivor
Memorial Candle Lighting Procession by ATJC Religious School Students; Special Prayers, Readings and Songs with Rabbi Guido Cohen and Cantor David Muchnick; Musical Accompaniment by Aaron Thaler; Color Guard Presentation byDr. Michael Krop High School
VALET PARKING WILL BE PROVIDED! 20400 NE 30th Avenue, Aventura, FL 33180 (305) 937-1880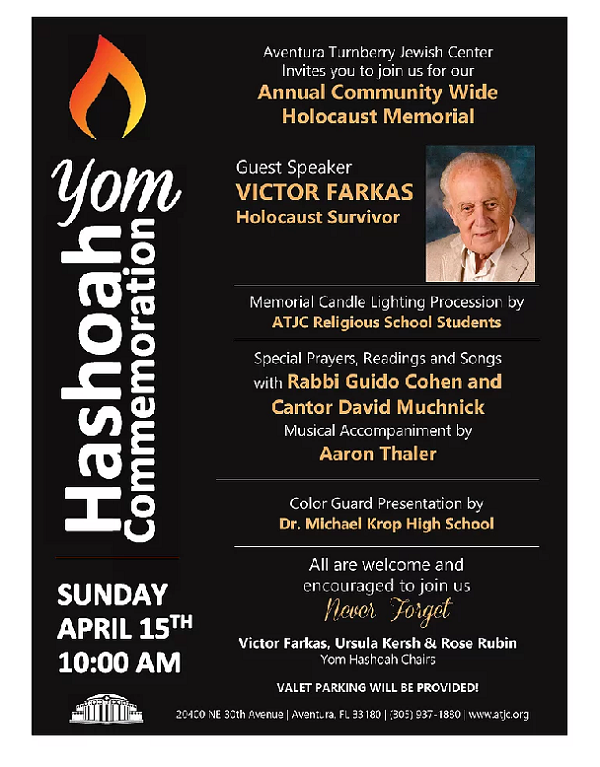 L'Chayim Round Table: Israel & Trump
A discussion of JTS head Arnie Eisen's saying Israel's embrace of Donald Trump alienates liberal American Jewry, and to WJC Pres. Ron Lauder's call for a two-state solution. With Thane Rosenbaum (Forum on Law, Culture & Society), Eric Yoffie (URJ), Betty Ehrenberg (WJC) and Dovid Efune (Algemeiner). Today (Sunday) - Noon & 6pm; Monday - 3pm
JFNA GA: Pres. Rivlin on Israel-Diaspora
In his first major address to a Jewish audience outside Israeli, Israel's President Reuven Rivlin discusses key issues relating to the Israel-Diaspora relationship. From the 2017 JFNA General Assembly in Los Angeles, CA. Today (Sunday) - 2pm; Monday - 8pm; Tuesday - 1am; Wednesday - 1:30pm; Thursday - 5am
JFNA GA: Panel on Israel-Diaspora
A discussion of the major challenges to Israel-Diaspora relations with Gidi Grinstein (Reut), Bethamie Horowitz (NYU) and Ambassador Dani Dayan (NY Consul General). Moderated by Yaakov Katz (Jerusalem Post). From the 2017 JFNA General Assembly. Today (Sunday) - 2:30pm; Monday - 8:30pm; Tuesday - 1:30am; Wednesday - 2pm; Thursday - 5:30am
JFNA GA: MIillennial Philanthropists
Leading young Jewish philanthropists -- Jason Leivenberg (NuRoots), Jackie Rotman (Everybody Dance Now!) and Rachel Sumekh (Swipe Out Hunger) -- discuss improving the world with Alison Lebovitz (The A-List). At the 2017 JFNA General Assembly. Tuesday - 7pm; Wednesday - 2:30am; Friday - 1pm
JFNA GA: From Shabbat Table to Feature Film
How a story told at a Shabbat dinner became a feature film is described by GA 2017 co-chair and Hollywood producer Marc Platt, FOX 2000 VP Gillian Bohrer, and peace activist Mohammed AL Samawi. From the 2017 JFNA General Assembly. Tuesday 7:30pm; Wednesday 2am
ITN: David Harris on Gaza
CEO of the American Jewish Committee, David Harris, responds to the criticism Bernie Sanders and others have heaped on Israel after it responded to a Hamas assault in Gaza; and comments on Ron Lauder's call for a Two-State Solution.
Today (Sunday) - 5:30pm, 11:30pm; Monday - 3:30am, 8:30am, 12:30pm
IN REVERENT MEMORY OF THE SIX MILLION
"Because We Can't Do More - and We Will Never Do Less"
This Wednesday and Thursday, JBS will be paying special tribute to the Six Million Jewish men, women and children who were murdered in the darkest night in human history, the Shoah. See the JBS schedule below for details and visit the JBS Website for the entire JBS Schedule (jbstv.org)
L'Chayim for Yom HaShoah
Commander Aryeh Lebovitz Mon – 9pm and Midnight; Tue - 3pm
Ernie Michel z"l Tues -9pm and midnight; Wed -3pm
Elie Wiesel z"l Wed 9pm and Midnight; Thurs 3pm
Simon Wiesenthal z"l Thurs -9:30am & 5:30pm
Naomi Vilko -Second Genieraion Thurs -9pm and Midnight Fri – 3pm
JOIN THE JBS CELEBRATION OF YOM HAATZMAUT NEXT WEDNESDAY EVENING APRIL 18 LIVE WITH YOUR PHONE CALLS 7PM
Next Wednesday night, April 18 and Thursday, Israel celebrates its 70th Birthday on Yom HaAtzmaut ("Israel Independence Day"). Be part of our LIVE CELEBRATION on Wednesday night, April 18th, when Thane Rosenbaum, Shahar Azani and Israel's "Ambassador of Song" Ron Eliran will be with me in studio - as we'll be joined by many others live, on the phone, and in pre-taped interviews.
The Tribe, IAC, JNFuture, Miami Jews, Moishe House Midtown, Moishe House Aventura, and Moishe House Fort Lauderdale are all combining forces for the biggest and best celebration of Israel's 70th Birthday for Jewish Young Professionals in Miami.
Thursday, April 19, 2018 at 8pm
FDR at Delano in South Beach
Comp Drinks 8-9pm, Catered Food 9-10pm, Henna Tattoos, Israeli Snacks & Swag, Music by Eran Hersh, and more!
$18 Advance Tickets Available Now $30 at the Door
Moishe House Miami-Midtown is seeking new residents!
Interested or know someone who may be?
Apply Here Today! Or email Carol Kaplan at carolm.kaplan@gmail.com
Teens from around Miami will volunteer for STEAM Day (Sports, Technology, Engineering, Arts and More) with Guitar Over Guns (GOGO) at the Miami Beach JCC.