We're sorry but we couldn't find that author.
Yonina, is the Israeli musical duo of Yoni and Nina Tokayer, acclaimed for the weekly home videos they post via Facebook and Youtube, which have reached millions of viewers around the globe. They recently released their debut original album, "Emet Pshuta" (Simple Truth), and are performing throughout Israel and abroad. On March 18, Temple Sinai brings the duo exclusively to our area, performing for the first time in Florida.
JWorks Miami invites you to attend a FREE Interviewing Skills Workshop on Thursday, March 15th, 10:30am-12:30 pm
Please RSVP at JWorks Miami - RSVP is required! The workshop will begin promptly at 10:30am, please arrive a few minutes prior and dress to impress, business casual is recommended.
Just landed the interview of your dreams? Awesome. Now, we're here to help you out and make sure you score that great job, too.
Before your next interview, brush up on interviewing basics, learn how to research a company and put together a strategic prep plan, and learn smart ways to handle any question or scenario thrown your way. We'll also show you how to follow up afterward (in a non-annoying way, of course).
Some topics we will cover:
* What to Wear!
* Frequently asked interview questions
* What not to say
* Researching the company
* Good questions to ask the interviewer
* Following up – Thank You notes
* Mock interview - time permitting
These events are also a great way for JWorks Miami staff to get to know you! Please note, we are unable to refer you to available opportunities unless we have met you in person.
All events will be held at:
Greater Miami Jewish Federation
4200 Biscayne Blvd,
Miami, FL 33137
Parking lot entrance is on Federal Highway, parallel to Biscayne Blvd. Map
If you have any questions please visit our website or call us at 305-403-6554.
We look forward to seeing you!
The JWorks Miami Team
JWorks Miami is a partnership of the Greater Miami Jewish Federation and
Jewish Community Services of South Florida
www.jworksmiami.org
jobs@jworksmiami.org
305-403-6554, option 1
Join Rabbi Rojzman, Rabbi Farber, Cantor Gaston Bogomolni and Evelyn Goldfinger in a unique Shabbat
For the complete schedule each day, go to www.jbstv.org
Highlights:
Jewish Stories, Jewish Lives
Author Tova Mirvis discusses her memoir, The Book of Separation, about her divorce and her decision to leave the Orthodox community in which she was raised. With Tablet Magazine columnist, Marjorie Ingall from the Center for Jewish History in NYC. Monday - 8pm & 1am; Wednesday - 2pm; Thursday - 10pm & 4am; Saturday - 8pm
Consul General Dani Dayan at Columbia University
Israeli Consul General in New York, Dani Dayan, discusses Israel's democratic progressivism and its leading role in international humanitarian efforts and other causes around the world. From Students Supporting Israel (SSI) at Columbia University in NYC. Tuesday - 8pm & 1am Thursday - 2pm; Saturday Night - 7pm & 4am
L'Chayim: HaZamir - Vivian Lazar
The Director of the HaZamir International Jewish Teen Choir, Vivian Lazar, discusses her Jewish background and her love of Israel; and describes the way HaZamir touches Jewish hearts, builds bridges between American and Israeli teens, and strengthens Jewish identity. Wednesday - 9pm & Midnight; Thursday - 3pm; Next Sunday - Noon & 6pm
Women. Joy of the Home! Amazing class on having a happier home with Miriam Lipskier. Sought after teacher of Jewish thought and spirituality who lectures around the country. Refreshments will be served. Suggested donation $18. Reserve at http://www.chabadchayil.org/3959798/ Wednesday, March 14 at 10:30 AM - 11:30 AM Chabad Chayil 2601 NE 211th Ter, Miami, Florida 33180 https://www.facebook.com/events/197399004350555/
Join Rabbi Farber and Cantor Gaston on the 2nd Passover Seder
Join Rabbi Rojzman and Evelyn Goldfinger for the Seder en Espanol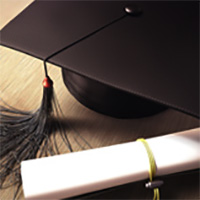 Attention, college and graduate students! Apply now to receive a grant from the Sylvia Tuman Scholarship Program, administered by The Foundation of the Greater Miami Jewish Federation.

The Sylvia Tuman Scholarship Program provides a limited number of scholarships for Jewish students who require financial assistance to further their education. Students must be enrolled or accepted into an undergraduate or graduate degree program at a college or university located in Miami-Dade or Broward counties. Preference is given to institutions in Miami-Dade County. Application deadline: May 31, 2018.

Click here for more information and to apply.

An additional resource available for your consideration is an interest-free loan from the Hebrew Free Loan Association, a subsidiary of the Greater Miami Jewish Federation. For more information, please visit www.hebrewloan.org or call 305-692-7555.
Take a break from the negativity in the world and the personal challenges you are facing. Join us for a little healing of mind and spirit through beautiful music and comforting words that will nurture, uplift and inspire you. Feel free to invite family and friends who may not be Temple Judea members. All are welcome!
Dessert Reception to follow provided by A Caring Touch.
For more information, contact Jodi at J.rozental@judeagables.org or 305.667.5657, Ext.2102.
Join us Sunday, March 4th at 10:45 AM to 11:30 AM for our Purim Shpiel Carnival starts at 11:30 AM to 2 PM Face Painting, New Rides, Delicious Food, Music, Little Farm and More! Wristband Sale $25 Day of $20 Presale