We're sorry but we couldn't find that author.
Posted by cbk203 on 01/14/2018 @ 09:16 AM
Temple Beth Tov Ahavat Shalom proudly presents Dr. Nathaniel Holmes, as Guest Speaker, on Friday, Jan. 19th, to honor the Martin Luther King Jr Memorial season. His presentation on the "Beloved Community" - an MLKJr. concept - will be given after Friday night services. Services as usual begin at 8:15pm, and conclude @ 9:15pm.
Dr. Holmes is well-credentialed, and is on staff at Florida Memorial College. To attend is a meaningful opportunity to honor the MLKJr. Memorial season, and to be inspired by a notable of our community.
Temple Beth Tov Ahavat Shalom is the cozy, Conservative synagogue at 6438 SW 8th St. West Miami 33144. The public is invited. There is no charge. Light refreshments will be served. For further information, please phone 305-205-3846.
Martin Luther King Jr. & American Jewry
Dr. Martin Luther King, Jr.'s attorney and close confidant, Clarence Jones (who helped with the "I Have A Dream Speech") describes how the Jewish community made the Civil Rights Movement possible; and condemns Black anti-Semitism and Palestinian violence. Today (Sunday) - Noon & 6pm; Monday - 3pm
Heschel & King: Susannah Heschel
Susannah Heschel, Prof. of Jewish Studies at Dartmouth College and daughter of Abraham Joshua Heschel, discusses her father's relationship with Dr. Martin Luther King, Jr., and a philosophy of Jewish political action. From Center for Jewish History in NYC. Today (Sunday) - 1pm
Heschel & King: Arnie Eisen
Dr. Arnold Eisen, Chancellor of the Jewish Theological Seminary, discusses the pioneering work of Rabbi Abraham Joshua Heschel and his influence on Dr. Martin Luther King Jr. in a talk entitled, "The Politics Of Prophecy." From JBS's exclusive coverage of Limmud NY. Today (Sunday) - 2pm
92Y: Obama's Cousin Rabbi
Meet Michelle Obama first cousin (once removed) Raggi Capers Funnye, who discusses his conversion to Judaism, his work in Africa, and what the black Jewish experience is like in America. With Ari Goldman from the 92nd St Y in NYC. Today (Sunday) - 7pm & 2am; Monday - 10pm & 4am; Tuesday - 2pm; Wed - 10:30am Friday - 8pm & 1am; Saturday - 3pm
AJC: Black Jewish Relations
Rabbi Shai Held (Mechon Hadar), Dr. Lonnie Bunch III (Smithsonian National Museum of African American History and Culture) and Kasim Reed (Mayor of Atlanta) discuss the past, present, and future of Black-Jewish relations. >From AJC Global 2017 in Washington, DC. Today (Sunday) - 8pm & 2am
Monday - 2pm
JBS Jewish Film Festival: 'Body and Soul"
Archaeologists, historians, diplomats and Jewish leaders Jonathan Sacks, Benny Morris, Alan Dershowitz and Ruth Wisse document the truth of the Jewish connection to the Land of Israel in Gloria Greenfield's film "Body & Soul: The State of the Jewish Nation." Tonight (Sunday) - 9pm & Midnight; Friday - 9pm & Midnight
American Friends of The Rabin Medical Center Gala
The 2017 Gala of the American Friends of the Rabin Medical Center (Petach Tikvah, Israel) honoring Cardinal Timothy Dolan and real estate executive Scott Rechler. Hosted by 60-Minutes' Magalie Laguerre-Wilkinson and featuring performances by the cast of the Tony Winning Broadway Musical, Hamilton. From Cipriani in New York City. Monday - 7:30pm & 1am; Wednesday - 1:30pm & 4am;Saturday - 7:30pm & 1am
Jewish Cinemateque: Alexandra Dean with Eric Goldman discuss Hedy Lamarr
Alexandra Dean, writer/director/editor/producer of the documentary film, Bombshell: The Hedy Lamarr Story, discusses the Jewish movie star's enormous contributions in the fields of science and technology. JBS original series with Jewish film scholar Eric Goldman. Tuesday - 7:30pm & 2am; Thursday - 1:30pm; Saturday - 7pm & 4am
Israeli & American Jews: Shifting Tides
Rabbi Ethan Tucker, Rosh Yeshiva at Mechon Hadar, discusses the change in the perceptions American and Israeli Jews have about each other. With Gary Rosenblatt (Editor & Publisher, The Jewish Week) from the JCC Mid-Westchester in Scarsdale, NY. Tuesday - 8pm & 1am; Thursday - 2pm
L'Chayim: Elie Abadie, Part 1
Sephardic Jewish leader Elie Abadie (Rabbi of the Manhattan East Synagogue, Director of The Sephardic Academy of Manhattan, and a practicing gastroenterologist in NYC) discusses the challenges of promoting Sephardic Jewish culture on the American Jewish scene. Wednesday - 9pm & Midnight; Thursday - 3pm; Next Sunday - Noon & 6pm
Part 2 Next Wednesday - 9pm & Midnight
L'Chayim: Fran Klagsbrun's "Book of the Year" Award on Golda Meir
Author Francine Klagsbrun, whose biography of Golda Meir ("Lioness: Golda Meir and the Nation of Israel") recently won the 2017 "Book of the Year Award" from the National Jewish Book Council, discusses the ways American Jews and Israelis view Israel's only woman prime minister who served during the Yom Kippur War of 1973. Thursday - 9pm & Midnight; Friday - 3pm
The Gift of Israel Savings Program enables families to begin saving early for their child's Israel experience – and enjoy the benefit of matching-dollar grants from community sources.
When your child is ready to take his or her trip to Israel, you will have a sizable savings, including interest accrued, to help underwrite the cost. Take a look at the table below!
Enroll your child now! Click here for more information.
For more information about how to become a Partner Synagogue, contact Flora Akselrad at fakselrad@gmjf.org or 786-866-8498.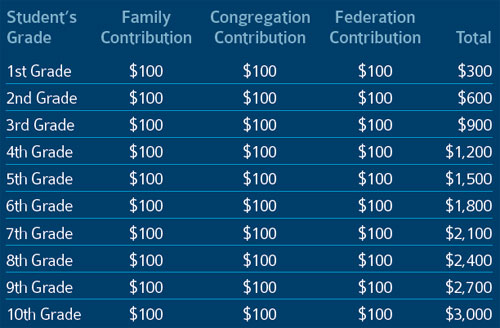 First Event will include Sushi Making & Eating with facilitator Dr. Dolly Aizenman Tuesday, Jan 30, 5:15pm Chabad Chayil, 2601 NE 211 Ter. Miami, FL 33180
Being Happy Starts With You! For Men & Women! No charge! Refreshments will be served. Series is based on Rabbi Pliskins book: Life is Now! Sushi making will be a taste of the upcoming book tour. Link: chabadchayil.org/3899306
Havdala & Family Film! Featuring Agent Emes #9, fit for all ages. Fresh popcorn, lemonade & raffle! No charge (sponsored by MotelChai.com Short Term Rentals in Highland Lakes/Aventura). The perfect way to spend Saturday Night with the family! Jan 27, 7:00pm The Family Shul, 2601 NE 211 Terrace. RSVP at 305-770-1919 ChabadChayil.org/1699139 Agent Emes and The Sofer Situation Time is running out on Agent Emes. Uncle Evil has abducted Shpittsburgh's renowned sofer, Rabbi Abrams, in an attempt to sabotage a new Torah scroll being written for Jewish children. But the damage he causes strikes deep in the heart of the Jewish soul, and kids everywhere, including Agent Emes, are in danger! While Agent E deciphers the confusing situation, Rabbi Abram's young daughter, Devorah and her friend Chani, get mixed up in the scheme, when they find themselves trapped in the basement of Uncle Evil's dastardly mother, Ma Lo-Tov. This funny, exciting, and convoluted tale reaches its thrilling climax in the halls of Aveiros International's famous tower, when… well you'll just have to come watch it to find out what happens.
Kick off Jewish Disability Awareness and Inclusion Month with the Florida premiere of Keep the Change, an award-winning film shown during the Miami Jewish Film Festival (MJFF) on Wednesday, January 24 at 7 p.m. at the Miami Beach Jewish Community Center (JCC).
The movie is a love story between two people who meet at a JCC support group in Manhattan for adults with autism. For more information and to purchase tickets, click here. Every February, JDAIM unites the North American Jewish community to raise awareness and encourage inclusion of people with disabilities and their families in Jewish communities worldwide.
This year is a very special year because we are CELEBRATING the 70th Anniversary of our cherished State of Israel!! On Wednesday, January 31, 2018, we are presenting Mercedes Ivcher, Founding President of WIZO USA, the first ever WIZO FLORIDA LIFETIME ACHIEVEMENT AWARD. Mercedes has dedicated her entire life to WIZO and the State of Israel. But her success and achievements are not hers alone, you all, in some way helped and supported her through the years as volunteers, donors or friends. Your presence and support has always been part of her success as a WIZO leader. Let's all honor her well-deserved recognition award all together. Your presence or participation will make a tremendous difference on her special night. Sharing the stage with Mercedes are the following remarkable guests: Staff Sergeant of the IDF Paratrooper Unit, Sorin Hershcu, receiving the Ot Ha'Gevurah award for his distinguished participation during Operation Entebee. Salo Esquenazi, receiving the Man of the Year Award for his unwavering support of his wife Stephanie, who has dedicated many years to helping WIZO Florida. Yehoram Gaon, Israel's favorite Singer, closing the evening with a unique musical presentation. We have a few more surprises in store for you, so please join us on January 31! It will be an evening of celebrations that promises to be meaningful to all of us and is dedicated to an important charitable cause held very dear to our hearts. To purchase tickets or place an ad visit www.wizofl.org/gala2018
NORTH MIAMI BEACH, FL - Barry Nelson, Judith Nelson and Jennifer Okcular, shareholders in the North Miami Beach law firm of Nelson & Nelson, P.A., are pleased to announce that Cassandra S. Nelson was admitted to the Florida Bar in September 2017 and has joined the firm as an associate.
Cassandra received her B.A. from the University of Miami in 2013 and her J.D. from Emory University School of Law in 2017. She practices primarily in the areas of estate planning, asset protection, tax, special needs trusts, guardianships, and probate administration.
Cassandra Nelson is involved with The Victory Center for Autism and Behavioral Challenges (a not-for-profit corporation). As the older sister of a 23-year-old brother with severe autism, Cassandra has a unique interest in assisting children with disabilities and their families through the creation of special needs trusts and guardianships.
Cassandra S. Nelson is an associate at the law firm Nelson & Nelson, P.A. in North Miami Beach, Florida. She practices primarily in the areas of estate planning, asset protection, tax, special needs trusts, guardianships, and probate administration.
Press Release http://www.estatetaxlawyers.com/PressRoom/Release%202018-01-10_CassieAnnouncement.htm
Scheck Hillel Community School will host its 2018 Annual Event Sunday, January 21, 2018, at 9:00 AM, featuring keynote speaker Rabbi Lord Jonathan Sacks, international religious leader, philosopher, award-winning author and respected moral voice. The event benefits the school's Kulanu Scholarship Fund. A Hachnasat Sefer Torah for the community will immediately follow the keynote presentation, honoring the life and legacy of Yuval Miara, z"l.
To attend the event, please visit eHillel.org/AnnualEvent.
Sunday, January 21, 2018
8:15 AM Registration Opens
9:00 AM Annual Event Program
11:00 AM Hachnasat Sefer Torah Community Celebration

Scheck Hillel Community School
Diener Athletic Center
19000 NE 25th Avenue
North Miami Beach, FL 33180

Rabbi Lord Jonathan Sacks
An international religious leader, philosopher, award-winning author and respected moral voice, Rabbi Lord Jonathan Sacks was awarded the 2016 Templeton Prize in recognition of his "exceptional contributions to affirming life's spiritual dimension." Described by H.R.H. The Prince of Wales as "a light unto this nation" and by former British Prime Minister Tony Blair as "an intellectual giant", Rabbi Sacks is a frequent and sought after contributor to radio, television and the press both in Britain and around the world.
Since stepping down as the Chief Rabbi of the United Hebrew Congregations of the Commonwealth – a position he served for 22 years between 1991 and 2013 – Rabbi Sacks has held a number of professorships at several academic institutions including Yeshiva University and King's College London. He currently serves as the Ingeborg and Ira Rennert Global Distinguished Professor at New York University. Rabbi Sacks has been awarded 17 honorary doctorates including a Doctor of Divinity conferred to mark his first ten years in office as Chief Rabbi, by the then Archbishop of Canterbury, Lord Carey.
Yuval Miara, z"l
Yuval was Scheck Hillel Community School's Director of Judaic Studies & Hebrew Language for our Juda and Maria Diener Lower School. He enriched our community with his joy and passion for learning and teaching, and he inspired our children and families with a deep commitment to carrying on tradition, instilling values and fostering an enduring love for and connection to Israel. His legacy of vibrant Jewish education is with us every day on campus.
Join us on Friday, January 12, 2018 at 6:00 pm for Shabbat services, featuring the Legato Vocal Ensemble and special guest speaker, Rabbi Peter Knobel. Join us for an Oneg following services.