We're sorry but we couldn't find that author.
For a complete and timely schedule, go to www.jbstv.org
L'Chayim: Woman of Valor
For Mother's Day, Sara Esther Crispe (TheJewishWoman.org) and Rabbi Jeffrey Segelman (Westchester Jewish Center) discuss Mark Pearlman's book, "More Precious than Pearls: A Prayer for the Women of Valor in Our Lives," recited on Shabbat. Today - 12 Noon and 6pm; Monday - 3pm
Mamadrama
With characteristic Jewish humor, iconic filmmakers Paul Mazursky, and Paul Bogart join Larry Peerce and actress Lainie Kazan in reflecting (with disarming candor) on their own Jewish mothers and how they influenced their on-screen portrayals. Tonight - 9pm and Midnight
92nd Street Y: Judy Gold
Comedian Judy Gold talks about her standup show, her Jewish mother, and life on the road as a female comic in conversation with entertainment journalist Eddy Friedfeld. Taped before a live audience at New York's 92nd Street Y. Today - 8pm; Monday - 2am and 10pm; Tuesday - 4am; Wednesday - 10:30am; Friday - 8pm; Saturday - 1am and 3pm
AZM: Israel on Campus
A workshop in ways to combat Israel-bashing on college campuses entitled "Promoting Zionism and Israel Engagement on Campus." With university leaders Leonard Saxe (Brandeis), Andrew Getraer (Rutgers), Yoni Nirenberg (LIU) at 2019 AZM Biennial in NYC. Tuesday - 7pm; Wednesday - 1am; Thursday - 1pm; Saturday - 7pm
In The News: Jack Rosen-Jewish Caucus
In the face of expressions of antisemitism in Congress, Jack Rosen, Chairman of the American Jewish Congress, explains why he advocates a "Jewish Caucus" in Congress to engage in negotiations with other Congressional groups. With Mark S. Golub. Monday - 6:30pm and 11:30pm; Tuesday - 3:30am, 8:30am and 12:30pm
Bronx Jewish Hall of Fame
The 4th annual inductions ceremony into the "Bronx Jewish Hall of Fame" including the Hon. Betty Weinberg Ellerin, Rabbi Levi Shemtov and Renee Wexler Taylor Bologna,. With remarks from Bronx Jewish Historical Initiative founder Howard Teich. Monday - 8pm; Tuesday - 1am; Thursday - 1am; Saturday - 8pm
L'Chayim: Miss Israel (Titi)
"Titi" Aynaw discusses her journey from her hometown in Ethiopia to aliyah to Israel, to serving in the IDF, to becoming the first Ethiopian Miss Israel in 2013. L'Chayim with Mark S. Golub. Wednesday - 9pm and Midnight; Thursday - 3pm
Edith Samers Vice President 203.536.6914 (cell phone) JBS Jewish Broadcasting Service, a 501c3 fulltime television channel
Yehudi Presents: Olami Professional Circles
For more information click here.
Olami Professional Circles is a global network of professionals committed to using Jewish teachings and values to realize their potential. After a successful launch this past Fall in NYC, Mentorship Circles is launching this Summer in Miami to enable young adults to gain mentorship opportunities and learn from Jewish teachings and values on what it means to be a successful Jewish professional.
Over four Wednesday night sessions, including an upscale dinner and open bar, young professionals will each be paired in small groups with a passionate and successful Jewish industry executive and mentor. Each week they will engage in a topic about professional success through discussions drawing on Jewish teachings and values. Then, the whole group will hear from a Featured Speaker about the same week's topic, sharing personal stories with audience interaction.
Professional Circles is intended for Jewish professionals in their 20's & 30's who are looking to build a community that is committed to balancing business and Jewish values.
Miami Diller Teen Fellows: Apply TODAY!
"During my time in Israel with Diller, I met many people from different cultural and ethnic backgrounds that I was able to form life-long friendships with, and was able to have complex and personal conversations about the different aspects of Judaism, Israel, and everything it entails."
--Joshua Balila, Diller Cohort 4
The Diller Teen Fellows program is an immersive leadership program inviting a select group of Jewish 10th and 11th graders from 6 continents and 32 city-centers to step up, lead their communities, and repair the world. Each year, over 600 teens – from North America, South Africa, Australia, South America, Europe and Israel spend 12 months engrossed in the Diller fellowship. Our training features a commitment to hands-on Tikkun Olam (community service), building a connection to the Jewish people and Israel, and deepening Jewish identity.
The depth of the program, global engagement, and a focus on experiential learning, create an enduring impact on participants and their families, creating leaders with the power to enact change. The teens graduate from the program to join the ranks of thousands of alumni, studying at top universities and leaving their mark on the world, leveraging the network of young leaders around the world that they establish through the program.
Diller is more just another Israel trip.
Through International Seminars, local workshops, Shabbatonim, and local programming throughout the fellowship year, teens really get to delve deeply into all the local and global Jewish community has to offer. Teens will actually work hand-in-hand with their Israeli peers all the while forming life-long friendships with other Diller teens from all over the world, establishing a network of diverse Jewish leaders committed to making the world a better place. These teens are part of something greater, and they feel it all through the program.
"Diller really helped me grow as an individual and a Jew. I was consistently pushed out of my comfort zone in workshops, shabbatonim, JCM (Jewish Community Mifgash), and ISS (Israel Summer Seminar). Throughout the year we focused on Diller's core values and really expanded my way of thinking and approaching new situations. In Israel, I was immersed in different cultures, ideas, and communities. I was able to make the most out of my experiences by tapping into the open mindedness and respect I learned through Diller."
--Rachel Thomas, Diller Cohort 5 Junior Counselor
Diller Teen Fellows Program, an international immersive leadership program, is seeking 20 extraordinary teens entering 10th or 11th grade for its next cohort beginning this Fall. Participants will attend a variety of meaningful and educational events, including Sunday workshops, thought-provoking weekend retreats, a peer-exchange with the Yerucham Diller Teens when they come to Miami, and an inspiring three-week seminar in Israel. For more information, visit dillermiami.org.
Applications are open through May 31st!
Apply now at dillermiami.org!
South Florida's Adam J. Tiktin, President and Broker of Tiktin Real Estate Investment Services' (TREIS), was honored to be among the nation's top community leaders invited to attend the American Associates, Ben-Gurion University of the Negev (AABGU) Zin Fellows Leadership Program, an in-depth immersion into the issues involved in the continuing development of the Negev, Israel's southern desert region. Each cohort consists of 15 to 20 outstanding community leaders from across the United States who are interested in a new and unique opportunity to be engaged in the future of Israel through their connection to the Negev region.
The week-long seminar in Israel featured faculty members from Ben-Gurion University of the Negev (BGU), as well as guest speakers from a range of disciplines. By exploring the Negev's history, topography, geography, demography and sustainability, attendees came to understand and appreciate the unique role the Negev plays in the unfolding development of the State of Israel. Through study and group engagement, the program imparted insights into the challenges that lie ahead for the Negev and the knowledge for how to play a part in surmounting them.
The result of the seminar was the formation of a connected group of discerning leaders who returned to their communities equipped with the tools and excitement to share about Israel and the Negev and inspire continued engagement with Ben-Gurion University. The event also provided an exceptional opportunity for Tiktin to network with leaders across 12 industries and form fruitful relationships. Tiktin's eponymous firm has quickly become a leading commercial real estate investment sales brokerage in South Florida. TREIS specializes in the sale of shopping centers and office buildings in Florida and single-tenant net lease properties nationally.
Adam's venerable experience has earned him numerous appointments and accolades over the years. He served as Chairman of the International Council of Shopping Centers (ICSC) South Florida Idea Exchange in 2016 and spent nearly 15 years at a publicly traded national brokerage firm where he left as "Miami's Top Agent."
Over the course of his 20-year career, Tiktin has exclusively listed and sold over $850 million in more than 350 transactions. Adam was accepted into the Forbes Real Estate Council, an invitation-only community for executives in the real estate industry. He also sits on the FIU Hollo School of Real Estate Bain Real Estate Council and serves on the ICSC State of Florida Committee. Adam is a strong supporter of the Jewish community and regularly contributes to numerous industry and nonprofit organizations, including the Jewish Federation and AIPAC, among others. Tiktin is a sought-after speaker and key opinion leader for commercial real estate. For more information, please call 305-363-4750 or 844-4-TIKTIN or visit www.tiktinrealestate.com.
About Tiktin Real Estate Investment Services Tiktin Real Estate Investment Services (TREIS) is a South Florida-based commercial real estate investment sales brokerage firm specializing in the sale of shopping centers and office buildings in Florida and single-tenant net lease properties nationally. Founded in 2001 by industry veteran Adam J. Tiktin, TREIS is committed to a higher level of service and an unmatched standard of integrity. The investment sales firm is distinguished by its personalized approach, transactional expertise, comprehensive market analysis and aggressive strategies. www.tiktinrealestate.com.
About American Associates, Ben-Gurion University of the Negev American Associates, Ben-Gurion University of the Negev (AABGU) plays a vital role in sustaining David Ben-Gurion's vision: creating a world-class institution of education and research in the Israeli desert, nurturing the Negev community and sharing the University's expertise locally and around the globe. As Ben-Gurion University of the Negev (BGU) looks ahead to turning 50 in 2020, AABGU imagines a future that goes beyond the walls of academia. It is a future where BGU invents a new world and inspires a vision for a stronger Israel and its next generation of leaders. Visit www.aabgu.org to learn more.
#
Saturday, May 11th, 10:30am Chabad Chayil, 2601 NE 211 Terr. Miami, FL 33180
Inviting all children (and parents!) to a Mega Kids Shabbat Party! Celebrating all of those who have a birthday in the Hebrew month of Iyar! Everyone is invited so please join us for Tefillah, Treats, Games, and Special Entertainment!
RSVP at www.ChabadChayil.org/3825418
Learn about your Jewish birthday at http://www.chabadchayil.org/birthday
Posted by Yodeah on 05/07/2019 @ 08:33 AM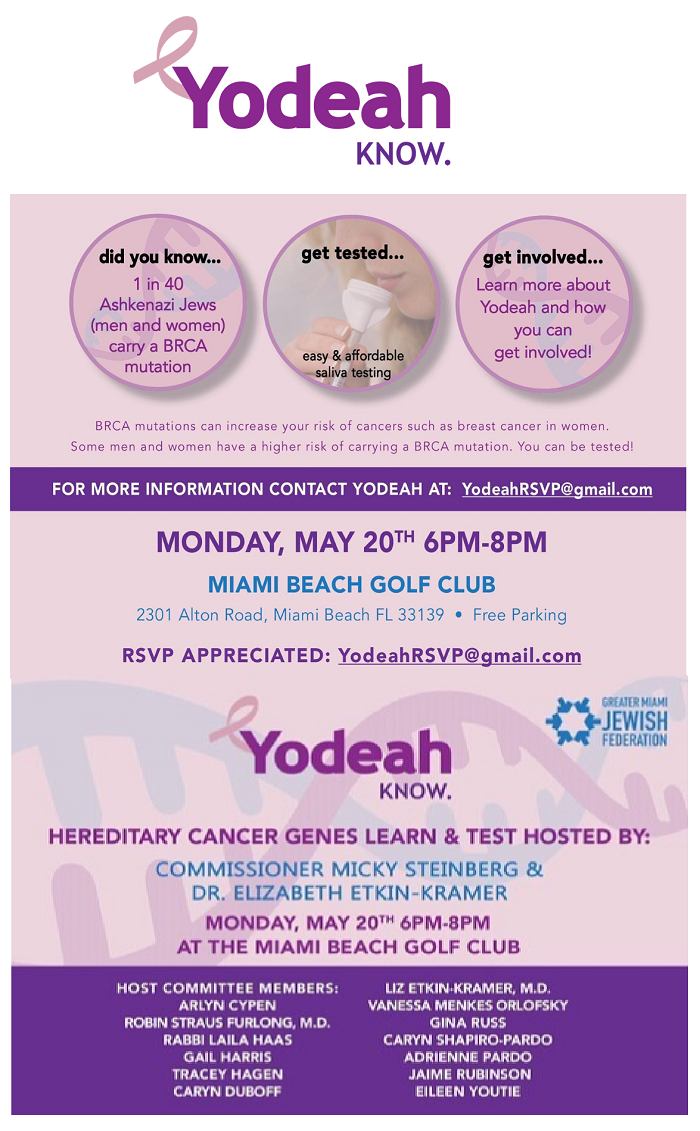 www.yodeah.org
*For a complete and timely schedule, go to www.jbstv.org *
92Y: Israeli U.S. Amb. Ron Dermer Israel's Amb. to Washington, Ron Dermer, discusses a range of issues relating to the State of Israel in conversation with novelist and Director of the Forum on Law, Culture and Society. From the 92nd Street Y in NYC. Sunday - 8pm & 1:30am; Monday - 10pm & 4am; Wednesday - 10:30am; Friday - 8pm & 1am; Saturday - 3pm
AZM: Gil Troy-U.S. Zionism Historian and author Gil Troy (The Zionist Ideas) discusses "The Future of Zionism In America." From the 2019 American Zionist Movement Biennial Assembly, Unity and Community: Bringing Together the Many Voices of Zionism in New York City. Monday - 8pm & 1am; Wednesday - 2pm; Saturday - 8pm & 1:30am
ITN: Poway Murder - Thane Rosenbaum JBS President Mark S. Golub offers his commentary on the horrific murder of Lori Gilbert-Kaye and the wounding of three others in a Chabad synagogue on Passover, and novelist Thane Rosenbaum (Director of Forum On Law Culture and Society) shares his reaction to the tragedy. Sunday- 8:30am
FOR YOM HAZIKARON - DAY OF REMEMBRANCE
L'Chayim: Esther Wachsman Esther Wachsman, mother of kidnapped Israeli soldier, Nachshon Wachsman, talks about the failed rescue attempt to save her son's life and the painful dilemma Israel confronts when it must decide when to trade imprisoned Palestinians for Israeli soldiers. Tuesday - 3pm
L'Chayim: Israel Sorrow/Heroism Miriam Peretz ("Miriam's Song") describes her experience as a mother who lost two sons in the war with Palestinians while each was serving in the IDF's elite Golani Brigade - and how she has transcended her sorrow.
Tuesday - 9pm & Midnight
Yom HaZikaron Siren Join symbolically with the People of Israel as the Jewish nation stands in silence during a one minute of a national siren at 8pm Israel time (1pm New York time) and during for two minutes the next day at 11am Israel time.
(JBS will also sound the siren at 8pm and 11am New York time in solidarity with Israel.) Tuesday - 1pm & 8pm ; Wednesday - 4am
Natan Alterman's "The Silver Platter" - recited by Mike Burstyn Natan Alterman's 1947 poem The Silver Platter, traditionally read in Israel for Yom HaZikaron, is recited by Israeli star of stage, screen and television Mike Burstyn. Following Sound of Siren
FOR YOM HAATZMAUT - ISRAEL INDEPENDENCE DAY
Hero Of 1948 War Joe Aboudi, an 18-year old member of the Palmach in 1948, recounts how he helped stop the Egyptian advance in the Negev during the days leading up to Israel's War of Independence. Monday - 9pm & Midnight
L'Chayim: Operation Aliyah Bet Murray Greenfield, founder of Gefen Publishing and author of The Jews' Secret Fleet, describes his participation in the naval operation know as "The Exodus," which smuggled Holocaust survivors into pre-state Palestine in defiance of the British naval blockade. Wednesday - 3pm
Witness To Statehood For Israel's independence day, fifth generation Sabra Rochelle Etingin recounts her experience as a young girl growing up in Israel during the birth of the Jewish State of Israel. Wednesday - 9pm & Midnight; Thursday - 3pm
L'Chayim: Abba Eban In a L'Chayim classic for Yom Ha'atzmaut, Abba Eban z"l (1915-2002), best known for his years of service to Israel in the UN, recounts his involvement in the Zionist dream and the dramatic moments leading up to the creation of the modern Jewish State. Thursday - 9pm & Midnight; Friday - 3pm
L'Chayim: Commander Lebovitz Eugene Aryeh Lebovitz, commander of troops in Haifa during the 1948 War of Independence, reminisces about his survival at Auschwitz, his running the British blockade, and his ongoing work on behalf of Israel and Jewish life. Saturday - 6pm
LIVE THURSDAY – 6 pm CELEBRATING YOM HAATZMAUT Join JBS as Rabbi Mark S. Golub takes viewer phone calls and plays videos celebrating Israel Independence Day. LIVE Thursday - 6pm
Inside Israel Israel Inside: How a Small Nation Makes a Big Difference is Tal Ben-Shahar's documentary film that explores the positive characteristics of Israeli society from a humanistic, psychological, and emotional perspective. By Imagination Productions. Tuesday - 2pm; Saturday - 1pm
Jake Ehrenreich Show-Ron Eliran & Mamita Jake welcome Israel's Ambassador of Song Ron Eliran who performs some of his most well-known songs (including Sharm el Sheikh), and Vanessa Hidary (The Hebrew Mamita) who recites her powerful poem on Jewish identity. Jake also inducts Steve and Eydie (z"l) Gorme into the Catskills Hall of Fame. Sunday)- 10:30pm & 2:30am; Friday - 10:30am
Israel Journey A magical journey through the modern state of Israel, centered on the beauty, mystery, and spirituality of Jerusalem. "Berel Wein's Israel Journey: Jerusalem" is hosted by Wayne Kopping and was produced by the Destiny Foundation. Thursday - 10:30am; Saturday - 9pm & Midnight
Mordechai Becher: Talmud - "Our Historic Homeland"; Talmud - Promise of Aliyah" Sunday- 9am; Tuesday - 9am & 4:30pm; Thursday - 7pm & 4am
ITN: Poway Murder - Eye Witness Shimon Abitbul, Deputy Director of the Israeli Magen David Adom in Kiryath Shmonah, who was visiting his daughter in Poway, CA for his grandson's brit milah, describes the scene at the Chabad Synagogue during the murderous attack. Today (Sunday) - 5:30pm & 11:30pm; Monday - 3:30am, 8:30am & 12:30pm
Edith Samers Vice President 203.536.6914 (cell phone) JBS Jewish Broadcasting Service, a 501c3 fulltime television channel
NORTH MIAMI BEACH – More than 200 guests - including a judging panel of Miami art scene luminaries - attended Scheck Hillel Community School's inaugural Advanced Placement (AP) Art Exhibition on April 16, 2019. This gallery of works showcased 52 student-artists enrolled in Scheck Hillel's AP 2D Design, AP 3D Design, AP Drawing, and Portfolio Development courses. The pieces are part of a broad selection of original artwork they created throughout the academic year, following criteria specified by the College Board; these portfolios now will be submitted for assessment by that body.
Through the College Board's Advanced Placement (AP) program, Scheck Hillel offers college-level courses to high school students. Many colleges grant college credit to students who obtain high scores in these classes. Scheck Hillel currently offers 19 AP courses in a variety of subjects and, throughout the past five years, Scheck Hillel students have been awarded nearly 200 AP Scholar Awards for their achievement.
April's special art exhibition was the brainchild of Scheck Hillel's Ben Lipson Upper School art teacher Edith Shlesinger and Stuart Rosenthal, Chair of the school's Jordan Alexander Ressler Arts Program. It spoke directly to how Scheck Hillel empowers students to maximize achievement, foster identity and explore passions. Guest judges Karina Belilty, Judith Berk King, Fela Bibas, Sigfredo Chacon and Scheck Hillel alumna Orly Shuber '01 gave special praise to the work of several student-artists with the Judges' Choice Awards: Daniela Abbo '20, Miryam Azulay '20, Andrea Benhamron '20, Clara Bromberg '20, Hannah Cohen '20, Rachel Davit '21, Noah Givner '21, Gabrielle Kurzer '20, Orly Shapiro '21, Danielle Waijman '19, Danit Weitzman '20 and Mauricio Woldenberg '20.
More about the Judges:
Karina Belilty studied art history in London and international relations in Caracas, Venezuela, where she was born and raised. She is an art dealer, art appraiser and the founder of her own contemporary art gallery: KaBe Contemporary. The Miami space showcases local and international emerging and established artists. Belilty is a proud wife, the mother of three daughters and a steadfast art lover.
Judith Berk King studied fine art at Kensington and Chelsea College in London, England, and received her MFA from Miami International University of Art & Design. Her drawing and ceramic work has been published in books and periodicals, and has been exhibited in London, New York, Los Angeles and China, as well as a number of other national and international venues. King has been the recipient of grants from the State of Florida and Miami-Dade County. She is currently an artist-in-residence at the Bakehouse Art Complex in Miami and faculty at Miami International University of Art & Design.
Fela Bibas was born in Colombia and raised in Costa Rica. She recently moved to Miami to pursue a Master's in Fine Arts and continue on her artistic journey. The daughter of an artist, she grew up in the art world, watching her mom paint since she was a young girl. However, it was after a leukemia diagnosis in 2016, when she saw art as therapy. Art became a way to help her cope with the process of chemotherapy and a stem cell transplant and to connect with her family and other patients. After this chapter of her life, she decided she wanted to change people's lives through art.
Sigfredo Chacón studied at the School of Plastic and Applied Arts Cristóbal Rojas (1963-66). Chacón has developed his work in the plastic arts, showing in various national and international exhibitions, and earning esteemed awards and recognition. His work is also represented in public and private collections across the globe. Chacón lives and works in Caracas and Miami.
Orly Shuber, MFA, is a Scheck Hillel Community School alumna and an instructor of media arts at Miami International University of Art & Design. Born and raised in Buenos Aires, Argentina, and Miami, Shuber is a filmmaker making documentary films about art, architecture and design. Her films have been shown at museums and festivals in Europe and the Americas.
About Scheck Hillel Community School
Scheck Hillel Community School educates and inspires students 18 months-Grade 12 to become exemplary global citizens with enduring Jewish identity and values through an individualized college preparatory curriculum highlighted by Design/STEM, Capstone, college dual enrollment, arts, athletics and community service. Its 14-acres include a 115,000-sq.-ft athletic complex with academic expansion plans. Set within a nurturing, diverse community, Scheck Hillel is one of the world's largest Jewish community day schools and a National Blue Ribbon School of Excellence. For more information about Scheck Hillel Community School or to arrange a visit to the school, please contact our Admissions office at 305.931.2831x173 or write to admissions@eHillel.org.